Rafa Nadal: Spaniard shows off his sparkling new home-town academy
The current world No 6 is joined by Roger Federer in Majorca
Paul Newman
Manacor
Wednesday 19 October 2016 18:13 Comments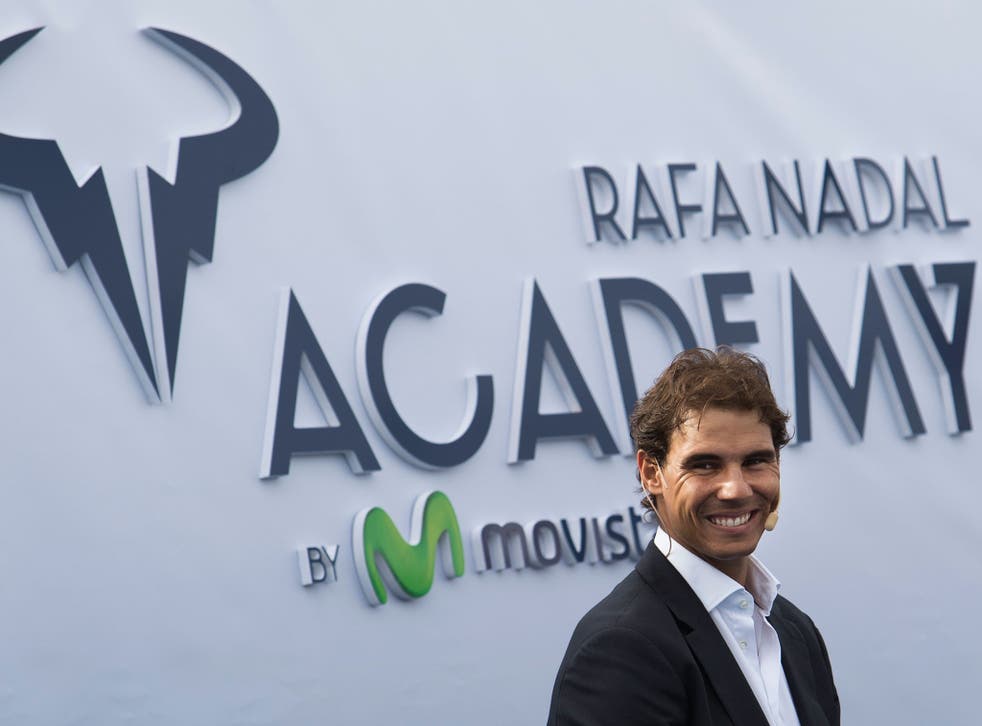 Rafael Nadal presented a vision of the future here in his home town on his home island of Majorca. In presiding over the official opening of his sparkling new tennis academy, complete with 26 courts and state-of-the-art training and medical facilities, the 30-year-old Spaniard unveiled a future not only for his sport but also for himself.
"My future is here," Nadal said after an emotional day shared with tennis dignitaries including his great friend and rival, Roger Federer. "I really don't imagine myself living anywhere other than Majorca. I'll be here every day. This is part of my future. Sport in general is my passion and creating a tennis academy here is the most important part of that for me.
"I'm going to be very involved in everything. I don't know whether I will be coaching or not, but I'm sure that I'll be on court with the kids, hitting with them. At this moment I can't think about coaching, but I will be trying to help the kids in some way in the future."
The next stage in Nadal's life could come sooner rather than later. After a lacklustre few weeks in which he lost to Lucas Pouille in the fourth round of the US Open, was humbled by Grigor Dimitrov in Beijing and lost first time out to Viktor Troicki in Shanghai, the former world No 1 is expected to announce his upcoming plans in the next day or two.
There is speculation that he might not play in Basle next week or at the Paris Masters the week after, which could also put in doubt his participation in next month's Barclays ATP World Tour Finals in London. He is currently seventh in the list of eight qualifiers for the year-end finale, for which the field is determined by ranking points won in the calendar year.
Although Nadal has overcome most of the fitness issues that have dogged him in the last two years, he has slipped to No 6 in the world rankings and has not won a Grand Slam title since June 2014.
Nevertheless, the Spaniard does at least appear to be committed to playing in 2017. Asked if he knew in his own mind when he might retire, Nadal said: "I can't give an answer to questions that I cannot answer to myself. At least I am enjoying what I am doing, especially when I am healthy. When I'm not healthy for sure I don't enjoy it.
"I have fun playing tennis and I feel ready to fight again. I'm going to try to have the best possible preparation. I'm going to work even harder than ever to try to be 100 per cent ready before the start of next season. That's the only way to see myself today.
"If you start to think about when you're going to retire then your work is not 100 per cent focused on what you want to do, so I can't say and I can't think about it now. I'm not worried about it at all. When it happens, it happens. When that day arrives I am sure I will know it. It's not a day for which I have to prepare. That day will come when I'm not motivated and not ready to carry on, but today I feel ready to carry on."
Federer, meanwhile, has not played since Wimbledon because of a knee problem and will not return to competition until the new year. The Swiss, nevertheless, has continued to work on his game and is expected to step up his preparations for his return by setting up camp at his Dubai base in the coming weeks.
The Swiss, who had never undergone surgery until he had a knee operation earlier this year, told Nadal that he took heart from the Spaniard's frequent comebacks from injury. "You've done it a million times, so I can be inspired by the way you made it look so easy when you came back," he said. "You came back to the world's top 10, top five, even world No 1. That's something that I'm going to be thinking about when I come back to the tour in January."
He added: "I'm going through my first big injury in my career, but it's been fairly easy for me. I've enjoyed my time at home, I've enjoyed seeing my family, practice has been easy, though I don't know how it's going to be when I come back."
At 35 Federer has no plans for retirement yet and does not expect to follow Nadal's example when he does eventually put his rackets away. "After seeing this, I'll bring my kids here," he smiled. "I'll tell all the kids to come over here. I prefer to help rather than build my own. I've had offers to do some sort of academy, but this to me is very different. This is in Rafa's home town.
"I could not do this in Switzerland. I came through the Swiss federation system and if I built my own academy I think it would be in competition with the Swiss federation. In our small country we don't have the space for that."
Federer was hugely impressed with the facilities at Nadal's academy. "I see his DNA all around here and in my opinion that's an incredible bonus," the 17-times Grand Slam champion said. "I've seen a lot of hard workers and inspiring players, but he has been the one who in my opinion has been the most inspiring and most influential."
Nadal's uncle and coach Toni heads the academy, which actually opened its doors for business this summer. Seventy-five young players are currently based there and that number is expected to double next year.
As well as the 26 clay and hard courts the academy features ultra-modern training, fitness and medical facilities, a sports clinic staffed by specialist doctors and physiotherapists, indoor and outdoor swimming pools, a mini football pitch and a multi-sports area. Students live at the academy campus and attend an on-site international school.
Register for free to continue reading
Registration is a free and easy way to support our truly independent journalism
By registering, you will also enjoy limited access to Premium articles, exclusive newsletters, commenting, and virtual events with our leading journalists
Already have an account? sign in
Join our new commenting forum
Join thought-provoking conversations, follow other Independent readers and see their replies