Rafael Nadal is still man to beat at French Open, says Roger Federer
Spanish still the king on clay, says Swiss master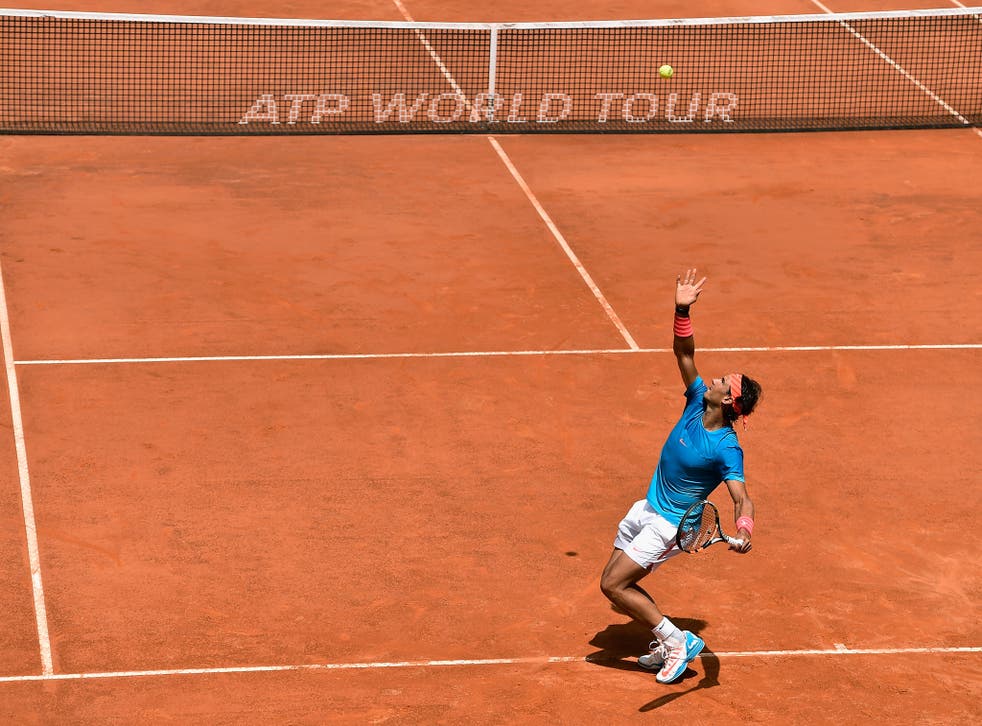 Rafael Nadal may have admitted in recent weeks to a crisis of confidence, but as far as the Spaniard's greatest rival is concerned he remains the man to beat at the French Open, which starts in eight days' time.
"Regardless of what anyone says to me he's the favourite," Roger Federer said here at the Rome Masters. "The guy's only lost [at Roland Garros] once in 10 years. There's no way past that guy being the absolute favourite for that tournament."
Federer was speaking after beating Tomas Berdych 6-3, 6-3 to book his own place in today's semi-finals. The Swiss now meets the winner of last night's concluding quarter-final between Nadal and Stan Wawrinka.
Nadal talked at the Miami Masters about his struggles with nerves and self-confidence. Although he insists that his form has since picked up during the clay-court season, the world No 7 has claimed only one minor title since winning the French Open for the ninth time last summer.
Federer said there had been times when he too had lost confidence, but stressed that all players experienced such feelings at some stage of their careers.
"With some of the decisions we have to take out there, it's so hard to be always committed to your exact game plan, because your opponent has such a big say in how the points are being played and constructed," he said. "He has to go through all the process of having to explain himself time and time again and maybe that drags over into the matches a little bit, plus maybe his body is not feeling so well.
"Next thing you know you just don't win as much as you and other people are used to. So then you're obviously not going to feel as good as when you were on a 30-match winning streak. That's clear. But that to me is no news. It's just normal for any player out there. He seems like he's doing just fine."
Federer is not doing badly either. The world No 2, who took command against Berdych after recovering an early break of serve, had intended to skip this tournament, but his early exit from Madrid last week forced a rethink of his preparations for Roland Garros. This is Federer's 15th appearance here but he has never won the title, having lost in the final to Felix Mantilla in 2003 and to Nadal in 2006 and 2013. Rome and Monte Carlo are the only two Masters Series titles Federer has never won.
Novak Djokovic was taken to three sets for the third round in a row but played an impressive final set to beat Kei Nishikori 6-3, 3-6, 6-1. The world No 1, who is the defending champion, will meet David Ferrer in the semi-finals.
Simona Halep continued her charge through the women's tournament when she crushed Romania's Alexandra Dulgheru 6-1, 6-0. The world No 2, who has dropped only seven games in her three matches this week, faces a semi-final today against Spain's Carla Suarez Navarro, who beat Petra Kvitova 6-3, 6-2. Maria Sharapova was meeting Victoria Azarenka in last night's concluding quarter-final, with the winner to play Russia's Daria Gavrilova.
Register for free to continue reading
Registration is a free and easy way to support our truly independent journalism
By registering, you will also enjoy limited access to Premium articles, exclusive newsletters, commenting, and virtual events with our leading journalists
Already have an account? sign in
Register for free to continue reading
Registration is a free and easy way to support our truly independent journalism
By registering, you will also enjoy limited access to Premium articles, exclusive newsletters, commenting, and virtual events with our leading journalists
Already have an account? sign in
Join our new commenting forum
Join thought-provoking conversations, follow other Independent readers and see their replies