Rafael Nadal settles an old score at Rome Masters – like a Ferrari to Roger Federer's Fiat 500
A one-sided final brings the Spaniard his sixth title of the year after comeback from injury
Paul Newman Comments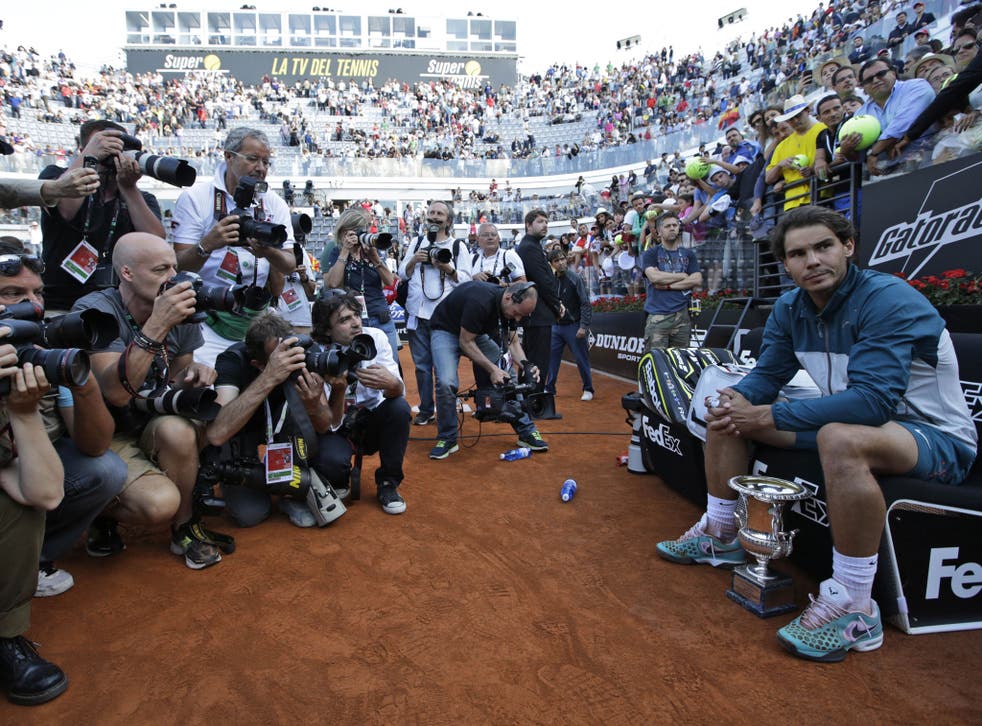 It was meant to be a rekindling of the sport's greatest rivalry, but the meeting of Rafael Nadal and Roger Federer yesterday in their first final for nearly two years was about as competitive as a race between a Ferrari and a Fiat 500. Nadal claimed his seventh Rome Masters title by beating Federer 6-1, 6-3 in just 68 minutes to complete a perfect preparation for the French Open, which begins on Sunday.
Having reached his eighth consecutive final – a personal record – since starting his comeback in February after knee trouble, Nadal claimed his sixth title of the year by winning his 10th match in 12 days following his victory in Madrid a week earlier. The win will take the 26-year-old Spaniard back to No 4 in today's updated world rankings list, a remarkable achievement given that he did not play for seven months after his defeat to Lukas Rosol at Wimbledon last summer.
"It's a very important day, a very happy day for me after a difficult year last year," Nadal said afterwards. "It is really emotional for me to win a tournament with such a long history as Rome. I am just enjoying the moment and valuing it more than ever because I know where we were just a few months ago. Being here a few months later with all I have achieved is really more than a dream."
Nadal's 24th Masters Series title, in his 35th final, extended his lead at the top of the all-time list of champions – Federer is in second place with 21 – and was the 56th tournament victory of his career. Nadal has now won 20 of his 30 matches against Federer, whose tally of four games won against the Spaniard equalled his lowest ever, in the 2008 French Open final.
It was at this tournament seven years ago that Federer and Nadal played one of their most memorable finals, the then 19-year-old Spaniard saving two match points before winning a marathon after more than five hours and five minutes to record his 53rd straight win on clay. In those days the final was played over the best of five sets, as opposed to today's three, and was staged in the wonderfully atmospheric but outdated wooden stadium that used to be the main show court at the Foro Italico.
That arena has since been replaced by a magnificent modern structure and the only faded glory on view was on the court. The days when Federer can recapture all his former brilliance are becoming rarer by the year and on this occasion he was a shadow of his former self. The Swiss had joked earlier in the week that he had opted for a shorter haircut in order to feel lighter on the court, but after this humiliation he might be feeling more like a shorn Samson.
It would have been hard to imagine anyone living with Nadal in the Spaniard's current vein of form, but Federer missed some volleys that would have been meat-and-drink in his heyday and went for too much on his forehand. He realised, no doubt, that longer rallies would be to Nadal's advantage.
Federer, who was playing only his second tournament on clay after taking a lengthy break in readiness for a busy summer, won the first two points with an ace and a serve-volley sequence, but after winning the opening game he quickly found himself on the back foot.
Nadal, immediately finding his range with his crunching forehands, won nine games in a row, taking the first set, in which he made two unforced errors to Federer's 15, in just 23 minutes. Nadal flew around the court with as much energy and speed as ever and hardly looked like a man whose future in the sport had been questioned because of dodgy knees.
The Spaniard saved a break point in the opening game of the second set and went on to give himself the chance to serve for the match when he broke to lead 5-1 with a sensational backhand pass down the line, struck from out wide and behind the baseline. Bizarrely, Nadal lost his focus momentarily and was broken to love in the next game, but he went on to serve out for victory.
"Rafa was just too good for me," Federer said afterwards. "I missed some easy forehands and some crucial points, but overall it was a good week for me. I've had a good idea of how I want to play and of what's working well and what's not."
Register for free to continue reading
Registration is a free and easy way to support our truly independent journalism
By registering, you will also enjoy limited access to Premium articles, exclusive newsletters, commenting, and virtual events with our leading journalists
Already have an account? sign in
Join our new commenting forum
Join thought-provoking conversations, follow other Independent readers and see their replies