Rafael Nadal beats Stan Wawrinka in straight-sets to win French Open and complete La Decima
Nadal won the French Open for an unprecedented tenth time by beating Wawrinka, to cement his status as the greatest clay court player the sport of tennis has ever seen
Paul Newman
Paris
Sunday 11 June 2017 16:19 Comments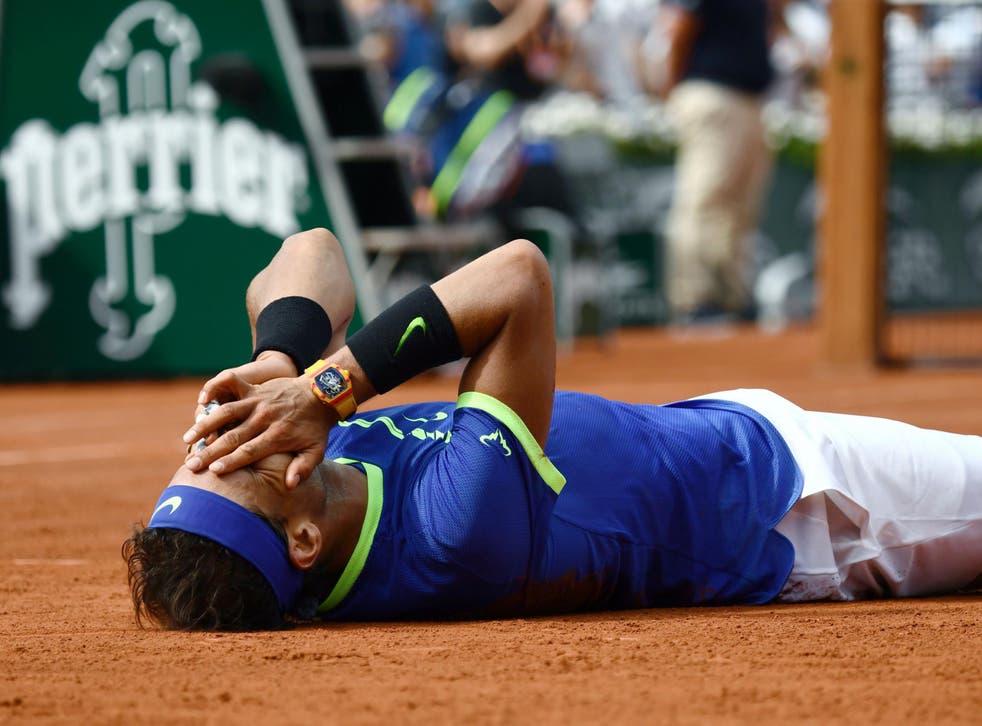 There have been times in the recent past when you wondered if Rafael Nadal would ever win another Grand Slam title, but the 31-year-old Spaniard added a further chapter to his remarkable story with his greatest achievement yet.
A 6-2, 6-3, 6-1 victory here over Stan Wawrinka in an utterly one-sided final gave Nadal his tenth French Open title. Given that no man in the history of tennis had ever won the same Grand Slam singles title 10 times and that Nadal has done it at the event which makes the biggest physical demands on players, it is hard to think of any equivalent achievement in any other major global sport.
Three years after winning his last Grand Slam title on the same court, Nadal put behind him the frustrations that have come with the injuries and loss of form that have had some people even questioning whether he might retire from the sport.
At 31 Nadal is the oldest men's champion at Roland Garros since 34-year-old Andres Gimeno won the title in 1972, while the 15th Grand Slam title of his career puts him second in the all-time list, just three behind Roger Federer.
Nadal is one of eight men who have won all four Grand Slam titles, but it is his achievements on the red clay here that mark him out as a player unlike any other. He has won 79 of the 81 matches he has played on these courts and this was the third time that he has won the title without dropping a set.
Bjorn Borg keeps the record for dropping the fewest number of games in winning this tournament (32 in 1978), but Nadal's total of 35 games conceded beat his previous best of 41, which he set in 2008.
At the presentation ceremony Nadal was presented with a full-size replica of the Coupe des Mousquetaires by his uncle, Toni, who will not be touring with him after this year as he hands the coaching reins over to Carlos Moya.
Nadal won his seven matches here this year in an average time of just an hour and 44 minutes each, which was a reflection of the extra dimensions he has added to his game. The Spaniard has added more potency to his serve – a shot which used to be a significant weakness – and plays with more aggression than he used to, ensuring that he wins his points more quickly.
"Today was a very important day for me," Nadal said afterwards. "I have been through some tough moments with my injuries, so it's great to have big success like this again."
He added: "On paper, when you look at the scores, it all seems fairly easy. But it's not. The French Open is 'the' most important tournament of the year. That means when I arrive in Paris I'm very nervous and I know that it's going to be difficult for me. Year after year it's becoming increasingly difficult, because I'm also getting older."
Wawrinka, who has recruited Paul Annacone to his coaching team for the grass-court season, thought he had not played his best and had been too hesitant, but said Nadal was "an amazing fighter". He also thought Nadal had never played better.
Asked if he thought that was the case, Nadal said: "These two weeks have been a great level of tennis, it's true, but I had already won two Roland Garros titles without losing a set before this one. I was probably playing well then too.
"I feel I have been playing well since the beginning of the season, but it's true that in my career I have had a lot of good years. This year has been very special since the beginning. I am playing very well, but I don't like to compare."
Nadal is now putting pressure on Andy Murray at the top of the world rankings. The Spaniard will move up to No 2 in Monday's updated list, one place ahead of Wawrinka and two ahead of Novak Djokovic, who falls to his lowest position for nearly eight years. While Murray has maximum ranking points to defend on grass after his victories at Queen's Club and Wimbledon last summer, Nadal has none as he missed both because of injury.
Wawrinka, who had played superbly to beat Murray on Friday in the match of the tournament, was never in contention in the final. Nadal had said that he would need to keep the 32-year-old Swiss pegged back, denying him the room to hit his hammer-blow ground strokes, and was as good as his word. Wawrinka, who had won all three of his previous Grand Slam finals, was repeatedly pushed deep into the court as Nadal piled on the pressure with the length and weight of his shots.
There were times when even Wawrinka stopped to applaud, as he did after one astonishing point midway through the second set. Wawrinka seemed to be in charge when he drove Nadal out wide with a ferocious backhand, but the Spaniard returned it with interest, hammering a flat and low forehand down the line over the highest part of the net for a winner which landed just inside the court.
The warmth of the sunshine on another glorious day on Court Philippe Chatrier was matched by the warmth of the support for both men, even if Nadal has never quite enjoyed the level of affection that you might think he would deserve in a stadium where he has achieved so much. On this occasion the support appeared evenly split between the Spaniard and the French-speaking Swiss.
Nadal was immediately into his stride and Wawrinka was soon having to fight ferociously to keep up with the pace. He saved four break points in levelling for 2-2 before Nadal put his foot on the accelerator. Winning seven games in a row, the Spaniard took the first set and was very quickly 3-0 up in the second. Not even a time violation for taking too long between serves could knock him out of his stride.
Having won only three points in the first three games of the second set, Wawrinka briefly steadied the ship, but Nadal was not to be denied. At 5-3 he went to set point when a dramatic rally ended with Wawrinka hitting a forehand long, upon which he smashed his racket on the ground, for which he earned a code violation. Nadal served out for the set on the next point.
There was no let-up in the third set as Nadal broke serve in the opening game. Wawrinka's frustration was reflected in a moment when he served at 1-3 down. After winning a point with a deft cross-court backhand he milked the prolonged applause of an appreciative crowd who respected his unflinching effort. It was not long before normal service was resumed, however, as Nadal broke serve to take a 4-1 lead.
At 1-5 Wawrinka saved the first match point but netted a volley on the second as Nadal completed his victory in just two hours and five minutes. The final ended in a familiar sight as Nadal fell on his back in celebration. Given the way that he has played here over the last fortnight it might not be the last time we witness such scenes.
Asked to look back over the years to the time when he won his first French Open title, Nadal said: "In 2005 I thought in 2017 I'd be fishing on my boat in Majorca. I didn't really think I'd have such a long career and win so many tournaments."
Register for free to continue reading
Registration is a free and easy way to support our truly independent journalism
By registering, you will also enjoy limited access to Premium articles, exclusive newsletters, commenting, and virtual events with our leading journalists
Already have an account? sign in
Join our new commenting forum
Join thought-provoking conversations, follow other Independent readers and see their replies