Carlos Moya eager to help Rafael Nadal accomplish his toughest test yet - beating Roger Federer again
US Open champion and World No 1 Nadal has beaten Federer in 23 of their 37 meetings, but the Swiss has come out on top in all three of their encounters this year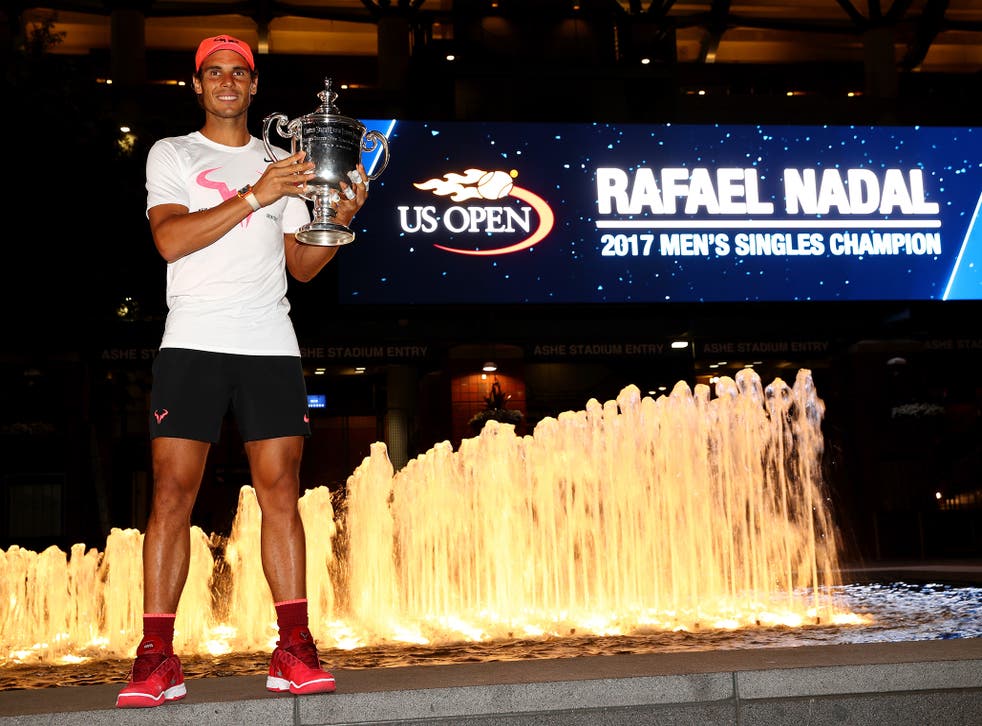 Carlos Moya, the man who will take charge of Rafael Nadal's coaching next year, is already looking forward to what he believes will be the world No 1's next great challenge: to beat Roger Federer again.
Nadal, who won his 16th Grand Slam title when he crushed Kevin Anderson 6-3, 6-3, 6-4 in the US Open final here on Sunday night, has beaten Federer in 23 of their 37 meetings, but the Swiss has come out on top in all three of their encounters this year.
In terms of Grand Slam titles Nadal and Federer are finishing 2017 with honours even, the Spaniard having won the French and US Opens while his great rival won the Australian Open and Wimbledon. Nadal has also beaten Federer in the race to reclaim the world No 1 spot, even if the Swiss - who on Monday replaced Andy Murray as world No 2 – could yet catch him in the closing weeks of the season.
Moya, who will work alongside Francisco Roig, a long-time member of Nadal's entourage, when Toni Nadal steps down at the end of this year as his main travelling coach, said after Sunday's final that the world No 1's toughest loss in 2017 had been to Federer in the Australian Open final.
Federer went on to beat Nadal in their only two subsequent meetings, in the fourth round at Indian Wells and the final in Miami. The last time Nadal beat Federer was in the Australian Open semi-finals more than three and a half years ago.
Moya said that Nadal's camp had fancied their chances against Federer in Melbourne. The Swiss had missed the last six months of 2016 because of a knee injury and had been taken to five sets in both his fourth-round and semi-final matches. However, Federer beat Nadal in another five-set marathon and went on to get the better of him again in their next two matches.
"In Miami we tried to change a few things, but it didn't work," Moya said. "It's about evolving. When you lose two, three, four times to the same guy, you try to find something.
"Unfortunately – or maybe fortunately, I don't know - we haven't had the chance to play against Roger again since Miami, but we look forward to that. Rafa is prepared.
"For me as a tennis fan it's one of the best matches you can see. I would love Rafa to play Roger. They make each other better. For Rafa, having that challenge is something that for sure makes you evolve, makes you improve. You try to look at some of the things that Federer is doing, because what he has done this year at 36 is unbelievable. You always try to learn from the top guys."
Moya, who was been working with Nadal all year in anticipation of Toni's retirement, said he had been encouraging the world No 1 to play more aggressively, to attack his opponents' second serves more often and to be more relaxed on his own first serve.
"He has not been injured, which for me is key," Moya said. "When you see the other players and how tough it has been for them to be healthy, that's our main goal right now."
Nadal did not win any Grand Slam titles between the 2014 and 2017 French Opens, largely because of a succession of physical issues. He has looked in superb shape this year, though Moya believes that he may not be as fast as he was.
"Rafa probably understands the game better now than when he was 20," Moya said. "When he was 20 his physical condition was different. Now he is 31, you don't have the same physical conditions and qualities, but you have to find a way to still be competitive.
"I think that understanding the game is the key as he tries to play at this level at this stage of his career. He is probably a bit slower than he was, but he understands, he anticipates, he plays the shot because he knows what shot he wants to hit next. It's like a game of chess. He is trying to evolve."
Moya, himself a former world No 1, said that finding a way to beat Dusan Lajovic and Taro Daniel as he struggled in the first two rounds here had been crucial to Nadal winning his third US Open title. After dropping the first set of his third-round match against Leonardo Mayer, Nadal did not lose another one.
"We always talk about the first two matches," Moya said. "For a player of his calibre it's about surviving those two matches. Once he does that he will get confidence if he has trained and he is healthy, which was the case.
"He was nervous at the beginning and probably felt the pressure, but then he won those two matches despite not playing at his best level and then he started to play much better against Mayer. I think that was the turning point."
When asked about the possibility of Nadal matching Federer's total of 19 Grand Slam titles, Moya said it was "not something we are concerned about now". He added: "We will try to enjoy the moment."
Toni Nadal, who has always been a man with his feet on the ground, said that winning a 16th Grand Slam title was "nothing special". He explained: "For me it's no different than the other times when he won a Grand Slam tournament."
Was this a big moment for him? "It was a big moment, not for me but for Rafael. It was a big moment because Rafael cannot win the US Open every day."
Ever the pragmatist, Toni pointed out that his nephew had benefited here from the absence through injury of Novak Djokovic, Andy Murray, Stan Wawrinka, Kei Nishikori and Milos Raonic, as well as the early losses suffered by Federer, Alexander Zverev and Grigor Dimitrov.
"That changed everything," Toni said. "It wasn't the same as playing against Djokovic in the final or against Murray or against Wawrinka. This tournament was different because we played against [Alexandr] Dolgopolov, [Andrey] Rublev - good players but not the top – though I think Rafael played a very good match against [Juan Martin] del Potro, who is a wonderful player."
Toni described his nephew's achievement in winning 16 Grand Slam titles as "incredible" and paid credit to this "great generation" of players. He pointed out that Federer, Nadal and Djokovic had won 47 Grand Slam titles between them, while Jimmy Connors, Bjorn Borg and John McEnroe had won 26 between them in a previous "golden age" for men's tennis.
Toni admitted it would feel "a little strange" to watch next year's Australian Open on television back home in Majorca, where he will be focusing on running Nadal's tennis academy. He did not rule out coming to Grand Slam tournaments in the future but added: "At the moment I think Rafael has Carlos Moya and Francisco Roig. I don't think he needs me to go there. I can be at home."
Join our new commenting forum
Join thought-provoking conversations, follow other Independent readers and see their replies