Scotland's only winner of a Grand Slam. So far
Historians have recently discovered the truth about Harold Segerson Mahony, who won his only major title in 1896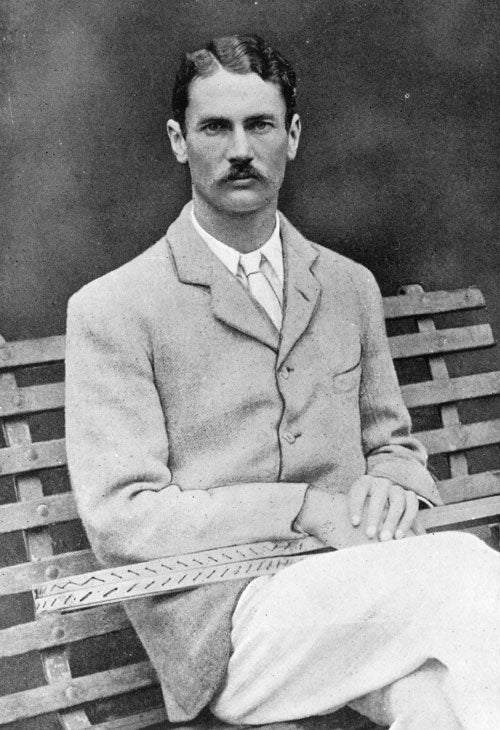 I bet you thought that, until Andy Murray came along, the Scottish Hall of Tennis Fame was rather like the List of Famous Baffin Islanders, or the Norfolk Hut of Mountaineering Fame: a little on the underpopulated side.
Well, how half-wrong you'd be. There's Jamie Murray (Wimbledon mixed doubles, 2007), two boys' Wimbledon title-holders (Willie Shaw, 1964; Ken Revie, 1974), and three girls' champions (Norah Mackintosh, 1927; Jean Nicoll, 1938; and Norma Steacy, 1947). But above them all – at least until around late afternoon in Australia today – there's the only Scottish-born man ever to win a major title: Harold Sergerson Mahony.
Never heard of him? Neither, until we checked, had we. And nor, until a few years ago, had Scottish tennis's historians. They assumed that because Mahony was raised in Ireland, he had been born there. But, it turned out, the 1896 Wimbledon champion first opened his eyes at 21 Charlotte Square, Edinburgh on 13 February 1867.
His background – unlike the middle-of-the-road one of Murray – was upholstered in rich privilege. His father, Richard John Mahony, a barrister whose main activities were the family estates and oyster-raising, was the sixth largest landowner in Ireland. He had a home in Scotland – Dalmore Lodge in Leith – and Dromore Castle, in County Kerry, Ireland – a castellated Toad Hall of a place built for the family in mid-century. It had – after Harold, an only son, expressed an interest in the sport – its own tennis court.
Aided by these on-site practice facilities, young Harold was soon cutting something of a swath through the lower echelons and into the top flight. In 1890, when he was 23, he made his Wimbledon debut, going out in the opening round. But thereafter, until the early 1900s, he was one of the players to be reckoned with.
Wimbledon was a curious thing in those days. Not quite the vicarage garden party which is how it is often portrayed (even at the first final, in 1877, there were 200 spectators paying a shilling a time to sit on planks around the court), the championships of the 1890s were nevertheless the showpiece of a sport only in its infancy. It had been invented a mere 30-odd years before, the overhead serve was only a decade old, and the championships consisted of two events: an "all-comers" contest which whittled the entrants down to one winner, who then faced the previous year's title-holder in the "challenge round".
In 1891, Mahony reached the semi-final of the all-comers event, did so again the following year, and, in 1893, went one better. He was becoming a testing opponent – 6ft 3ins tall, and with a spiteful backhand, and
a long reach that made it difficult to get the ball past him when he rushed the net, which he frequently did. These qualities made up for a curiously under-developed forehand. One contemporary, George Hillyard – himself married to six-times Wimbledon ladies' champion Blanche Bingley – wrote that he "never did acquire the right method of hitting the ball on the forehand".
Yet, in 1896, his game strengthened by a spell in America, he returned, sweeping through to the challenge round, and there he defeated the reigning champion, Wilfred Baddeley, 6-2, 6-8, 5-7, 8-6, 6-3. (Mahony was one of a number of champions and near-champions of that time who had upper-class connections in Ireland. Among them was the extraordinary Vere St Leger Goold, runner-up in 1879, and the only major-tournament finalist to be convicted of murder after he and his wife bumped off one of their creditors in Monte Carlo and wedged her remains into a trunk.)
Although Mahony appeared in more semi-finals, and even won an Olympic silver medal for tennis in 1900, he was never a top champion again. But one has the impression that it would not have unduly worried him. Contemporaries wrote of his "casual and irresponsible attitude", his "generous heart", banter with the crowds and perpetual good humour. But most of all, they wrote of his eye for, and success with, "the ladies". He was much in demand for country-house coaching sessions, and he maintained a pad in London, at Earls Court, where he, an accomplished amateur musician, did much discreet entertaining.
Tantalisingly, an entry in the 1891 census returns raises the question of whether he had a romantic dalliance with England's greatest sportswoman. She was Charlotte Dod, the prodigy who had already, at 19, twice won Wimbledon and would go on to win it three times more. The census shows that, on the night of 5 April, Mahony was staying as a guest at the Cheshire home of Charlotte Dod and her widowed mother. She also spent holidays in Scotland around this time.
In 1905, the tall, handsome, charming man who is still Scotland's only winner of a major tennis tournament, went for a bicycle ride. He never came back. His body was found, alongside his broken bike, at the foot of a steep hill near his County Kerry castle. He was 37. And Lottie Dod? She never married.
Join our commenting forum
Join thought-provoking conversations, follow other Independent readers and see their replies