Serena Williams emerges from adversity to prove her lasting greatness
Five-times champion lives up to her claim of controlling her own destiny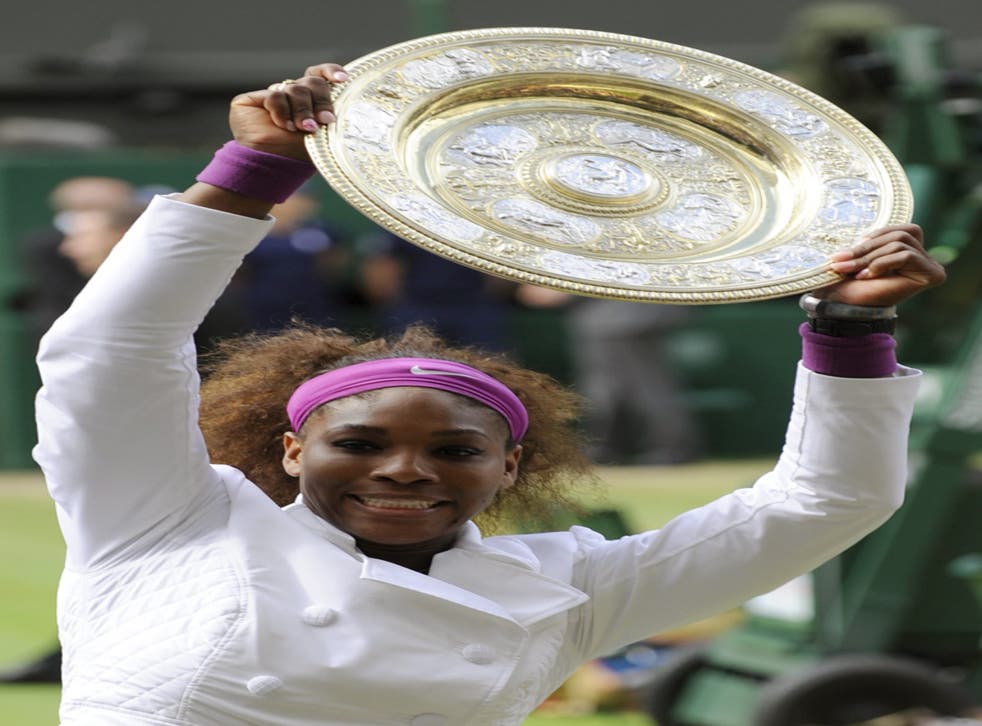 They say great champions can win big matches even when they are not at their best, and so it proved. Serena Williams, the former world No 1, whose ranking slumped to 175 a year ago, has had a chequered time since she last won at Wimbledon in 2010. She had nearly 10 months out of the game through surgery and then a series of complications, including a pulmonary embolism. And she came into this championship on the back of a disastrous French Open, where she was dumped out in the first round.
In the past two years the women's game has been in a state of flux. Maria Sharapova, who won at Roland Garros, has found her form again and there are a number of younger players, including Williams' final opponent, Poland's Agnieszka Radwanska, who are in contention for the major honours. Whoever had won on Saturday would have been the seventh different player in a row to win a Grand Slam event.
But Williams, 30, wasn't going to let that faze her. After the match she said: "Yeah, people were thinking, 'Can she do it again?' But now I'm winning titles. I don't hear what people say, and quite frankly I don't really care. Everyone's allowed to think what they want, to say what they want. Ultimately, I'm the one out there and I make my own destiny."
But it was a tough time and Williams described her lowest moment 17 months ago: "I almost didn't make it when I was in hospital, but now I am here again and so happy. It makes it sweeter. I never dreamt of being here again."
Even if Williams was making another comeback of sorts, it still looked like an unequal battle – the experienced American, attempting to win her 14th major title, versus a player making her first appearance in a Grand Slam final. But there was one neat symmetry at least: both finalists are half of a sister act, keeping their doubles play in the family. Williams won the women's doubles title with Venus later on Saturday, while Radwanska, 23, plays with her younger sister Urszula.
In the singles final it was a question of whether the third seed's smart game play could outwit Williams' superior firepower. The Pole started the match nervously and Williams raced to a 5-0 lead before Radwanska could finally hold serve. And as Williams served out the set to win it 6-1, there was the awful possibility that this would be the most one-sided final since Billie Jean King defeated Evonne Goolagong 6-0, 6-1 in 49 minutes in 1975.
But after a 20-minute rain delay Radwanska came on court a different player. The nerves were gone and she started dictating the play. She doesn't have any big weapons and is not a big server – her best here was 105mph to Williams' 120mph – but her style is to move her opponents around court and into unforced errors, and she mixes up her deliveries with zingers down the line, deft drop shots and her trademark, a semi-crouching position on the half-volley. There were some wonderful passages of play as Radwanska broke Williams' serve twice and took the set 7-5. We wondered whether the former champion would wobble in the third set, but Williams showed her mettle in the fourth game by drilling down four aces – she had 17 in this match to bring her championship total to 105. And when she was broken in the next game, Radwanska's puff had gone and Williams ran out the winner 6-1, 5-7, 6-2 after a little more than two hours of play.
"She was serving very well today, so many aces, "Radwanska said after the match. "Then she was too good in the important moments in the third set, so it was too hard for me to come back."
Williams, who equalled sister Venus's five Wimbledon titles, now moves up two places to world No 4, while Radwanska moves up one spot to No 2, behind Sharapova.
There was much talk around SW19 in the past fortnight about Williams being scheduled to play two of her matches on the far-flung No 2 court, something that Roger Federer or Novak Djokovic would never be asked to do. Whatever weaselly arguments the All England Club comes up with, it does appear disrespectful to a former champion, but greats of the game were lining up to praise Williams after Saturday's win, chief among them John McEnroe.
"She has the best serve of the women's game, ever," he said. "I believe [she's] the greatest women's player ever to have played the game."
In truth this wasn't a great final, but if a sign of a great champion is being able to dig deep when it matters – whether in a hospital bed or when a tennis match is not going your way – then Williams certainly deserves the accolade.
Seven slams, seven different winners
Wimbledon 2012: Serena Williams (US) beat Agniezska Radwanska (Poland) 6-1, 5-7, 6-2
French Open 2012: Maria Sharapova (Russia) beat Sara Errani (Italy) 6-3, 6-2
Australian Open 2012: Victoria Azarenka (Belarus) beat Sharapova 6-3, 6-0
US Open 2011: Samantha Stosur (Australia) beat S Williams 6-2, 6-3
Wimbledon 2011: Petra Kvitova (Czech Republic) beat Sharapova 6-3, 6-4
French Open 2011: Li Na (China) beat Francesca Schiavone (Italy) 6-4, 7-6
Australian Open 2011: Kim Clijsters (Belgium) beat Li 3-6, 6-3, 6-3
Full Wimbledon roll of honour
Men's singles
3 R Federer (Swit) bt 4 A Murray (GB) 4-6, 7-5, 6-3, 6-3.
Women's singles
5 S Williams (US) bt 3 A Radwanska (Pol) 6-1, 5-7, 6-2.
Men's doubles
J Marray (GB) & F Nielsen (Den) bt 5 R Lindstedt (Swe) & H Tecau (Rom) 4-6, 6-4, 7-6, 6-7, 6-3.
Women's doubles
S Williams (US) & V Williams (US) bt 6 A Hlavackova (Czech Rep) & L Hradecka (Czech Rep) 7-5, 6-4.
Mixed doubles
4 L Paes (India) & E Vesnina (Russia) were facing 2 M Bryan (US) & L Raymond (US) last night
Boys' singles
F Peliwo (Can) bt 1 L Saville (Aus) 7-5, 6-4.
Boys' doubles
4 A Harris (Aus) & N Kyrgios (Aus) bt M Donati (It) & P Licciardi (It) 6-2, 6-4.
Girls' singles
5 E Bouchard (Can) bt 3 E Svitolina (Ukr) 6-2, 6-2.
Girls' doubles
1 E Bouchard (Can) & T Townsend (US) bt B Bencic (Swit) & A Konjuh (Cro) 6-4, 6-3.
Register for free to continue reading
Registration is a free and easy way to support our truly independent journalism
By registering, you will also enjoy limited access to Premium articles, exclusive newsletters, commenting, and virtual events with our leading journalists
Already have an account? sign in
Register for free to continue reading
Registration is a free and easy way to support our truly independent journalism
By registering, you will also enjoy limited access to Premium articles, exclusive newsletters, commenting, and virtual events with our leading journalists
Already have an account? sign in
Join our new commenting forum
Join thought-provoking conversations, follow other Independent readers and see their replies