Serena Williams in race to be fit for Wimbledon as All England Club weighs up seeding options
Williams has four weeks to recover in time for Wimbledon, which starts on 2 July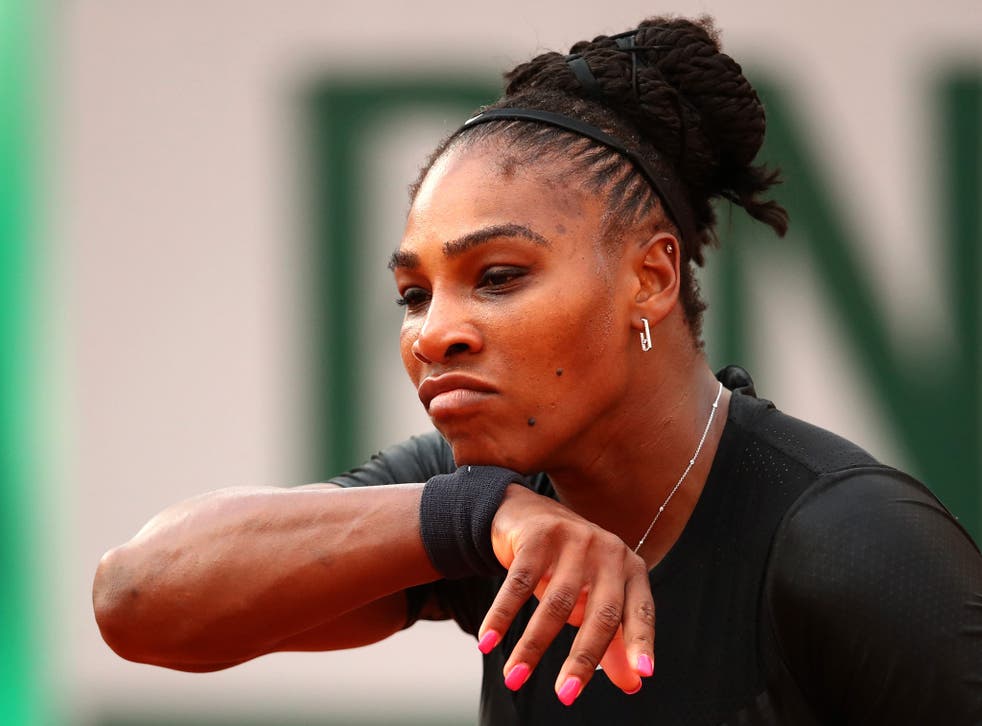 Serena Williams was making encouraging noises here on Tuesday about her recovery from the pectoral muscle injury which forced her to withdraw from her French Open showdown against Maria Sharapova.
"Today has been interesting already," the former world No 1 said in a video posted on Instagram. "I have just finished one exam with one doctor and the news is actually super-exciting."
Williams has four weeks to recover in time for Wimbledon, which starts on 2 July. It remains to be seen whether she will be fit to play, but provided she has not withdrawn she will leave the All England Club with an interesting decision to make in the week before the tournament starts. Will Wimbledon seed their former champion and in so doing upset some of her fellow professionals?
The seedings for this year's Championships are due to be announced in three weeks' time. All other tournaments automatically follow the Women's Tennis Association's world rankings for their seedings, but the four Grand Slam events have scope to make their own judgements.
The French Open, which has always followed the rankings, did not make an exception for Williams, but Wimbledon have confirmed their right to make changes in order to produce what they call "a balanced draw". Williams, who did not ask for a seeding in Paris, is currently the world No 451 and will still be outside the top 100 when Wimbledon starts. The big advantage of a seeding is that it guarantees you cannot meet another seeded player in the first two rounds.
On the basis of both her past record at Wimbledon, where she has won the title seven times, and the quality of her victories here over two top 20 players (Ashleigh Barty and Julia Goerges), it could be argued that the 36-year-old American deserves a high seeding.
The case against seeding her centres on the fact that she has played only seven singles matches in the last 16 months, having been off the court for more than a year because of the birth of her first child. There are also continuing concerns over her fitness after she pulled out before the fourth round here in Paris.
Serena Williams hits back at Maria Sharapova's book before French Open showdown
Players who return to competition after lengthy breaks can enter tournaments with a "protected" world ranking, which is based on their position before their absence. The rule used to cover only injury and illness but was changed recently to cater for maternity as well.
However, under WTA rules a player cannot be seeded at a tournament on the basis of a "protected" ranking. That policy is under review for next year, but has been consistently supported by players' representatives on the WTA's player council. They argue that the players effectively earn their seedings via their positions in the world rankings, which are based on their performances over the previous 12 months.
If Williams was named among the 32 seeds at Wimbledon, the All England Club would have to not give a seeding to whoever was 32nd in the list of players entered for the tournament.
A number of top players expressed the view that Williams should have been seeded at Roland Garros, while John McEnroe said she should have been among the top 10 seeds. Nevertheless, Petra Kvitova said she would be against any special rules for returning mothers, on the basis that any player who has been out of competition for such a long time was unlikely to find top form immediately.
Twelve months ago Maria Sharapova's injury saved Wimbledon officials from having to decide whether to give the returning Russian a wild card following her drugs suspension. The early indications this time are that the Williams question will still be high on the agenda when officials meet to discuss this year's seedings.
Join our new commenting forum
Join thought-provoking conversations, follow other Independent readers and see their replies