Serena Williams vs Agnieszka Radwanska Australian Open: World No 1 through to final after crushing victory
Serena Williams beat Agnieszka Radwanska 6-0, 6-4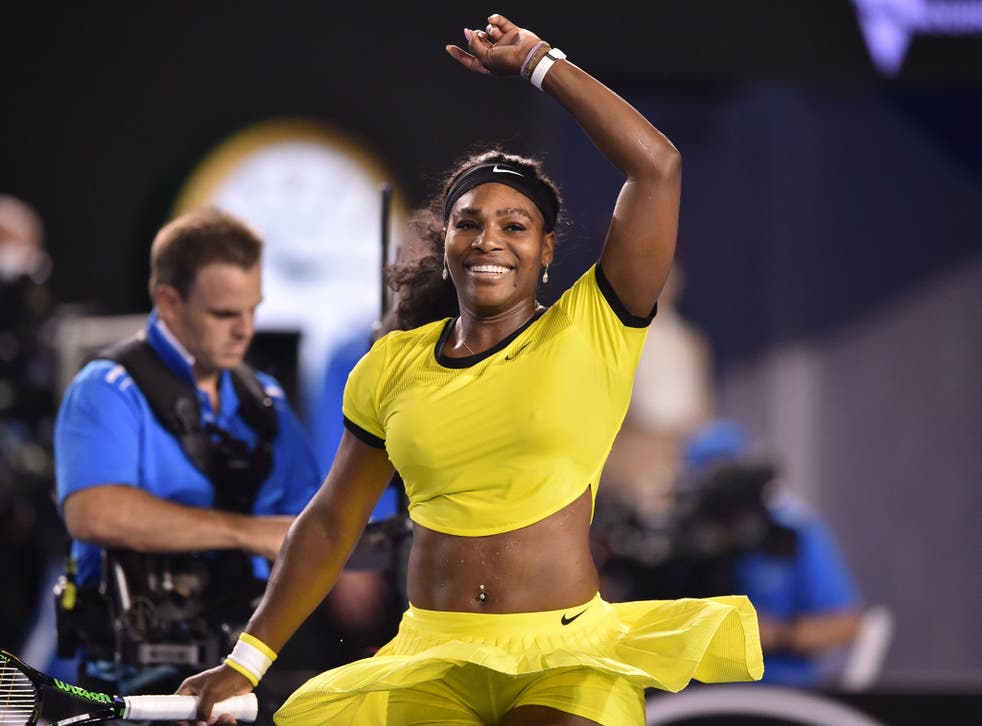 Serena Williams is one win away from a record-equalling 22nd grand slam title after the top seed blew away Agnieszka Radwanska in the Australian Open semi-final.
Williams eased past Radwanska 6-0 6-4 to reach her 26th major final and her seventh in Melbourne while victory would see her go level with Steffi Graf at the top of the Open era champions list.
The American will face either Britain's Johanna Konta, ranked 47th in the world, or German Angelique Kerber, the pair playing their semi-final later on Thursday.
"Either one is OK, I've never played Konta - Kerber a few times - but I'm honestly a little surprised to be in another final," Williams said,
"I feel I'm playing the best I can and I can't believe I'm in the final.
"Physically I'm feeling a lot better, mentally I needed that break after the US Open and now I just feel so good, it's great, I didn't think I'd do so well so fast."
Radwanska, ranked fourth in the world, is no stranger to the top level of women's tennis but she was made to look a minnow by Williams, who looks ominously back to her very best.
She set her stall out in the very first point as she thundered back Radwanska's first serve before two more booming returns sealed an early break.
It was a sign of what was to come as Williams crushed her opponent from the outset, storming into a 5-0 lead and leaving the crowd wondering if the Pole would ever get on the board.
Radwanska's serve was like shooting practice for the American, particularly given her first serve sat at a lowly 50 per cent in the first set, which Williams sealed to love in just 20 minutes.
The top seed hit 18 winners in the opening six games and her second serve was averaging a higher speed than Radwanska's first.
Finally, however, the world number four registered at the start of the next set, to a great cheer from the crowd, and then she held again to keep pace at 3-2.
Williams started to miss a few and Radwanska started to compete, breaking the top seed to level at 3-3 and then drawing the biggest applause of the match when she pulled her opponent in with a drop shot then pushed away the winner with a neat backhand volley.
Up 4-3, Radwanska was sparking hopes of a comeback but no sooner had she dared to think it than Williams cranked up the pressure again.
The American held and then won seven points in a row, including three consecutive aces, to open up a triple match point.
Williams converted at the first time of asking, driving a volley into the corner, before squatting on her feet and screaming in celebration as she stands on the brink of a seventh Australian Open triumph.
PA
Register for free to continue reading
Registration is a free and easy way to support our truly independent journalism
By registering, you will also enjoy limited access to Premium articles, exclusive newsletters, commenting, and virtual events with our leading journalists
Already have an account? sign in
Register for free to continue reading
Registration is a free and easy way to support our truly independent journalism
By registering, you will also enjoy limited access to Premium articles, exclusive newsletters, commenting, and virtual events with our leading journalists
Already have an account? sign in
Join our new commenting forum
Join thought-provoking conversations, follow other Independent readers and see their replies