Serena Williams washes down bagel with an on-court coffee
World No 1 asked for a double espresso in the middle of the game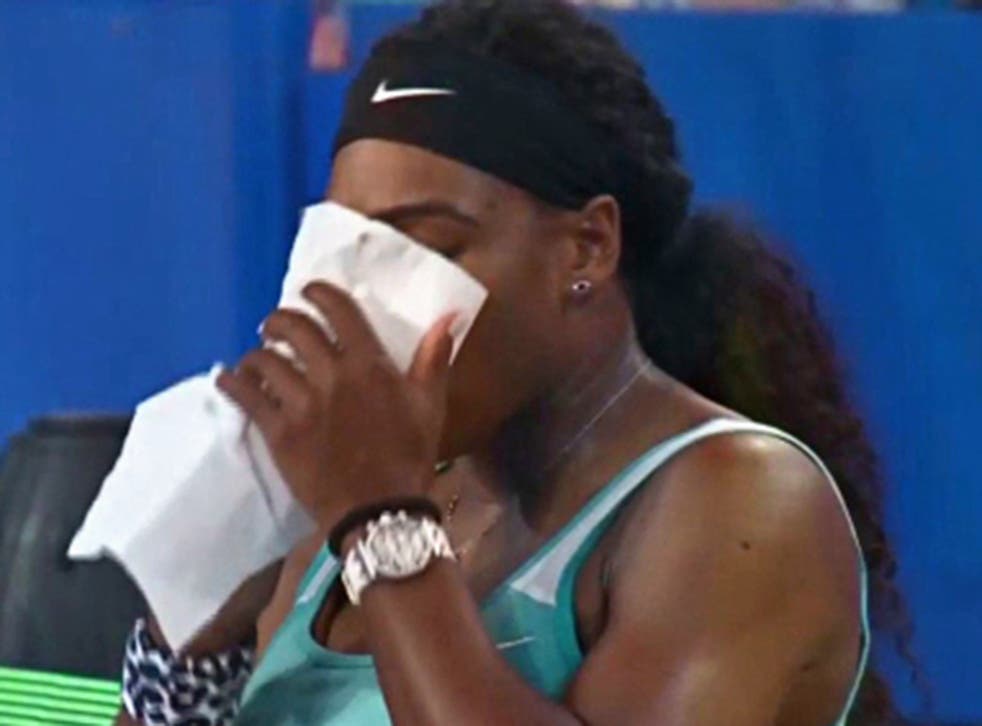 Serena Williams is used to breaking through barriers and setting records, but the world No 1's latest "first" was among her more unusual achievements.
It is not exactly a statistic you would expect to find in the record books, but here at the Hopman Cup nobody could ever recall an instance of a player sending for a double espresso in the middle of a match.
Struggling with jet lag and with the 10am start, Williams won just 11 points in the first set of her opening match against Italy's Flavia Pennetta. The problem, the American decided, was that she had missed her usual morning cup of coffee.
Williams asked the umpire if requesting a coffee during a match was in order, upon which a ballgirl brought her a double espresso. Ever the professional, Williams carefully masked the branding on the cup from the cameras that were trained on her, before drinking the coffee.
It appeared to have an instant effect. Having lost the first set without winning a game, Williams went on to win the match 0-6, 6-3, 6-0. Losing a set to love is called a "bagel" in tennis and Williams said later: "I wanted a coffee with my bagel. Whatever coffee that was it was really good."
Williams, who went on to partner John Isner to a deciding mixed doubles victory for the United States over Pennetta and Fabio Fognini, described it as "miracle coffee".
She added: "I'm a coffee drinker and I didn't have mine this morning. I just felt I had to get some coffee in me. I've never done it before, but I needed to wake up. It's the jet lag. The jet lag is what gets you all the time."
Register for free to continue reading
Registration is a free and easy way to support our truly independent journalism
By registering, you will also enjoy limited access to Premium articles, exclusive newsletters, commenting, and virtual events with our leading journalists
Already have an account? sign in
Register for free to continue reading
Registration is a free and easy way to support our truly independent journalism
By registering, you will also enjoy limited access to Premium articles, exclusive newsletters, commenting, and virtual events with our leading journalists
Already have an account? sign in
Join our new commenting forum
Join thought-provoking conversations, follow other Independent readers and see their replies