Serena Williams wins Open-era record 23rd Grand Slam, beating sister Venus in Australian Open final
The younger Williams sister won in straight sets 6-4 6-4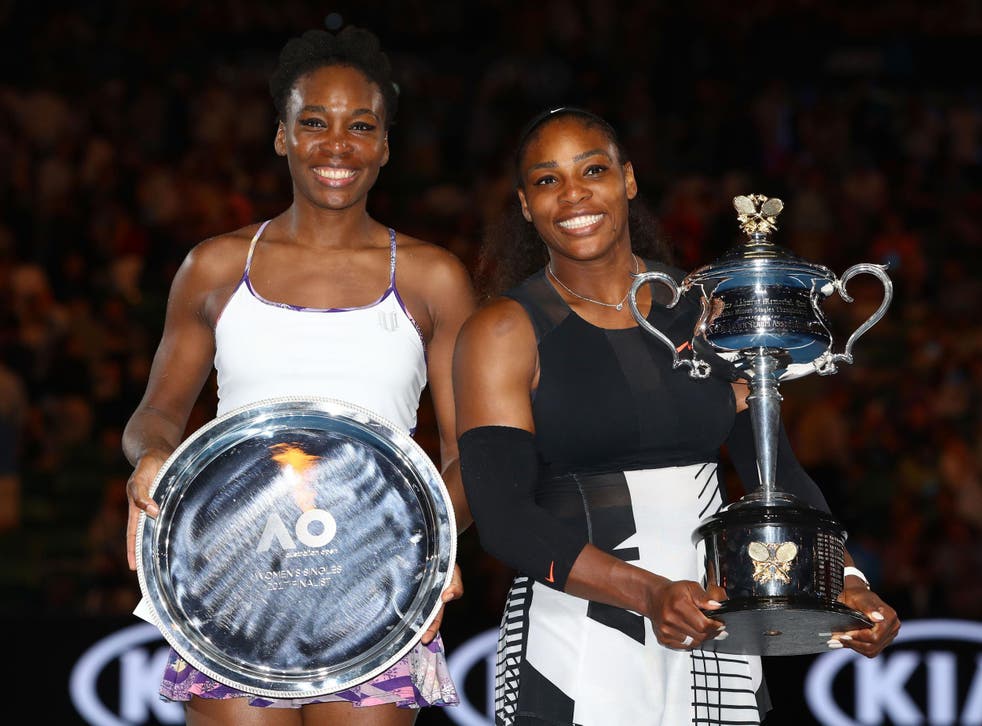 Not even sisterly love could get in the way of Serena Williams' relentless assault on history as the 35-year-old American passed another major milestone here today.
In beating her sister Venus 6-4, 6-4 to win the Australian Open for the seventh time, Serena took her tally of Grand Slam singles titles to 23, which eclipses Steffi Graf's previous Open era record of 22 and leaves her just one short of Margaret Court's all-time tally.
Her powers are showing no sign of diminishing. This was Serena's 10th triumph in the 19 Grand Slam tournaments she has played since Patrick Mouratoglou became her coach five years ago and she will reclaim the world No 1 position on Monday, ending Angelique Kerber's short reign at the top.
"It's such a great feeling to have 23," Serena said. "It really feels great. I've been chasing it for a really long time. When it got on my radar, I knew I had an opportunity to get there and I'm here. It's a great feeling. No better place to do it than Melbourne."
Serena said she was proud of what she and her sister had achieved. "We feel so fortunate to have this opportunity," she said. "Venus and I work so hard. Still to this day we work side-by-side each other at practice.
"We motivate each other. Every time she won her match here, I felt obligated to win. The motivation she gives me, it's really second to nothing. It's amazing."
Serena was not at her best in what was often a curiously subdued final, but she still had too much in her armoury for 36-year-old Venus, who was playing in her first Grand Slam final for eight years.
Playing your sister on a global stage has often seemed an uncomfortable experience for both women, though plenty of their matches have been memorable. Their previous meeting, 16 months ago in the quarter-finals of the US Open, had been a thrilling match in which both players held nothing back.
This, however, was different. Against any other opponent Serena regularly shows her emotions, clenching her fist in celebration of winners and driving herself forward with screams of "Come on!" Here, though, she appeared reluctant to express herself. Venus tends to be less vocal on court than her sister, but was particularly subdued, barely showing any signs of emotion from one point to the next.
From the start it was evident that the crowd in Rod Laver Arena were behind Venus, her remarkable story having captured the imagination of the Australian public. When she was diagnosed with an incurable auto-immune disease six years ago few could have imagined that she would ever play in a Grand Slam final again.
The early stages were especially flat as both women struggled to find their range on serve. The first four games all went against serve and Serena's frustrations were evident in the third game when she smashed her racket on the court surface – for which she received a code violation – after slipping when wrong-footed.
Venus was the first to hold serve, for a 3-2 lead, but two games later she was broken when Serena cracked a backhand winner down the line. Serena was beginning to find a better rhythm on serve and closed out the first set after 41 minutes with two successive aces.
At 1-1 in the second set Venus held serve from 0-40 down to a huge roar from the crowd. The set went with serve until Venus served at 3-3, when Serena stepped up the pace. Venus saved another break point with a service winner, but on the next two points Serena hammered huge returns to take a 4-3 lead.
When Serena served for the match at 5-4 and went 15-30 down after a stunning 24-shot rally it seemed that the battle might be prolonged. However, Serena held firm, went to match point when Venus netted a forehand and converted it when she forced her sister into a backhand error.
Serena fell to the floor in celebration, but quickly got to her feet as Venus came round to her side of the net, after which the sisters shared a long embrace.
In defeat the five-times Wimbledon champion was as gracious as ever. Asked afterwards about the large number of errors in the early stages of the match, Venus cited the fact that both sisters love to attack.
"In general we go for a lot, so there's going to be some errors," she said. "There's no counter-punching. There's no pushing. There's just aggression. You're going to see some great shots and at times you're going to see some errors. But those errors are very close. They're near-misses."
Venus, who will climb to No 11 in Monday's updated world rankings list, one place behind Britain's Johanna Konta, said she felt in good shape and was looking forward to the rest of the year.
"It's a great start to the year," she said. "This is tournament number two and it's already a lot of work. I'm looking forward to tournaments number three and four. It's going to be awesome."
She added: "I feel motivated to continue to go out there and hit the ball the way I know I can. There are only things I can improve on and build on. I feel I played very well this week, pulled a lot of things out of my pocket. I've got more stuff in my pocket. Get it out."
Register for free to continue reading
Registration is a free and easy way to support our truly independent journalism
By registering, you will also enjoy limited access to Premium articles, exclusive newsletters, commenting, and virtual events with our leading journalists
Already have an account? sign in
Register for free to continue reading
Registration is a free and easy way to support our truly independent journalism
By registering, you will also enjoy limited access to Premium articles, exclusive newsletters, commenting, and virtual events with our leading journalists
Already have an account? sign in
Join our new commenting forum
Join thought-provoking conversations, follow other Independent readers and see their replies