Shanghai Masters: Rafa Nadal and Roger Federer win as Juan Martin del Potro makes late charge for ATP Tour Finals
Top seeds Nadal and Federer both crushed their opponents to progress to the quarter-finals, while Del Potro extended his superb end of season form by beating Alexander Zverev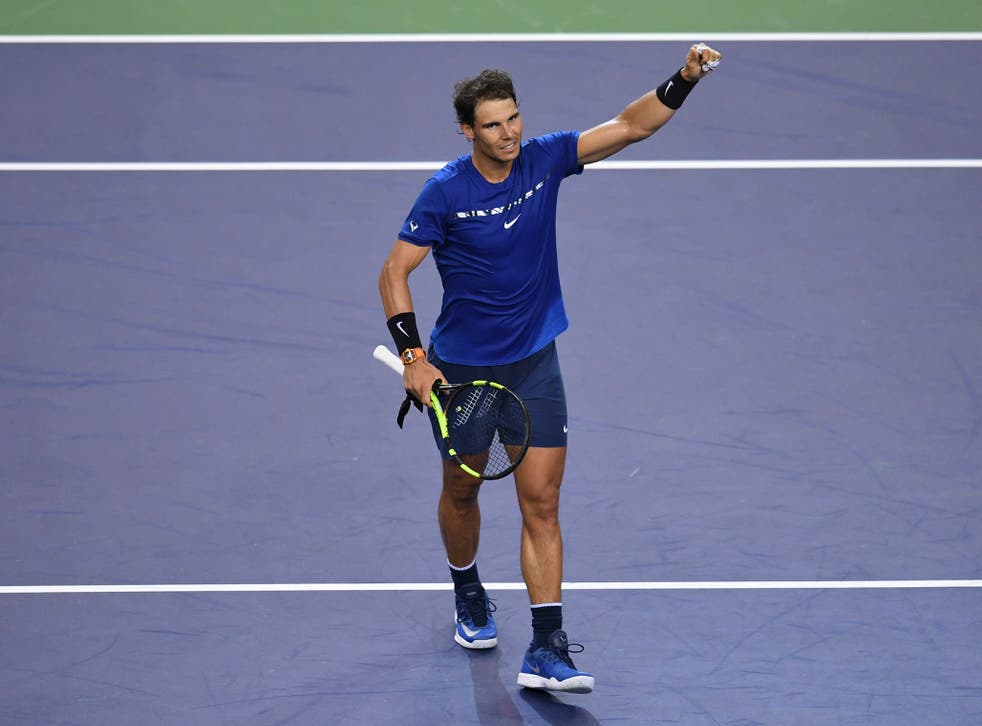 Rafael Nadal made it fourteen wins in a row on Thursday, as he crushed Italy's Fabio Fognini 6-3 6-1 to reach the quarter-finals of the Shanghai Masters.
Nadal is aiming to win a third successive title after victories at the US Open and China Open, and is on course to finish as the year end World No 1 for the fourth time in his career.
"I played a very good match. I don't know how many mistakes, how many unforced errors, but very few. And I played very well in all aspects," Nadal commented after his straight sets win.
"I have been doing things very well. This is a big result against a player like him after he won against Verdasco and Pouille in two good matches. So for sure today is a very good result for me and being in the quarterfinals of course is great news."
Nadal dominated proceedings, wrapping up victory in a breezy 62-minutes. Fognini's solitary opportunity came early in the second set, when he created his only two break points of the match, but Nadal saved them both and did not look back. He faces Bulgaria's Grigor Dimitrov in the next round.
Roger Federer also moved serenely into the final eight, taking two minutes less than Nadal to see off the qualifier Alexandr Dolgopolov 6-4 6-2. Richard Gasquet is up next for the Swiss.
"I felt good in the first match I played [against Diego Schwartzman] and today was exactly the same," he said after his 60-minute win.
"I think maybe the matchup was maybe a bit easier and I took my chances more. Plus I had a better ratio of winning on the break points that I didn't quite have against Schwartzman. That's maybe the biggest difference of both matches, so I'm happy I was able to do better today on the break points."
Juan Martin del Potro meanwhile maintained his good run of form, fighting back to beat rising star Alexander Zverev 3-6 7-6(5) 6-4.
The 29-year-old will return to the top 20 next week for the first time since the left wrist problem that nearly ended his career, and is even making a late run to qualify for next month's ATP Tour Finals in London.
"If my level continues improving, I will get closer to the top guys," Del Potro said. "But it's not easy. I have made a big effort after all my injuries to play tennis, but I think I'm doing well."
And Zverev, who has already qualified for both the Next Gen ATP Finals in Milan as well as the showpiece event in London, was full of praise for the Argentinian. "I think he played a great match, maybe one of the best of the season," he said. "I don't know what I could have done better."
Fourth seed Marin Cilic was another to move closer to qualifying for the Finals with a 7-6 (7/1) 6-4 victory over the American Steve Johnson.
Register for free to continue reading
Registration is a free and easy way to support our truly independent journalism
By registering, you will also enjoy limited access to Premium articles, exclusive newsletters, commenting, and virtual events with our leading journalists
Already have an account? sign in
Register for free to continue reading
Registration is a free and easy way to support our truly independent journalism
By registering, you will also enjoy limited access to Premium articles, exclusive newsletters, commenting, and virtual events with our leading journalists
Already have an account? sign in
Join our new commenting forum
Join thought-provoking conversations, follow other Independent readers and see their replies