Sheer firepower wipes out young pretender
Seven-time finalist Serena Williams has all the aces up her sleeve to beat the less experienced Pole Agnieszka Radwanska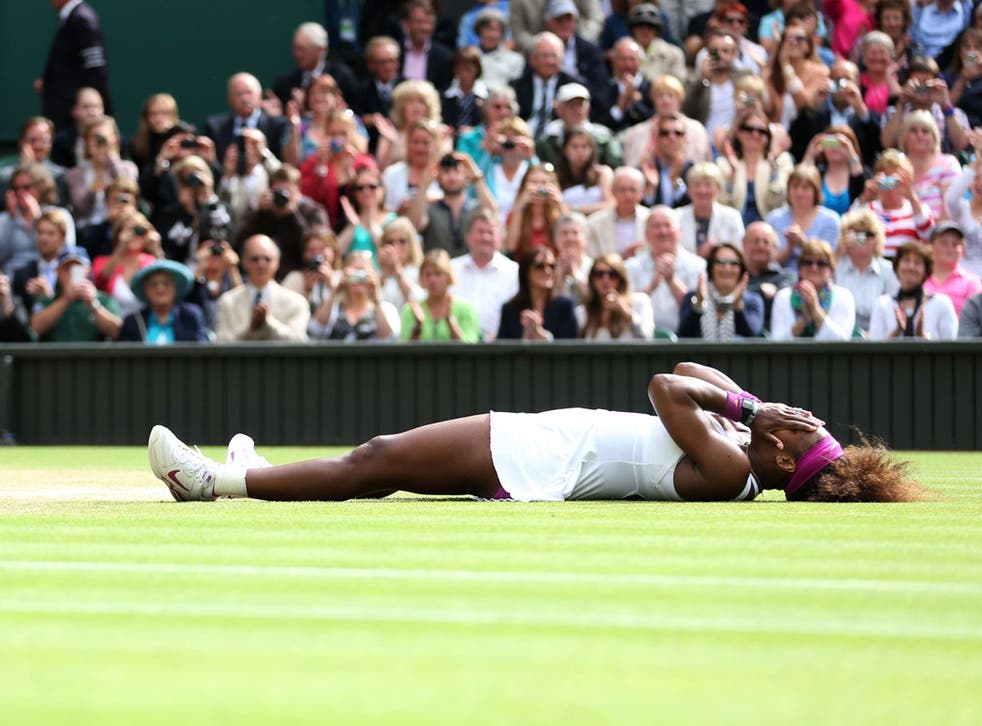 It ain't over till it's over, but when a former champion is 5-0 up inside half an hour it's perhaps understandable that the conversation on Centre Court would turn to discussing whether Serena Williams would beat Agnieszka Radwanska in the quickest final on record.
On paper it looked a match of unequals. This was the American's seventh Wimbledon singles final and she was aiming for a fifth title here to match her sister Venus's record, while the Pole was making her first appearance in a Grand Slam final anywhere.
Serena, who has the best serve in the women's game, went into this match having served 85 aces, to which she added 17 yesterday. But there was more to it than that. Williams, ranked No 6 in the world and the sixth seed, came back to the tour in 2011 after a year out with a series of misfortunes that started shortly after she won her fourth Wimbledon title in 2010, first with a foot injury and then complications that included a lung embolism and a lengthy hospital stay. By contrast, the slighter Radwanksa, 23, has a game that relies not on firepower but gameplay and a wide range of shots, and she started this match with her own health problems, suffering from an upper respiratory tract illness that she put down to our glorious summer weather.
The Pole started nervously and Williams, 30, capitalised immediately, breaking serve and rushing to that 5-0 lead. If she was feeling poorly before she came on court, Radwanska must soon have longed for the comfort of her sickbed, and there was hugely sympathetic applause when she finally managed to hold serve and chalk up a game, but Williams then served to take the first set 6-1.
Then came the rain and a 20-minute delay. Whatever Radwanska's coach, Tomasz Wiktorowski, said during the break, it worked. The world No 3 and third seed came out noticeably more relaxed and won the first game with her fastest serve of the match, at 103mph.
The two players engaged in some fine rallies and there were flashes of sublime talent, with Radwanska winning occasional points with wristy returns and her trademark half -volleys hit from a semi-crouching position. But whenever Williams was under threat on her serve she sent down a series of thundering deliveries, and she was dictating play more. When she broke Radwanska's serve in the third game it looked like the Pole was heading for the changing room, but there was life in her yet. At 4-3 up, a hopelessly wrong line call unsettled the former champion and she sent a forehand sailing wide on the next point to give Radwanska the break, her first of the match.
Radwanska held serve but Williams won her next service game with a beautiful passing shot as the Pole came into the net. Radwanska was giving as good as she got, winning her next service to love.
We might have expected Williams to blast some more 120mph serves at this point but her touch temporarily deserted her and she was broken to lose the second set 5-7.
So after 85 minutes we finally had an equally poised match. The first three games of the final set went with serve and there were some lovely rallies, with both players drilling shots low over the net into the corners and coming forward for some lovely soft-touch tennis.
But then Serena stepped up a gear, sending down four aces in one game. "That's the best thing to do," she said afterwards. "It's awesome." She broke in the next to go 4-2 up and it was all she needed, as she chalked up the next two games to run out the winner 6-1 5-7 6-2 in just over two hours.
Williams jumped for joy and clambered over seats to get to the players' box to hug her father, Richard, and then Venus and her mother, Oracene. "I can't even describe the feeling," Williams said after her win. "Being so down [during her illness] I never dreamt of being here again. It was so tough and I had to dig deep."
At 30, Williams is the first woman in her fourth decade to lift the Venus Rosewater Dish since Martina Navratilova won the last of her nine titles in 1990. But, she said: "Mentally I'm like 12 or 13, so it helps."
She joked that sibling rivalry had spurred her on in the match to equal Venus's haul of titles. "I've always wanted everything Venus had," she said.
Radwanska refused to blame her illness for her defeat, although she was tearful as she spoke after the match.
"I had the best two weeks of my life here," she said with a trembling voice. "I played my best but it just wasn't my day."
Register for free to continue reading
Registration is a free and easy way to support our truly independent journalism
By registering, you will also enjoy limited access to Premium articles, exclusive newsletters, commenting, and virtual events with our leading journalists
Already have an account? sign in
Register for free to continue reading
Registration is a free and easy way to support our truly independent journalism
By registering, you will also enjoy limited access to Premium articles, exclusive newsletters, commenting, and virtual events with our leading journalists
Already have an account? sign in
Join our new commenting forum
Join thought-provoking conversations, follow other Independent readers and see their replies