Petra Kvitova's comeback gathers pace as she beats Garbine Muguruza in memorable US Open clash
Two-time Wimbledon champion reaches US Open quarter-finals for the first time just 10 months after suffering serious injuries in an attack at her home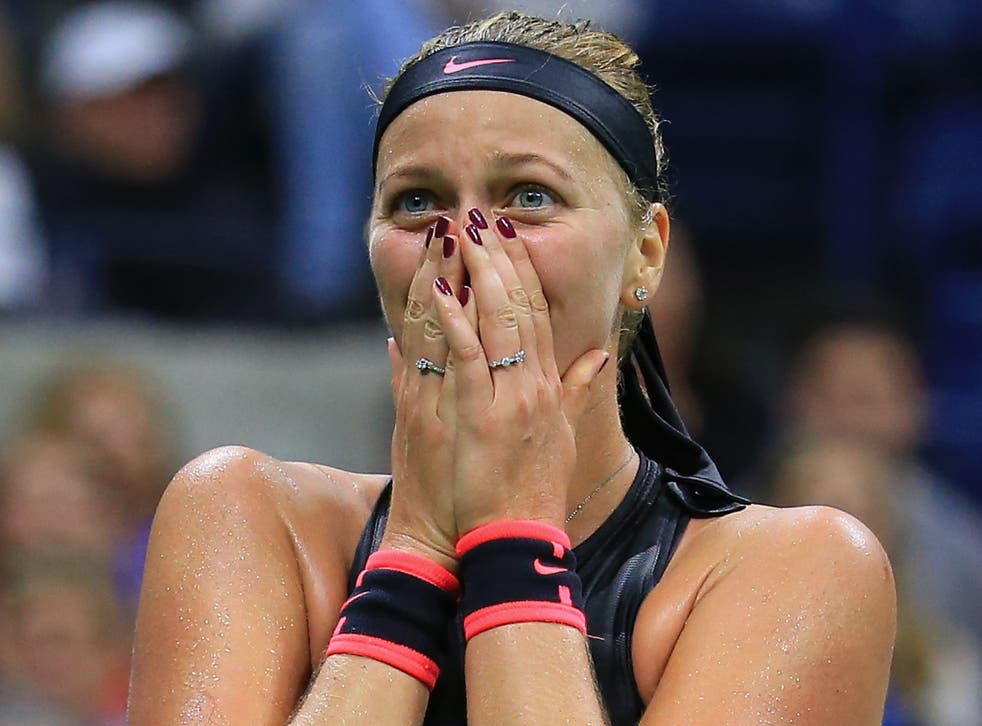 The showdown between two of Wimbledon's finest champions of recent years always promised to be memorable and Petra Kvitova and Garbine Muguruza did not disappoint here at the US Open.
A fourth-round match full of powerful ball-striking and bold serving ended in a memorable victory for Kvitova, who won 7-6, 6-3 to secure a quarter-final meeting on Tuesday with the five-times Wimbledon champion, Venus Williams.
Muguruza, who won her first Wimbledon title just seven weeks ago, had been the favourite to win the title here after a fine run through the north American hard-court season, but the 23-year-old Spaniard found herself outgunned by the All England Club champion of 2011 and 2014.
It was an extraordinary performance by Kvitova given that she had been told in December that she would probably never play again because of the horrific injuries she had suffered to her left hand when she was attacked by an intruder in her home.
The 27-year-old Czech did not pick up a racket again for three months and did not begin her comeback until the end of May. After winning the title at Edgbaston in her second comeback event she had struggled for consistency through the summer, winning a total of just four matches in her five subsequent tournaments.
Kvitova's left hand might never recover fully from the injuries she sustained in the attack, but she has worked tirelessly on her rehabilitation and proved here that she has lost none of her wonderful timing or her competitive spirit.
Muguruza, the No 3 seed, had lost only nine games in her first three matches, but was outhit and outplayed as Kvitova struck the ball with stunning power. Although she hit nine double faults, Kvitova's big left-handed serve was also a big weapon at crucial moments.
Kvitova, who has yet to drop a set in this year's tournament, said afterwards that it had taken a while for her to rediscover her form, but "luckily I found it at a Grand Slam". She added: "The touch is there and the strength and the aggressive game plan. I just need to have everything together to click, but I'm glad it's still there."
Muguruza said Kvitova had deserved her victory and thought it "incredible" that the Czech was playing at such a high level again. "She's one of the biggest hitters and a talented player," Muguruza said. "She's a leftie as well, so that makes it a little bit more tricky. She has a great timing and a lot of power, for sure."
Because the afternoon programme had overrun the match in Arthur Ashe Stadium did not start until 8.30pm. Muguruza led 4-1 in the opening set but Kvitova responded superbly. Finding her range after an erratic start, the Czech broke back, levelled at 4-4 and then broke again. When serving for the first set at 6-5, however, Kvitova went 0-40 down and eventually dropped serve on a double fault.
The tie-break turned when Muguruza served at 3-4. The Spaniard missed what should have been a routine volley and then double-faulted to hand Kvitova three set points. She needed only one of them, winning the point with a typical combination of a big serve, a thumping forehand to a corner and then a put-away smash.
Muguruza broke in the opening game of the second set, but any promise of a comeback quickly faded as Kvitova raced into a 4-1 lead. Muguruza saved one match point in holding serve to trail 5-3 but was unable to capitalise when Kvitova tightened up as she served for the match in the following game.
With the Czech double-faulting twice Muguruza had three break points but was unable to take any of them. A netted forehand by Muguruza gave Kvitova her second match point and another missed forehand by the Spaniard brought the match to a close after an hour and 45 minutes.
Kvitova admitted that she had got nervous towards the end. "That was the kind of moment I've dreamed of playing again, against great players on the big stages," she said. "That was one of the motivations for me to come back."
She added: "Until now in my comeback I hadn't played any of the great players, so this was something really special for me. I knew how every game that we played at the end of the match would be so tight and very close. I knew I was a little bit tired, but my serve helped me a lot in the end."
In nine previous appearances here Kvitova had reached the quarter-finals only once, losing in 2015 to Flavia Pennetta, the eventual champion.
In the past this has never been Kvitova's favourite tournament. She had never previously won a match in Arthur Ashe Stadium and had often struggled in the heat and humidity on past visits. However, the cooler conditions this year have been more to her liking. She has also found that not travelling out from Manhattan to Flushing Meadows on her days off has helped her to cope with the pressures of playing here.
Despite her great record at the All England Club, Kvitova has not gone beyond the third round at Wimbledon since winning her second title three years ago.
"I'm always putting a little bit of pressure on myself at Wimbledon because of the titles I have won there, but I'm trying to find a rhythm at the US Open," she said. "I should change my perspective about it. I didn't ever have any expectations to play well here. That's probably why I am playing more relaxed and more freely."
Kvitova will take on another player with a great Wimbledon pedigree on Tuesday when she faces Williams, who beat Spain's Carla Suarez Navarro 6-3, 3-6, 6-1. In the other quarter-final in the bottom half of the draw the American Sloane Stephens will face Anastasija Sevastova after the Latvian ended Maria Sharapova's run in the tournament.
Join our new commenting forum
Join thought-provoking conversations, follow other Independent readers and see their replies