Roger Federer beaten by Juan Martin del Potro in US Open quarter-finals to dash hopes of Rafael Nadal showdown
Former US Open champion Del Potro will instead face Nadal in the semi-finals after a resilient victory over Federer
Paul Newman
Flushing Meadows
Thursday 07 September 2017 06:51 Comments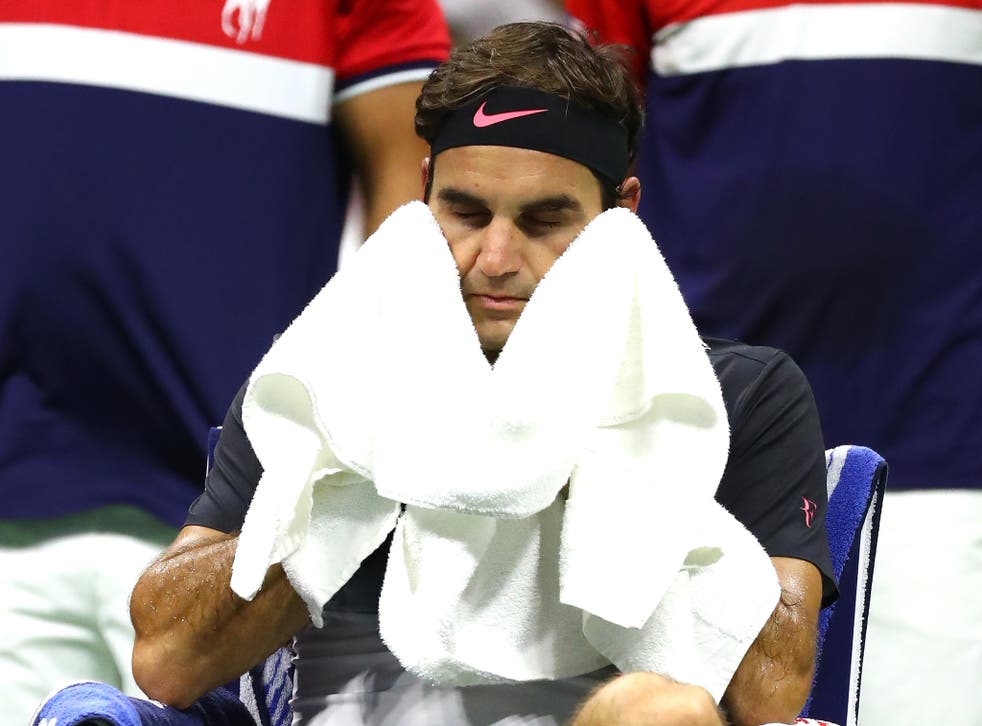 The eight years since he won his only Grand Slam title here at the US Open have often been marked by pain and disappointment, but Juan Martin del Potro made up for some of those bad times with another remarkable display on his favourite court in the world.
The 28-year-old Argentinian beat a faltering Roger Federer 7-5, 3-6, 7-6, 6-4 in a dramatic quarter-final in Arthur Ashe Stadium to dash the hopes of all those who had been looking forward to a dream semi-final between the Swiss and his great rival, Rafael Nadal, who have never met in this tournament.
Instead it will be Del Potro who takes on the world No 1 on Friday in a repeat of their semi-final here in 2009, when Nadal won only six games while the Argentinian went on to beat Federer in the final. Spain's Pablo Carreno Busta will take on South Africa's Kevin Anderson in the other semi-final.
Since his historic victory eight years ago Del Potro has had four wrist operations and spent long periods on the sidelines, but he has never lost his passion for the game or his determination to return. He can no longer hit his backhand with as much power as he used to, but his serve and his huge forehand are as formidable as ever and he remains a ferocious competitor.
"I can't believe that I'm playing another semi-final after all my injuries and all my surgeries," Del Potro said after reaching his first Grand Slam semi-final for four years. "Especially to play here in New York, which is my favourite tournament and my favourite city in which to play tennis.
"I think I played my best match of the tournament. I did everything well. I served well. I hit my forehand as hard as I can. We played a great match and I think I deserved to win in the end."
While Del Potro scaled the heights, Federer looked well below his best. The 36-year-old Swiss, who had been hoping to add the title here to his Australian Open and Wimbledon triumphs from earlier in the year, often looked out of sorts and made too many errors.
The 19-times Grand Slam champion, who would have replaced Nadal as world No 1 if he had won the title, had pulled out of his last tournament with a back injury before arriving here and appeared to pay a price for the interruption to his preparations.
"I just think it slowed down my rhythm throughout the tournament, because I was never really able to turn it on completely," he said. "I played OK, but I never felt like I got to the great level I can play at."
He added: "Juan Martin deserves it more. I feel I have no place in the semis and he will have a better chance to beat Rafa, to be honest. The way I played or am playing right now, it's not good enough in my opinion to win this tournament. It's better that I'm out and somebody else gets a chance to do better than me."
Del Potro had come from two sets down and saved two match points in beating Dominic Thiem in the last round. He was suffering from flu at the time and was still not in the best of health when he walked out to face Federer in the last match of the day in Arthur Ashe Stadium, but the passionate backing of his fans clearly lifted his spirits.
Federer might have had the majority of the support in the cavernous stadium, but Del Potro's fans, waving Argentina flags and wearing national football shirts, created a wall of noise.
The first set went with serve until the 11th game, in which Federer double-faulted at 30-30 before Del Potro hit a forehand winner on what was the only break point of the opening set. The Argentinian made no mistake when he served out for the set in the following game, completing the job with an unreturned serve.
Until that time Del Potro had appeared untroubled by the flu which had dragged him down in previous days, but as he dropped serve early in the second set the world No 28 seemed to be having trouble with his breathing.
Federer duly levelled the match and Del Potro sent for the doctor early in the third set, only to wave him away after taking a 3-0 lead. Federer broke back before the set went to a tie-break which proved to be the turning point of the match.
Del Potro saved four set points, including two on Federer's serve, before forcing a set point of his own with a volley winner to lead 9-8. Federer played serve-and-volley on the next point, but hit the ball long under pressure from Del Potro's return.
At 2-2 in the fourth set Del Potro made his final big push. Federer saved two break points, which he celebrated with a huge roar of "Come on!", but at deuce the Swiss put what should have been a routine smash into the net. On his third break point of the game Del Potro hit a superb cross-court return winner which he later described as his best backhand of the match.
Federer recovered from 0-30 down when he served to stay in the set at 3-5 and came back from 30-0 to 30-30 when Del Potro served for the match in the following game. The world No 3 made a bold foray into the net on the next point only to miss his volley. On his first match point Del Potro followed up a big serve with a forehand winner down the line.
"I tried until the very end, but smashing certain stuff in the net that I normally wouldn't, smashing forehand volleys into the back fence, that stuff sucked," Federer said afterwards. "Honestly, it was terrible. Juan Martin did well. He served well, had some big shots when he needed to. That was the part that he did so much better tonight, and that's why he deserves to win."
Federer said he had not thought for a moment during the match about the potential semi-final against Nadal. "I had struggled too much throughout the tournament to think too far ahead," he said. "In some ways I'm actually happy I made the quarters, so I'm not disappointed, because it's been a good run this year already. Unfortunately I ran into a guy who was better than me today."
Register for free to continue reading
Registration is a free and easy way to support our truly independent journalism
By registering, you will also enjoy limited access to Premium articles, exclusive newsletters, commenting, and virtual events with our leading journalists
Already have an account? sign in
Join our new commenting forum
Join thought-provoking conversations, follow other Independent readers and see their replies