US Open: Dan Evans left 'heartbroken' in five-set defeat by Stan Wawrinka to end Flushing Meadows run
Evans led two sets to one before losing a fourth-set tiebreak that allowed the Swiss to go on and clinch victory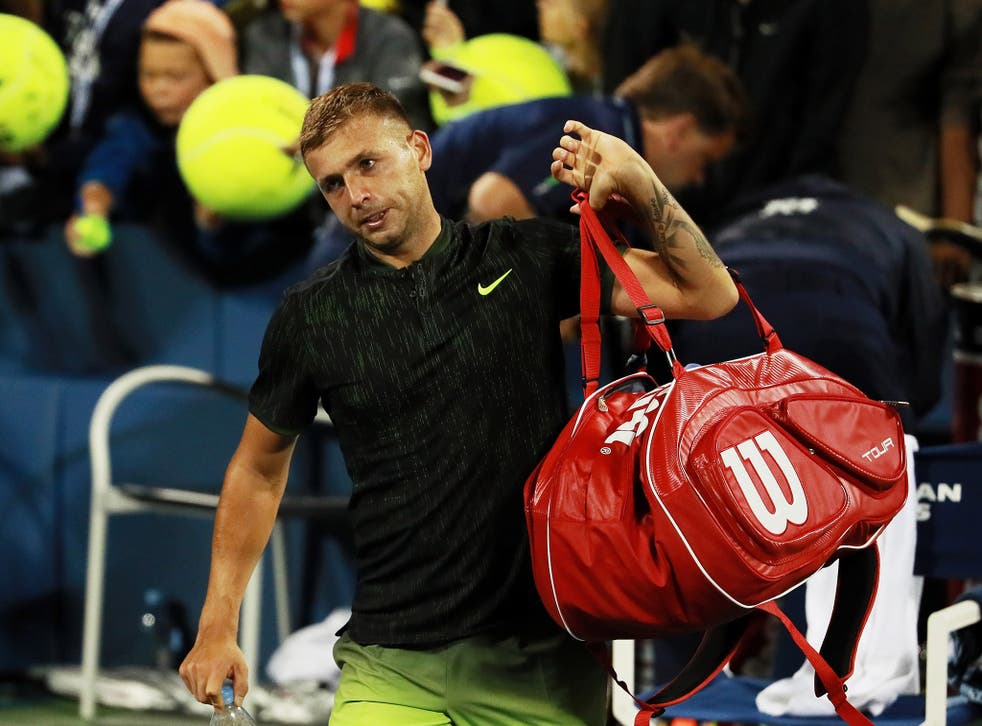 Britain's Dan Evans said losing to Stan Wawrinka was a "heartbreaker" after he came within one point of a shock victory in the US Open third round.
Evans twice led by a set and had match point in the fourth against the world number three, but he failed to convert as Wawrinka came back to win 4-6 6-3 6-7 (6/8) 7-6 (10/8) 6-2.
The British number two left Louis Armstrong Stadium to a standing ovation, but it was Wawrinka who advanced to meet either Australia's Nick Kyrgios or Ukraine's Illya Marchenko in the last 16.
"It's a bit of a heartbreaker really," Evans said. "I don't really know what to say. It was a tough one to take.
"It'll probably hurt a bit for a while. It's disappointing, how it played out."
Evans, ranked 64th in the world, took control after winning a thrilling third-set tie-break and his biggest chance came in the fourth when, in another tie-break, he led 6-5 for match point.
Wawrinka escaped with a cool volley and then Evans handed away the initiative at 7-7 when he failed to finish off a smash.
Three points later, the Swiss served out the set before storming clear in the fifth to seal a momentous triumph.
"I've never been in that situation before, especially against someone as good as him. It's just not easy, is it?" Evans said.
"Being that close, I was thinking about winning the match. Whoever says you don't think about winning the match at that point is full of it.
"I'm thinking about that smash, 'put it away'. I hit it down the middle. The small things in those matches make big differences.
"Why I hit it down the middle - I never hit the smash ever down the middle - is beyond me."
The missed opportunity appeared to stay with Evans, who was broken twice in the decider as Wawrinka raced into a 4-0 lead.
"I was physically pretty tired," Evans said.
"Subconsciously, mentally as well, I was hurt a bit in the fifth set. He's obviously a class opponent. I sort of knew that was the chance in the fourth set."
Evans was also suffering from a sore ankle towards the end and had an angry exchange with the tour physio Hugo Gravil.
"The physio said I had cramp, which I didn't have. My foot is sore," Evans said. "I didn't want to be treated by him because he was wrong."
Evans said the foot injury means he will withdraw from the men's doubles on Sunday where he was due to face Lukasz Kubot and Alexander Peya alongside Nick Kyrgios.
"I'm pretty badly hurt," Evans said. "I'd say that's squashed probably."
The 26-year-old, however, remained confident he would recover in time for Britain's Davis Cup semi-final with Argentina in two weeks' time.
Evans is vying for the second singles spot with Kyle Edmund, who plays Novak Djokovic in the last 16 on Sunday.
"I'll be at Davis Cup. I just need some time off," Evans said.
"I've had it before. It's pretty sore in the mornings and in the evenings, sort of later on in the day, it gets pretty sore.
"I think taking a bit of time off now would be good physically and mentally."
The US Open was Evans' sixth tournament in a row in America and he admitted he was looking forward to some home comforts.
"I've missed home," Evans said. "Things have just sort of come to a head tonight if I'm being deadly honest.
"When you miss that last ball, I'm ready to go now."
PA
Register for free to continue reading
Registration is a free and easy way to support our truly independent journalism
By registering, you will also enjoy limited access to Premium articles, exclusive newsletters, commenting, and virtual events with our leading journalists
Already have an account? sign in
Register for free to continue reading
Registration is a free and easy way to support our truly independent journalism
By registering, you will also enjoy limited access to Premium articles, exclusive newsletters, commenting, and virtual events with our leading journalists
Already have an account? sign in
Join our new commenting forum
Join thought-provoking conversations, follow other Independent readers and see their replies