US Open: Flustered Andy Murray departs after five-set humbling by Kei Nishikori
Nishikori, who won 1-6, 6-4, 4-6, 6-1, 7-5, had been facing an uphill battle until a crucial incident early in the fourth set turned the match around
Paul Newman
New York
Wednesday 07 September 2016 23:27 Comments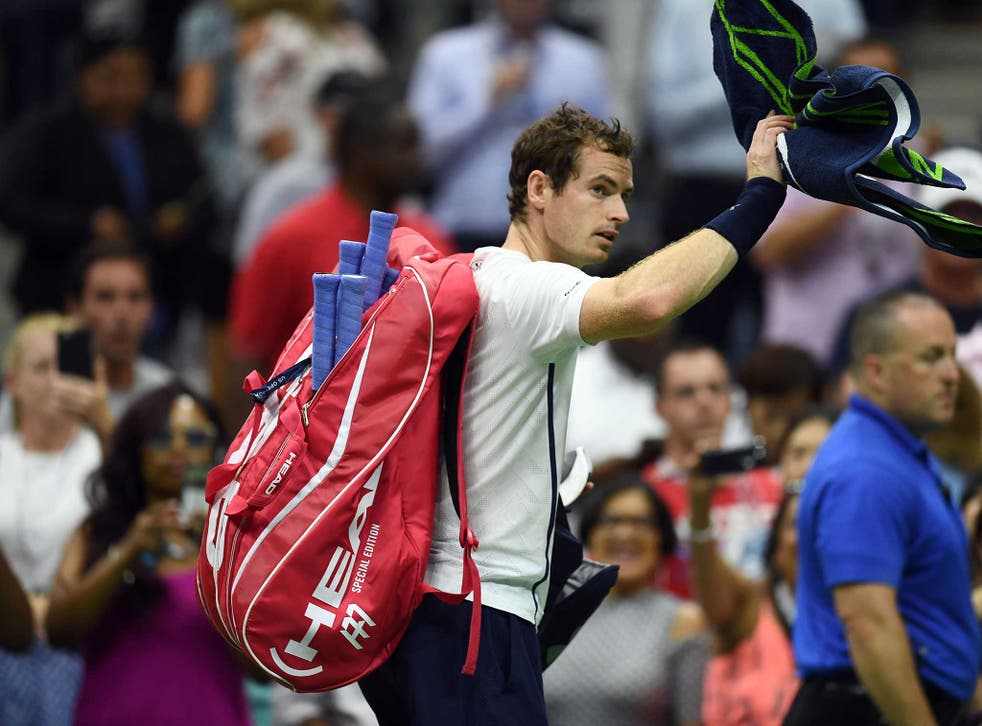 Drama seems to follow Andy Murray as regularly as night follows day and the Wimbledon and Olympic champion's US Open campaign ended here in typically remarkable circumstances. Murray was leading by two sets to one and looking comfortable in his quarter-final against Kei Nishikori before suffering a meltdown from which he never fully recovered.
Nishikori, who eventually won 1-6, 6-4, 4-6, 6-1, 7-5 after nearly four hours of see-sawing entertainment, appeared to be facing an uphill battle until a crucial incident early in the fourth set. The 26-year-old Japanese, serving at 1-1 and 30-40, seemed about to lose the next point when the umpire, Marija Cicak, halted play after a processor in the stadium's audio system emitted an untimely loud bleep in the middle of the rally.
Murray was furious, claiming that Cicak had said earlier in the match that they would play through any noise distractions, and after losing the game he complained to one of the tournament supervisors, Wayne McKewen. Murray appeared to lose his focus thereafter as Nishikori won 13 of the next 15 points and seven games in succession to level the match and then go 2-0 up in decider.

Although Murray brought the score back to 2-2 in the fifth set and recovered another break to level at 4-4, Nishikori kept his nerve and broke again to lead 6-5 before serving out for victory.
Murray said afterwards that the speaker incident had affected him in the two games immediately afterwards but did not blame it for the way he continued to lose games in that part of the match.
"Wayne McKewen told me that it happened four times during the match that the speakers had gone off like that," Murray said. "I had only heard it one time before, which was on set point in the second set."
Within minutes of the match finishing, the United States Tennis Association issued a statement explaining that the noise had come from a malfunctioning sound processor, which could not be taken off-line without interrupting play. The USTA said the unit would be replaced before the next match.
Murray, who had won his previous six quarter-finals in Grand Slam tournaments, dropped his serve nine times in the match. "I lost my serve a couple of times from positions when I was up in the game," he said. "I was broken once from 40-0 and once from 40-15. That was the difference."
The Scot thought that the closing of the roof over Arthur Ashe Stadium in the second set because of rain had also been an important factor.
"It was obviously different serving under the roof," he said. "I started off the match serving pretty well. It obviously slows the conditions down so it becomes easier to return. He started returning a bit better and I didn't serve so well."
He added: "I don't think the reason I lost the match was because of my return game. I broke serve enough times. I just didn't hold serve enough."
Murray, who until this match had lost only once since his defeat to Novak Djokovic in the French Open final three months ago, had been just two wins away from becoming only the fourth man in the Open era – after Rod Laver, Roger Federer and Djokovic - to reach all four Grand Slam finals in the same year.
However, it will now be Nishikori who goes through to Friday's semi-finals, in which he will face Juan Martin del Potro or Stan Wawrinka, who meet in the concluding quarter-final in Wednesday's night session. Djokovic takes on France's Gael Monfils in the other semi-final.
Murray had won seven of his previous eight meetings with Nishikori, including their most recent encounter in the Olympic semi-finals, but the Japanese is one of the game's great shot-makers who has the ability to mix up big ground strokes with beautifully timed drop shots.
The world No 7, who had great support from the crowd, played in his only Grand Slam final here two years ago, when he lost to Marin Cilic after knocking out Djokovic in the semi-finals.
Murray went 0-40 down in the opening game but held serve after winning the next five points. In the rest of the first set, which he won in just 35 minutes, Murray dropped only three more points on serve and made just three unforced errors to Nishikori's 14.
A few drops of rain started to fall in the second set and at 3-3 play was stopped for 20 minutes while the roof was closed. When the match resumed Nishikori appeared to adopt a more positive approach, while Murray's level dipped. Nevertheless the world No 2 did not appear to be in any danger until he served at 4-5 and 30-30, when two unforced errors cost him the second set.
Murray twice let slip breaks of serve in the third set but at 4-4 he broke again. The Scot's fist-pumping was evidence of a determination not to let his opponent off the hook again and he promptly served out for the set, bellowing out a roar of celebration after thumping a backhand winner down the line.
However, everything changed with the speaker incident, after which Nishikori set the pace. Murray fought his way back into the match at the start of the fifth set, breaking back to level at 2-2 and again at 4-4, but at 5-5 Nishikori made what proved to be the decisive break of the match. At 30-30 Murray double-faulted and on the next point Nishikori won a superb rally with a volley. On Nishikori's first match point in the following game Murray netted a backhand to give the Japanese victory.
"I tried my best," Murray said. "I fought as hard as I could with what I had today. I didn't let anyone down. Certainly not myself. I pushed myself as hard as I could over the last few months and I'm very proud of how I have done."
Nishikori said it had been a "very tough match" with "many ups and downs". He added: "I didn't start well and it seemed to go really quickly. I was rushing and making too many unforced errors, but I improved after the rain delay."
Jamie Murray and Bruno Soares reached the semi-finals of the men's doubles when they beat Chris Guccione and Andre Sa 7-6, 2-6, 6-3. They now face the top seeds and Wimbledon champions, Nicolas Mahut and Pierre-Hugues Herbert, who beat Robert Lindstedt and Aisam Ul-Haq Qureshi 6-3, 7-6.
Register for free to continue reading
Registration is a free and easy way to support our truly independent journalism
By registering, you will also enjoy limited access to Premium articles, exclusive newsletters, commenting, and virtual events with our leading journalists
Already have an account? sign in
Join our new commenting forum
Join thought-provoking conversations, follow other Independent readers and see their replies