Jamie Murray and Martina Hingis mixed doubles future unclear despite US Open success
Hingis has been reluctant to make any long-term commitment, despite claiming two Grand Slam titles with Murray this summer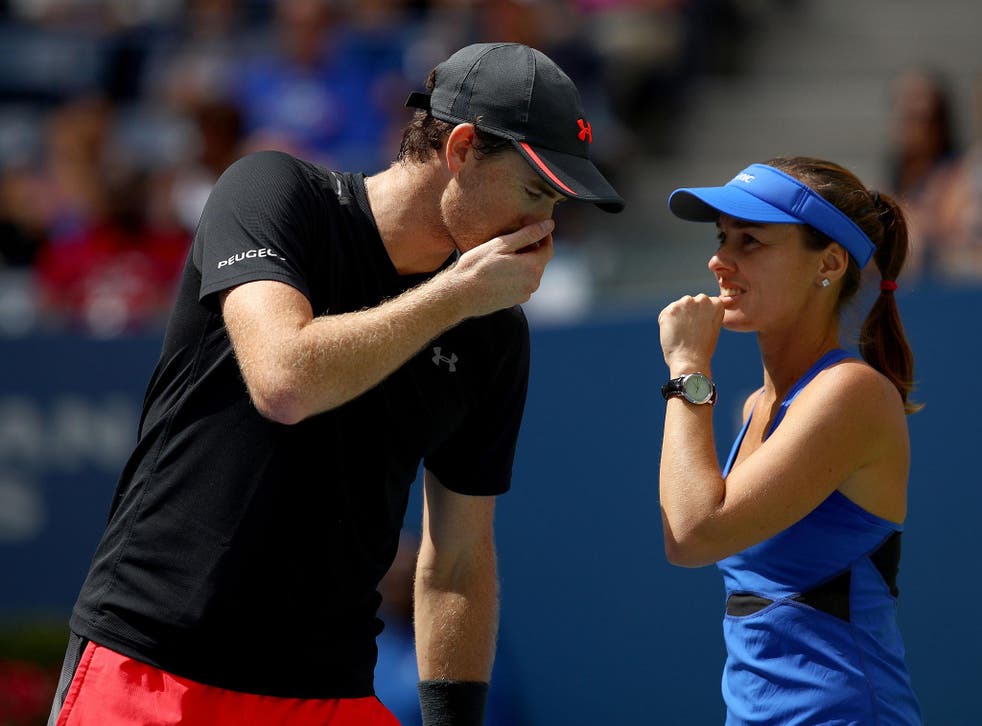 Jamie Murray and Martina Hingis have won two successive Grand Slam mixed doubles titles but their future as a pair seems far from certain. After following up their Wimbledon title with victory here at the US Open on Saturday Hingis appeared reluctant to make any long-term commitment.
Might the 36-year-old Swiss be contemplating retiring for the third time? She first quit in 2002 because of a long-term foot problem, returned at the start of 2006, but retired again in 2007 after testing positive for cocaine, which led to her being banned for two years.
Hingis started a second comeback in 2013, playing only doubles, and has enjoyed great success. In the five years since her return she has won 25 women's doubles titles, including four at Grand Slam level, enjoyed a spell on top of the world rankings and won six Grand Slam mixed doubles titles.
She won her 25th Grand Slam title here on Sunday in the women's doubles final alongside Taiwan's Yung-Jan Chan, beating the Czech Republic's Lucie Hradecka and Katerina Siniakova 6-3, 6-2.
After winning the mixed doubles title with a 6-1, 4-6, 10-8 victory over New Zealand's Michael Venus and Chan's younger sister, Hao-Ching, Hingis was asked whether the partnership with Murray would continue into next year. "If I play, then definitely we will," Hingis said. "We said yes, if we go to Australia and everyone is healthy and playing."
Hingis, who will be 37 later this month, pointed out that they had not confirmed they would be playing here until a little while after Wimbledon. "We are just going to do the same thing," she said. "It's a long way to go till next year."
Considering their outstanding record together – they are unbeaten since Hingis first suggested that they should play together at Wimbledon this summer – the Swiss player's reluctance to commit to the future might be seen as an indication that she is looking ahead to a life beyond tennis.
Murray said he had enjoyed every minute of his time on court with Hingis. "It's been a lot of fun for me and a great opportunity for me to compete with Martina," he said. "She's such a great player, a huge champion of the game.
"Every time we are on court, we get a lot of people coming out to watch us, a lot of people supporting us. It makes it fun to play."
Murray won his first Grand Slam title playing mixed doubles alongside Jelena Jankovic at Wimbledon in 2007. In later years he did not play much mixed, often preferring instead to focus on men's doubles, but he has now won more Grand Slam titles in mixed (three) than in men's doubles (two).
Today mixed doubles is played only at the four Grand Slam tournaments, the Olympics and the Hopman Cup in Perth in January. Both Murray and Hingis would like to see more opportunities to play.
Hingis thought there might be scope to play mixed doubles in March at the Indian Wells and Miami tournaments, which are played over more than week, while Murray said that mixed was "a lot of fun". He added: "Some of the rallies that you see, you wouldn't see them in the men's doubles or on the singles court. And the fans do get into it, because it is different."
Murray would also like to see more prize money put into mixed doubles. At Wimbledon Murray and Hingis shared £100,000 while their reward here was $150,000 (about £114,000). That compares with the $3.7m (£2.84m) in prize money won by the singles champions.
"Obviously a lot of money has been pumped into the Grand Slams over the last few years and people are making a lot more money than they used to, but a majority of that is going into the singles game," Murray said.
"Doubles is a huge part of tennis. I think that that should be supported, as well as on the singles front, with some of these prize money increases."
Asked why his game was so well suited to mixed doubles, Murray said: "I think my serve and the skills I have at the net lends itself to mixed doubles. My return as well. It's easier for me to return in mixed doubles than it is in men's doubles. I think I can get away with more.
"I did play a lot of mixed doubles when I first started playing and had a lot of success. And even when I lost I was always losing to the team that was winning. I think it happened six or seven tournaments in a row that we lost to the team that went on and won.
"I knew I had played well, but sometimes in the last two or three years I felt like I had more of a chance to do well in the men's doubles. Sometimes I just wanted to focus on that."
Register for free to continue reading
Registration is a free and easy way to support our truly independent journalism
By registering, you will also enjoy limited access to Premium articles, exclusive newsletters, commenting, and virtual events with our leading journalists
Already have an account? sign in
Register for free to continue reading
Registration is a free and easy way to support our truly independent journalism
By registering, you will also enjoy limited access to Premium articles, exclusive newsletters, commenting, and virtual events with our leading journalists
Already have an account? sign in
Join our new commenting forum
Join thought-provoking conversations, follow other Independent readers and see their replies