Kyle Edmund's US Open ends in pain and frustration as he retires hurt against Denis Shapovalov
Shapovalov was already starting to turn the match around in Arthur Ashe Stadium when Edmund suffered a back injury when serving early in the third set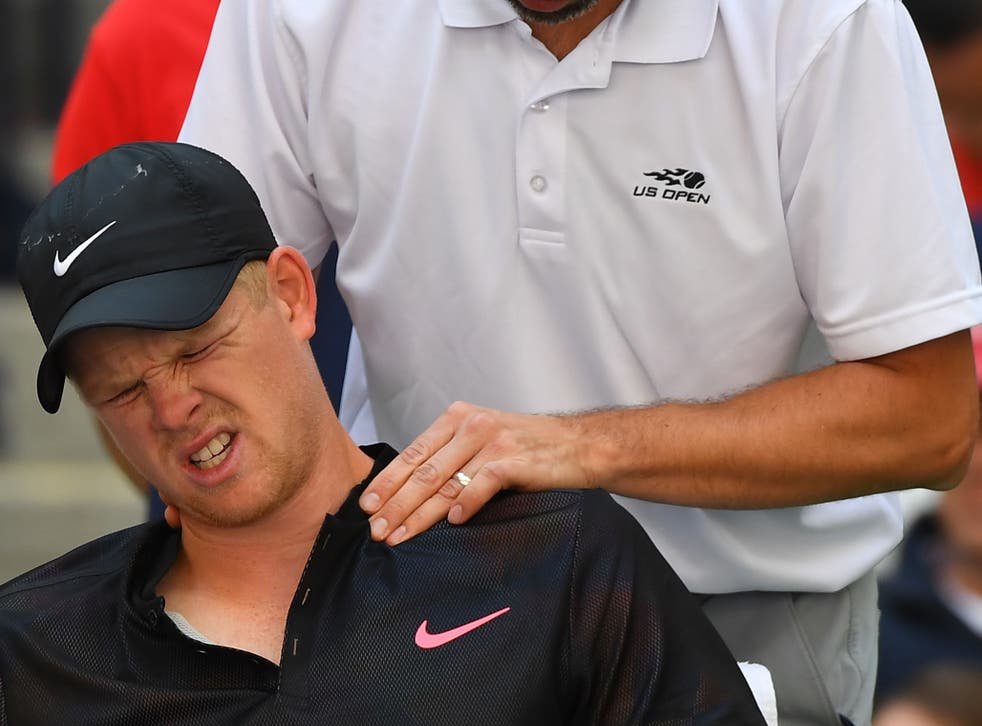 Kyle Edmund's US Open ended in pain and frustration here on Friday as the 22-year-old Briton retired hurt in the fourth set of his third-round encounter with Denis Shapovalov. The 18-year-old Canadian, who will be the youngest man to play in the last 16 of a Grand Slam tournament for 19 years, was leading 3-6, 6-3, 6-3, 1-0 when Edmund quit with a back problem.
Shapovalov was already starting to turn the match around in Arthur Ashe Stadium when Edmund suffered the injury when serving early in the third set. After treatment it was clear that he was in serious trouble as he struck the ball without his customary power, particularly on serve, and moved gingerly around the court.
The last Briton left in singles competition here had played well enough in the first set but was struggling to stay with Shapovalov even before he suffered his injury. After taking a medical time-out when leading 3-2 in the third set Edmund did not win another game.
"It was such a horrible way to go out," the world No 42 said afterwards. "It's a tough thing to go on the biggest court in the world and just feel a bit helpless. What do you do? Do you carry on to the end? But you just go through the emotions and it's a bit of a sorry state.
"You don't want to pull out straight away, but I thought: 'Am I going to win two more sets like this?' But I knew that I wasn't going to win two more sets feeling like that."
Edmund explained at his post-match press conference that he had suffered the injury while serving early in the third set. "It's an upper thoracic back problem," he said.
"It just got very sore and very tight and almost locked up a bit. I didn't feel like I could rotate properly. Hitting in tennis, you obviously need a good rotation. It just seized up very quickly. It was pretty sore just coming off the court. Now everything has cooled down so it's very stiff."
When asked whether the injury had been the result of playing so much tennis recently – this was his 10th match in the last 14 days – Edmund said: "Maybe, but it's all ifs, buts and maybes, isn't it? There is no crystal ball. Not all injuries are down to fatigue. Some just happen when you're fresh as well. It possibly might have been down to a lot of tennis, but I can't say if it was or not, because I've been feeling fine."
In the last 16 Shapovalov will face Spain's Pablo Carreno Busta, the world No 19, who followed up his victory over Britain's Cameron Norrie by beating Nicolas Mahut 6-3, 6-4, 6-3 to reach the fourth round here for the first time.
The bottom half of the draw is now looking wide open. Andy Murray's withdrawal left Alexander Zverev, Marin Cilic and Jo-Wilfried Tsonga as the highest-ranked players in the bottom section, but all three have gone out. Cilic, the 2014 champion, became the latest big name to fall by the wayside when he was beaten 4-6, 7-5, 7-5, 6-4 by Argentina's Diego Schwartzman.
Shapovalov has made a huge breakthrough this summer. Having begun the year ranked No 250 in the world, he claimed only the second tour-level victory of his career when he beat Edmund in the Aegon Championships at Queen's Club in June and in August reached the semi-finals of the Montreal Masters, where he beat Rafael Nadal and Juan Martin del Potro.
The 2016 Wimbledon junior champion, who had to qualify to play here, has a damaging left-hand serve, is powerful on both flanks, hits a potent single-handed backhand and is not afraid to come forward. Edmund has a powerful serve, but Shapovalov hit some big returns, particularly to Edmund's more vulnerable backhand. There were times, particularly in the first set, when he went for too much, but his natural aggression is a great asset. The crowd have taken quickly to the world No 69, who is not afraid to show his emotions on court.
Edmund's last appearance in the largest arena in world tennis 12 months ago had seen the Briton lose in straight sets to Novak Djokovic in the fourth round. Shapovalov had made his debut in the stadium just 48 hours previously, when he beat Jo-Wilfried Tsonga, the No 8 seed, in straight sets.
Nevertheless, it was the Canadian who appeared more nervous at the start. Edmund converted his first break point in the second game thanks to a big forehand down the line and soon led 3-0. Shapovalov retrieved the break, but the Briton restored his advantage three games later.
Edmund went 15-40 down when he served for the opening set but saved the first break point with a big serve and the second with a bold forehand which forced Shapovalov into a backhand error. An ace took the Briton to set point, which he converted when Shapovalov, under pressure, netted a forehand.
However, the Canadian's response in the second set could not be faulted. He broke serve in the fourth game after a series of aggressive returns, saved a break point when he served for the set at 5-3 and celebrated with a loud roar after closing it out with a service winner.
Edmund had looked in good shape physically until suffering his injury. He sent for the trainer when leading 3-2 in the third set and took a medical time-out, during which it was clear that he was in pain.
When play resumed it was evident that Edmund was in a bad way as Shapovalov won the next two games without dropping a point. When Edmund served at 3-5 he went set point down as Shapovalov hit a backhand cross-court winner and then lost the set when he hit a forehand long.
Edmund had further treatment before the start of the fourth set, but after one game he decided that enough was enough. Having retired, he sat slumped in his chair, disappointment etched all over his face.
Shapovalov said afterwards: "It's never great to win this way. Hopefully it's nothing too serious. Kyle has been playing unbelievable tennis. If he keeps it up he's going to be doing really well. He's a very tough opponent."
Edmund split with his coach, Ryan Jones, earlier this summer, and has been working here with Mark Hilton, who became available in the absence of Dan Evans, who failed a drugs test. However, Edmund has yet to decide on a long-term appointment. Although he enjoyed working with Hilton he said he would have a trial period with Fredrik Rosengren, a Swede who used to coach Robin Soderling and Magnus Norman, during the forthcoming Asia swing.
Register for free to continue reading
Registration is a free and easy way to support our truly independent journalism
By registering, you will also enjoy limited access to Premium articles, exclusive newsletters, commenting, and virtual events with our leading journalists
Already have an account? sign in
Join our new commenting forum
Join thought-provoking conversations, follow other Independent readers and see their replies