US Open: Madison Keys and Sloane Stephens prepare for friendly battle in all-American final
Both women made their initial Grand Slam breakthroughs by reaching the semi-finals of the Australian Open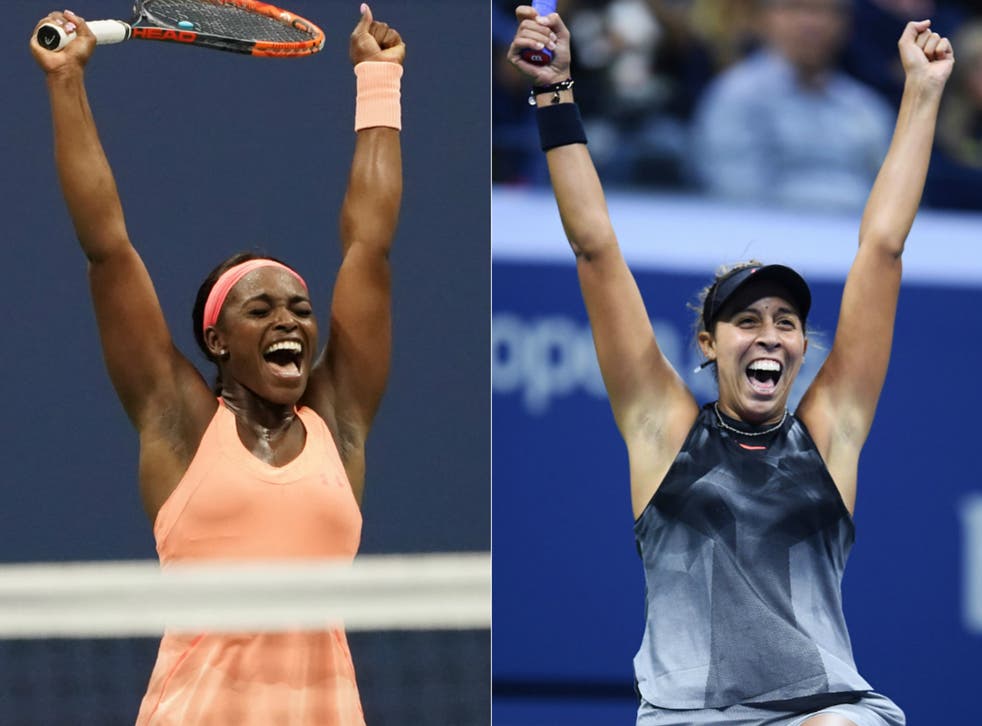 Playing for your first Grand Slam title can be a nerve-wracking experience, but as Madison Keys and Sloane Stephens prepare for the biggest match of their lives here on Saturday in the final of the US Open there are good reasons to believe that both might cope well with the pressure.
"What better place to be in your first Slam final than at home with a great crowd who are going to be behind both of us?" Keys said. "On top of that, getting to play my friend, it's just an amazing opportunity. I'm going to go out there and do my absolute best."
Stephens, 24, and Keys, 22, are long-time friends. "I've known Sloane since we were juniors," Keys said. "We played junior tournaments together. We have been on Fed Cup teams together.
"Whenever we are around, we try to go to dinner with each other and hang out. More than that, she's always someone who I know is always there watching. She'll text me no matter what. We are always keeping tabs on each other and rooting for each other.
"I've known her for a long time and she's a close friend of mine. To be able to play each other in our first Grand Slam final is a really special moment."
Stephens described Keys as "one of my closest friends on tour". She explained: "I love her to death. It's obviously going to be tough [in the final]. It's not easy playing a friend."
Keys lost their only previous meeting as seniors in straight sets in Miami two years go. "I'm pretty sure she killed me," Keys said with a smile. "But I think it gets easier and easier as time goes on to play each other.
"You figure out how to separate your friendship from being on the court. Obviously both of us want to win, but I think that when we come off the court we're able to leave what happens there and still have a great friendship off of the court."
Stephens described Keys as "a power player". She added: "Maddie plays a lot of first-ball tennis, first-strike tennis. She plays aggressive. I don't do that. I use my wheels more and make sure I get a lot of balls back and make the other person play."
Keys, however, thinks there are similarities between their two games. "I think Sloane is really good at defending, obviously, but I think we're similar in the fact that we both like to try to attack and be on offense," she said. "I would say she's probably more comfortable defending and not going for bigger shots, but I would say we are very similar in a lot of ways."
Another area of common ground between the two players is their experience with injuries over the last year. Keys has had two wrist operations since December, while Stephens returned to competition at Wimbledon after a 10-month break following foot surgery.
Recalling that the two friends had both missed the Australian Open at the start of this year, Keys said: "I think we both just texted each other and said: 'This really sucks.' From then on, I have always been talking to her and texting her, keeping in touch. I think we have really helped each other. I think we have definitely known what each other was going through throughout the year.
"Who would have thought in Australia that Sloane and I would be the finalists at the US Open? Neither one of us were playing at the time, both just having had surgeries. It's amazing."
Stephens remembered having a big plaster cast on her foot after her operation. "I was at home planted on my couch for the two weeks of the Australian Open," she said. "I just watched the tennis because I literally couldn't move. When the Australian Open came on the TV I'd wake up super early and watch it."
Keys said that she had felt much better since having wrist surgery. "It's been a big weight off of my shoulders and I'm playing really freely. More than anything, I'm just really, really enjoying my time on the court. I think that's been a massive part of why I have been playing well."
She added: "As good as it is to take time away, just to take a step away from it all, you realise how much you love doing this and being on the road and playing tennis. I think you just really appreciate being out here. I think that's Sloane and me right now. I think we're both just loving our time on court, and I think it's really showing."
Stephens, whose speed and athleticism are usually her greatest strengths, said that playing so many matches this summer had helped her to recover her fitness. "I've run a lot," she said. "I've played a couple of three-setters. I think my movement is probably what's kept me in some of these matches."
Keys said that at the end of last year she had been too focused on earning enough ranking points to qualify for the year-ending WTA Finals in Singapore and not enough on her tennis.
"Being away from the game and just remembering why I love competing helped me tremendously," she said. "Not being there, it just made me realise how much I love it and not to put so much pressure on myself, which I think helps me enjoy being out there a lot more."
Both women made their initial Grand Slam breakthroughs by reaching the semi-finals of the Australian Open, However, Stephens said she had been totally inexperienced when she lost to Victoria Azarenka in the semi-finals in Melbourne four years ago, having beaten Serena Williams in the quarter-finals.
"I was a baby and a lot of things came with making that semi-final and beating Serena and having that all happen in my life," she said. "But everything happens for a reason. Maybe that happened then so I could be prepared for this now. I didn't know as much as I know now. I think a lot of life has happened. I have been through a lot."
Keys said that she too had learned from experience how to cope with pressurised situations. "I've done a lot better job of not worrying about outside voices and influences and things like that, and just focusing on myself and what the people closest to me are saying," she said.

Join our new commenting forum
Join thought-provoking conversations, follow other Independent readers and see their replies