Impressive Rafael Nadal breezes past Alexandr Dolgopolov to complete his 50th match victory at the US Open
The Spaniard beat Dolgopolov 6-2, 6-4, 6-1 in just an hour and 41 minutes to reach the quarter-finals for the seventh time in his career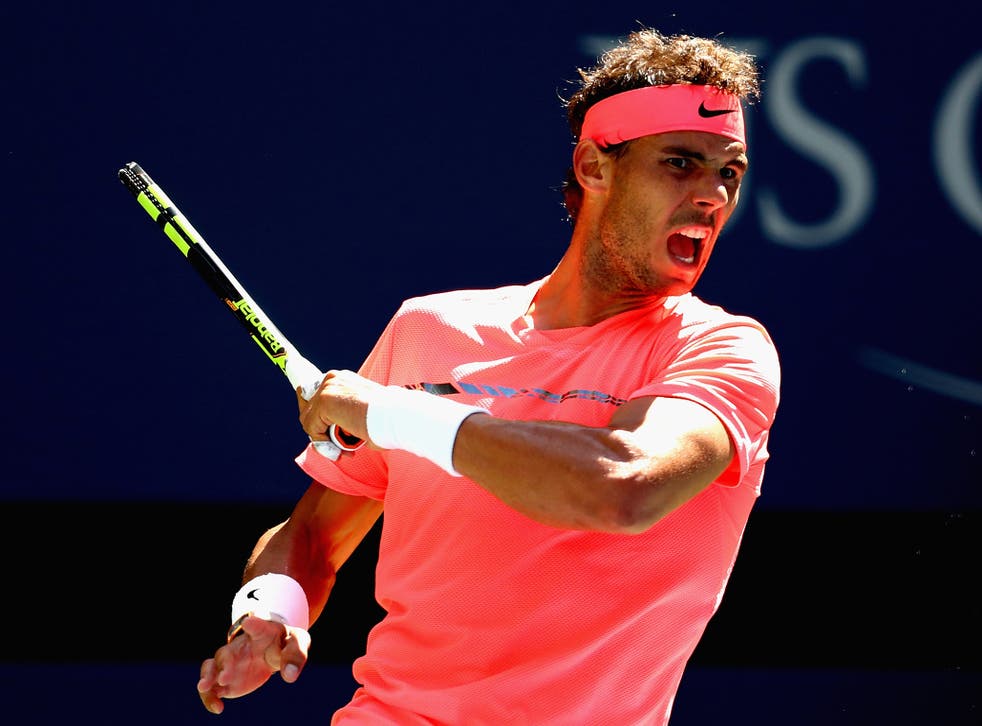 It might not have matched some of the milestones he has already passed this summer, such as claiming his tenth titles at each of the clay-court tournaments at Monte Carlo, Barcelona and Roland Garros, but Rafael Nadal could take pride here on Monday at completing his 50th match victory at the US Open.
Nadal, who beat Alexandr Dolgopolov 6-2, 6-4, 6-1 in just an hour and 41 minutes to reach the quarter-finals for the seventh time in his career, has always felt most comfortable on clay or grass, but the world No 1 has also demonstrated his versatility by winning Grand Slam titles on hard courts both here and at the Australian Open.
In recent times, however, winning on hard courts has not been as easy for the 31-year-old Spaniard, whose perennially problematic knees can hamper him on the surface. Nadal has not win a title in his last 34 hard-court tournaments, having lost eight hard-court finals in a row since his last victory on the surface more than three and a half years ago.
He had also been in patchy form before arriving at Flushing Meadows, having lost to Denis Shapovalov in the third round in Montreal and to Nick Kyrgios in the quarter-finals in Cincinnati in the summer's two hard-court Masters Series events. Even at this tournament he has struggled, having lost the opening sets of both his previous matches, against Taro Daniel and Leonardo Mayer.
Against Dolgopolov, however, Nadal found his consistency from the start. The 28-year-old Ukrainian, whose unorthodox style can sometimes flummox the best, had won two of their previous three meetings but was never in the contest here.
Nadal is through to the US Open quarter-finals for the first time since he won the title here in 2013 and could be just win one away from a semi-final against Roger Federer, who was meeting Philipp Kohlschreiber in the fourth round later in the day. In the quarter-finals Nadal will face Russia's Andrey Rublev, who beat David Goffin 7-5, 7-6, 6-3.
Nadal, hitting the ball beautifully and constructing his points with maximum efficiency in mind, made only 11 unforced errors compared with Dolgopolov's total of 39.
"I think I played a solid match," Nadal said. "I played with not many mistakes. As I said before the match, I know that Dolgopolov is a player who can play amazing shots, but at the same time he's a little bit unpredictable. He combined amazing points with mistakes so I tried to be very focused all the time with my serve and to wait for the opportunities on the return."
Asked if he had deliberately targeted Dolgopolov's forehand, Nadal said: "I just tried to not let him play from easy positions. I probably hit it more to his forehand because he was returning with slice on the forehand and I felt that if I hit the forehand down the line he would have less space to attack. If I played against his backhand he has a great cross-court backhand."
Nadal broke serve in the third game of the first set, saved two break points in the sixth game and broke again in the seventh. He took the opening set in just 31 minutes, converting his second set point after Dolgopolov missed a backhand.
Dolgopolov, who had beaten Tomas Berdych in the first round, made a better fist of the second set, but at 4-4 Nadal broke again. The Spaniard served out to love, taking the set with an ace.
By the third set Nadal was flying. Dolgopolov's netted backhand gave the Spaniard a break in the opening game and the Ukrainian missed another backhand two games later to drop serve for the fifth time in the match. A sixth and final break came when Dolgopolov served at 1-5. Having gone 0-40 down he saved four match points, but on the fifth his netted backhand gave Nadal victory.
Nadal was asked afterwards about the contribution that Carlos Moya, the former world No 1, had made to his coaching team. "Of course he was a good help for all of us," Nadal said. "It's great to have him on the team. He's more than a coach. He's one of the best friends that I've ever had on the tour.
"As a coach he came with a lot of motivation, with good ideas. He's very positive all the time and believes a lot in what we are doing. So a combination of him with Toni [Nadal] and Francis [Roig] has been great.
"I'm happy with the way that we're working. The season has been very positive and now I'm in the quarter-finals here in New York. That's a positive result for me and I'm looking forward to keep playing better."
Register for free to continue reading
Registration is a free and easy way to support our truly independent journalism
By registering, you will also enjoy limited access to Premium articles, exclusive newsletters, commenting, and virtual events with our leading journalists
Already have an account? sign in
Register for free to continue reading
Registration is a free and easy way to support our truly independent journalism
By registering, you will also enjoy limited access to Premium articles, exclusive newsletters, commenting, and virtual events with our leading journalists
Already have an account? sign in
Join our new commenting forum
Join thought-provoking conversations, follow other Independent readers and see their replies