Rafael Nadal and Roger Federer both win to keep hopes of dream US Open semi-final alive
The Spaniard had to fight back to beat Argentina's Leonardo Mayer in the third round, while Federer made light work of Feliciano Lopez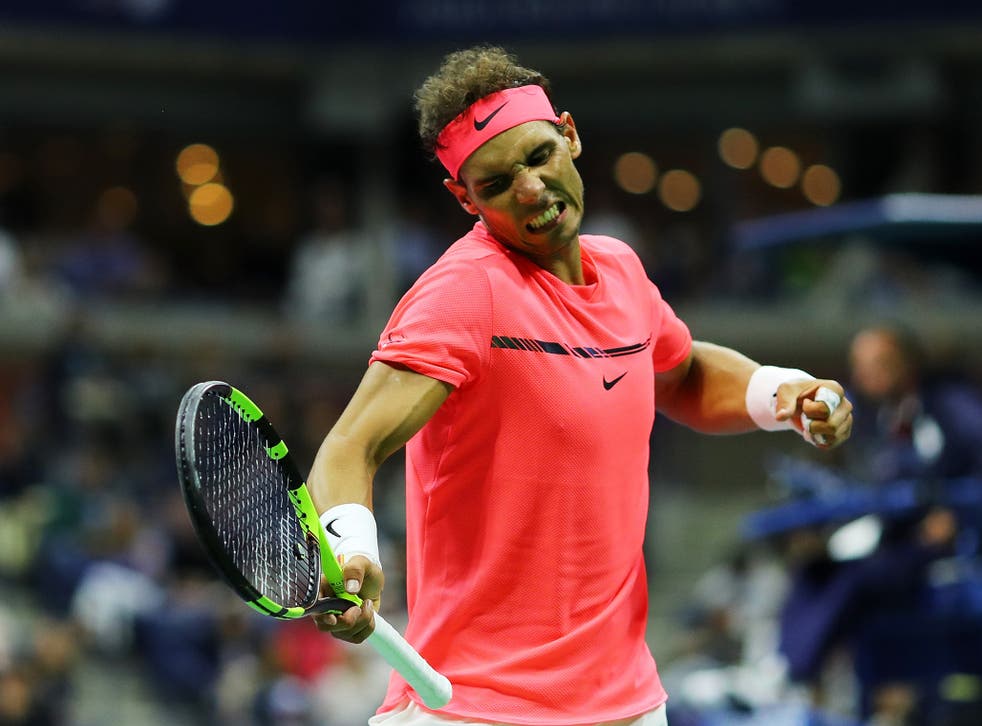 The dream semi-final between Roger Federer and Rafael Nadal here at the US Open is still on the cards after the Swiss and the Spaniard both won their third-round matches here on Saturday evening with something to spare.
After being taken the distance in his first two matches Federer was happy to beat Feliciano Lopez in straight sets, while Nadal staged an action replay of his second-round victory over Taro Daniel by losing the first set to Leonardo Mayer before winning the next three by a comfortable margin. Both matches were played under the new retractable roof over Arthur Ashe Stadium on a day when rain disrupted the programme on all other courts.
The results mean that Federer and Nadal both need to win just two more matches in order to secure their semi-final showdown. Federer next faces Germany's Philipp Kohlschreiber, who has lost all 11 of his previous meetings with the Swiss, the winner to face Juan Martin del Potro or Dominic Thiem in the quarter-finals. Nadal now meets the Ukrainian Alexandr Dolgopolov, who has won two of their eight meetings, with the winner to play David Goffin or Andrey Rublev.
While the 6-7, 6-3, 6-1, 6-4 scoreline might have suggested that Nadal made a slow start against Mayer, the world No 1 did not agree. Instead at his post-match press conference he pointed to the fact that he had created a regular flow of break points in the match, which reflected his domination even from the early stages.
Nadal failed to convert any of his first 13 break points and finished the match having converted just six of his 25 opportunities. Mayer created only three break points in the match and took just one of them.
"For me it was not a slow start," Nadal said afterwards. "It was a slow start in terms of converting break points. When you have that many break points it means you have created more opportunities than usual. If I had been able to convert just one or two of them we would probably have been talking about another story."
Having failed to take his chances in the opening set, Nadal lost the tie-break 7-3 as Mayer, the world No 59, won four points in a row from 2-2. The Argentinian had two break points when Nadal served at 1-2 in the second set but the Spaniard saved them with some typically bold play. At the end of the game he clenched his fist in celebration and bellowed out a roar of "Vamos!"
At 3-3 in the second set Nadal finally broke serve as Mayer made an error on his forehand. From that moment onwards the match took on a very different complexion, to the relief of the 23,000 night-session spectators who were waiting outside, the day session having overrun after the first two women's matches had both gone to three sets.
The second set still took 61 minutes, but after Nadal had taken it with a forehand winner he raced through the third in just 27 minutes.
Mayer nevertheless offered some resistance in the fourth set and broke Nadal when the world No 1 served for the match at 5-2. However, the 15-times Grand Slam champion did not falter at the second opportunity and sealed his victory after three and a quarter hours when Mayer missed a forehand.
Nadal admitted that he had felt under pressure after missing so many break points in the early stages. "When I finally [converted a break point] everything changed," Nadal said. "I was able to play more freely, to start to attack better with my forehand. I hit more forehands down the line and hit some good backhands later.
"I think the level of my tennis after that break was very positive. I hope that the last three sets can be a good turning point for me because in my opinion I played much better today than I did two matches ago.
"You need matches like this. Now I have the opportunity to compete again, to try to do well. I am in the second week. That's the important thing."
Nadal said he expected Dolgopolov to provide a tough challenge in the fourth round. "He's going to play aggressive. He has the ability to hit the ball very quick and to take the ball very early. If I am not playing aggressive and not hitting the ball long, if I let him play from good positions, then it will be very, very difficult."
Federer, playing the first match of the night session, needed just an hour and 46 minutes to beat Lopez 6-3, 6-3, 7-5, which was in strict contrast to his troubles in his first two matches against Frances Tiafoe and Mikhail Youzhny. This time he was in charge from the start and made just 16 unforced errors in the whole match.
The Swiss broke Lopez for the first time in the sixth game and won the opening set in only 25 minutes. Lopez led 3-2 in the second set before Federer won four games in a row to take a firm hold on the match. The Spaniard retrieved an early break in the third set, but Federer went on to seal his victory with his fifth break of serve.
"It was clearly nice to go up two sets to love for a change," Federer said afterwards. "Overall I have felt better too. I was happy I had good energy because I think that was my biggest worry, that somehow after the two five-setters I had, that I was going to feel a little slow, that I would have to force myself so much and I would get tired from that. It didn't happen."
Federer said he did not feel any extra pressure because so many people are hoping he can play Nadal in the semi-finals. While the bottom half of the draw looks wide open, Federer pointed out: "[In the top half of the draw] we actually really have good players left. A lot of them can play at a very high level. They're all facing off now. I think it's an exciting tournament. I'm happy I'm still around."
Federer said he was benefiting from more hours on court after the back injury which had disrupted his preparations. "I needed to get over the fear of the back issue, especially in that first match, the first set," he said. "Then I think the wobble I had in the second round was due to my preparation.
"I think now I'm just trusting my movement better. My serve is there. My mind is there. I can finally focus on playing tennis and not so much about the past. It's nice to be in the present in my mind, looking ahead, thinking tactics.
"I'm happy where I am right now. I think we did the right thing by taking a slow approach in the preparation week. I think if I had forced it too early I might have had a setback and not been able to play at all."
Register for free to continue reading
Registration is a free and easy way to support our truly independent journalism
By registering, you will also enjoy limited access to Premium articles, exclusive newsletters, commenting, and virtual events with our leading journalists
Already have an account? sign in
Register for free to continue reading
Registration is a free and easy way to support our truly independent journalism
By registering, you will also enjoy limited access to Premium articles, exclusive newsletters, commenting, and virtual events with our leading journalists
Already have an account? sign in
Join our new commenting forum
Join thought-provoking conversations, follow other Independent readers and see their replies