Wimbledon 2015: From 'Murray Mound' to Strawberries and Pimm's - a guide for spectators heading to this year's tournament
When coming up with an effective winning formula for Wimbledon, any tennis player will tell you that preparation is key. The same rule applies to the spectators who are travelling from far and wide and want to make the most of the first round of the 2015 edition of this paramount tournament. Yashi Banymadhub takes a look at the many spectator sports that you can take part in at Wimbledon each year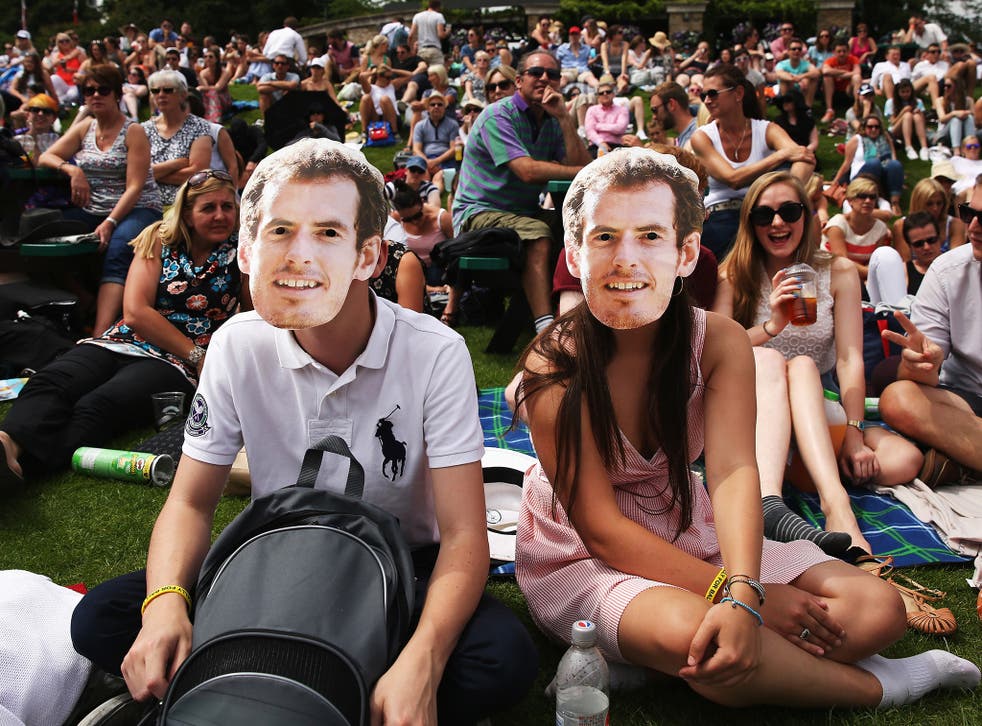 The most important date on the tennis calendar is here and fans wait with impatience for the chance to discover the best in fashion and style, pick out celebrity guests from the crowds and participate in British traditions. Not to mention, rooting for their favourite racket players.
The Independent will be courtside to follow the first round of the 13-day event, beginning on Monday (there is no play on 'Middle Sunday').
Our coverage will not simply consist of reporting on scores as there is a lot more than point keeping to our home Grand Slam. This fortnight you can expect to keep up-to-date with everything from national costume and fancy dress to on-court quirks and off-court spectator sports.
Here are some of the highlights that we are looking forward to as we get ready for the first serve of this year's Wimbledon.
'Murray Mound'
Whether you think it should be called 'Murray Mound', 'Henman Hill', 'Broady Butte' or 'Rusedski Rise', Wimbledon's famous hill is the place to be if you were lucky enough to bag an admission pass but haven't got the court-side tickets. With Wimbledon opening its doors to just under 500,000 tennis aficionados, the Aorangi Terrace lawns are alive and bustling with spectators enjoying a glass of Pimm's while watching their favourite player work their rackets on the big screen.
Homemade Posters
How would you like to have your own Wimbledon moment of glory and be seen on TV? Get your creative cap on, conjure up your wittiest slogans and get started on your own homemade poster which might just get you spotted from the crowd by the cameras. From clever to downright controversial, some dedicate weeks to perfecting their fan-made Wimbledon poster whereas others, perhaps struck by the sudden inspiration of a century score, make them on the spot.
Mexican Waves
There is no greater sense of team spirit than the traditional spectator sport of Mexican Waves. Even the Duke and Duchess of Cambridge had no choice but to join the crowd wave in previous years. Despite the fact that Wimbledon is a prime location for serious tennis enthusiasts, you can always expect Wimbledon's classy spectators to harmonize into a mass Mexican Wave. There is really no choice but to let loose your inner traditionalist and join in with the antics.
'Make a Racket' Wimbledon Bingo Game
Wimbledon's Official Transport partner, Hertz, have combined typical sights and sounds that you're likely to encounter at the grass court tournament. From fans whistling as a male player changes his shirt on court to a celebrity looking bored in the royal box, the 'Make a Racket' Bingo Game will keep you entertained during breaks between matches and disrupted play. The Hertz Suite will be welcoming VIP guests during the week to make the most of their long-established partnership with the Championship.
Strawberries and Pimm's
A snack pot of strawberries and cream and a jug of Pimm's is the high point of Wimbledon's catering each year. It is estimated that a mammoth total of 28, 000KG of strawberries were consumed at last year's Wimbledon, the seasonal fruit being the preferred snack at this British sporting event. Also ready to be savoured are an estimated 230, 000 glasses of Pimm's to see guests through an afternoon of matches.
Camping
With match tickets being highly sought after, you can expect people to start queuing for them late afternoon, the day before the match. The Wimbledon staffs have their own scheme in place to help guests organise their tickets for the following day but early birds are always the ones to claim the best seats at Centre Court. If you too would like to secure your place, expect to be among those who turn the queue into a campsite and wait from early evening to early morning before being coordinated to their relevant courtside seats.
On the whole, this year's tournament promises the best of a British atmosphere as fans from across the country and the globe descend upon South London to grab the best seat. If you are not intimidated by the strict decorum, grab your sun screen and picnic basket. Also haul in bags of enthusiasm for the day and you'll be game, set and matched!
The Independent will be attending Wimbledon with the Official Transport Partner, Hertz
Register for free to continue reading
Registration is a free and easy way to support our truly independent journalism
By registering, you will also enjoy limited access to Premium articles, exclusive newsletters, commenting, and virtual events with our leading journalists
Already have an account? sign in
Register for free to continue reading
Registration is a free and easy way to support our truly independent journalism
By registering, you will also enjoy limited access to Premium articles, exclusive newsletters, commenting, and virtual events with our leading journalists
Already have an account? sign in
Join our new commenting forum
Join thought-provoking conversations, follow other Independent readers and see their replies