Wimbledon 2016: Heather Watson knocked out in marathon duel after blowing three match points
Briton says she has to reassess everything after gut-wrenching defeat
Matt Gatward
Wimbledon
Thursday 30 June 2016 13:34 Comments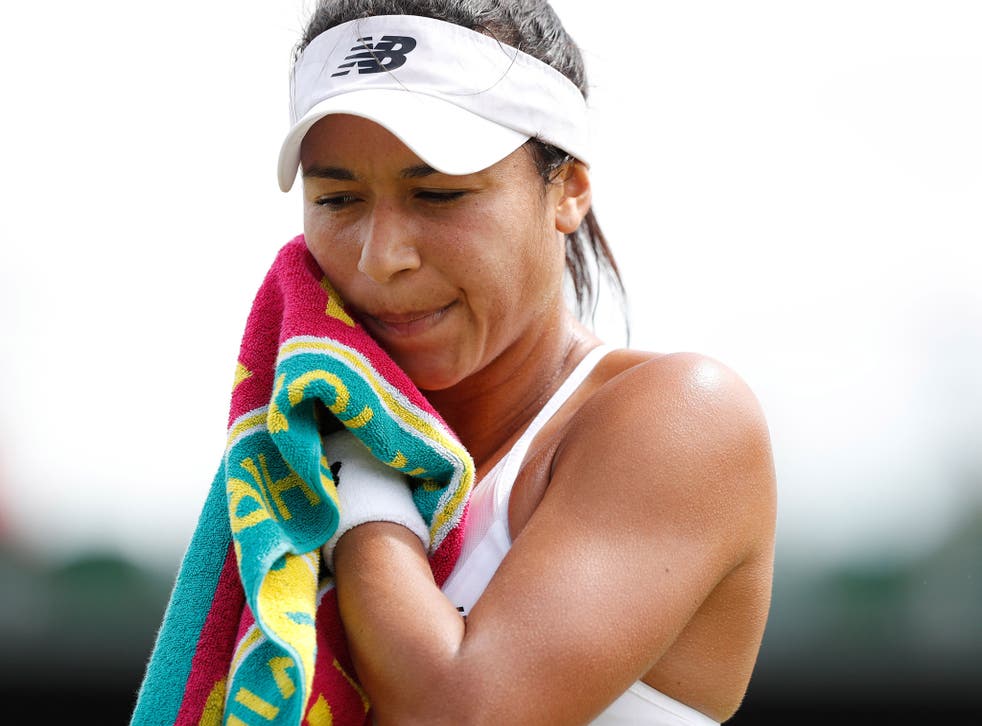 A year ago Heather Watson was three games to love up in the deciding set against none other than Serena Williams on Centre Court in the third round. An almighty shock was in the balmy July air. The Briton had shown glimpses of greatness in the past but here she was slugging it out – and beating – one of the finest players to tread the turf. It was her coming-of-age moment, the night she showed she could take on the best.
It wasn't to be. Williams, as she does, fought back and won the final set 7-5 despite Watson being two points from heaven and, of course, went on to take her sixth Wimbledon title eight days later. No shame in that for Watson. What is a shame, though, is that she's been flatter than a hard court since that giddy night when glory beckoned.
On Thursday, she bumped to a new low, the British No 2 frittering away three match points as she was dumped out 3-6, 6-0, 12-10 in the first round by German Annika Beck in a tie played over two days and in just under three hours and which she described as "one of the worst of her career".
"I wasn't pleased with the match in general, how I played," Watson, who has now lost in the first round at 13 of the 22 tournaments she has played since last summer's efforts, said. "Having match points, not being able to win here at Wimbledon... I take losses badly anyway, but this is one of the worst."
Watson has also won only one match in her four Grand Slams since Wimbledon and despite claiming a title in Mexico earlier this year also lost in the first round at Eastbourne recently as her world ranking hovers around the 50 mark.
The 24-year-old had fought back in the final set from 3-0 and 4-1 down to be 10-9 and 0-40 up with Beck serving. Alarmingly, the British No 2 admitted losing concentration on one of the match points. "I missed a return. I should have been more focused on that point and at least made a play. I should have gone for it, gone all out," she said.
"It was frustrating because I shouldn't have even been in that situation," she added. "I have to give her credit. She's a wall. But I didn't get beat today, I made the errors. I didn't have winners flying past me. I wasn't outplayed. I let her back into the match."
On wet Wednesday, Watson won the first set but then bizarrely lost the plot - "I don't know what happened to me," - and the second set to love. She was then broken before the rain returned and so needed a fast start on Thursday but was broken again before the punters had settled into Court 12 and found herself 3-0 down, nine games gone on the bounce, and looking at utter humiliation.
When she was broken again to trail 4-1 she threw her racket into the turf, was given a code violation, and jammed it down a couple more times when she'd taken her seat. The tantrum worked temporarily and she clawed her way back to parity at 4-4.
The pair then traded blows and a break and at 10-9 Watson blew her three golden chances. For one, she took the blame, the other two were well won by the consistent, if unspectacular, German world No 43 who landed one winner on the line. Six inches longer and Watson would be contemplating a Serena rematch down the line and Beck would have tripped up at the first hurdle for the fifth time in her last six visits to SW19.
"I just have to just re-evaluate everything," Watson, whose Argentinian coach Diego Veronelli quit at the end of last year to spend more time with his family only to return to her side on a more part-time basis, said. "How can I improve in my training, on the court, off the court, playing points differently. I just need to improve. I'm not sure what my plan is right now. I've just finished my match and I'm in the worst mood ever.
"One thing is to get my life together now. I get motivated quickly with losses like this. I just really want to improve in every area and see what I need to fix, what needs to stay and what needs to go. I've got a lot of thinking to do.
"I feel that I'm a lot better player than this. But my ranking doesn't lie. I need to go back to the drawing board because I really do believe that I can do a lot better than I have done in my career so far."
Register for free to continue reading
Registration is a free and easy way to support our truly independent journalism
By registering, you will also enjoy limited access to Premium articles, exclusive newsletters, commenting, and virtual events with our leading journalists
Already have an account? sign in
Join our new commenting forum
Join thought-provoking conversations, follow other Independent readers and see their replies