Wimbledon 2016: Serena Williams wins seventh title at SW19 after beating Angelique Kerber to equal Steffi Graf
Serena Williams beat Angelique Kerber 7-6, 6-3 to win her seventh Wimbledon championship and move joint-second in the all-time Grand Slam winners' list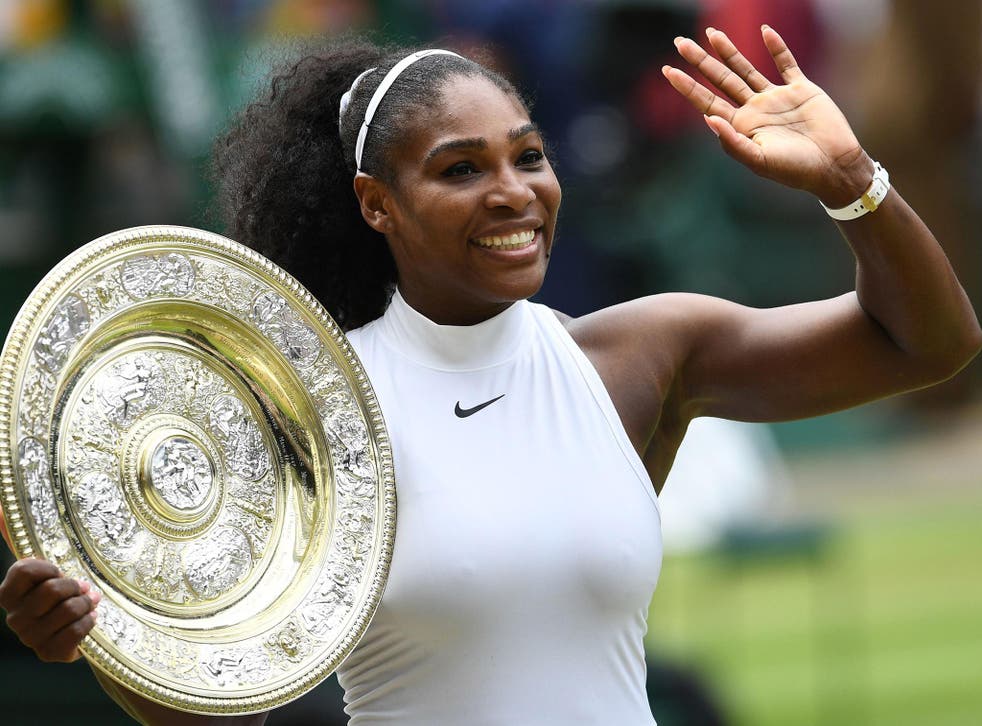 Angelique Kerber did her best to defend her childhood idol's record, but Serena Williams' onslaught on history proved irresistible. Ever since her triumph here 12 months ago Williams had been just one victory away from equalling Steffi Graf's Open era record of 22 Grand Slam singles titles and she finally achieved her goal by beating Kerber in one of the best Wimbledon finals of recent times.
Kerber, who had denied Williams her 22nd title by beating her in the Australian Open final at the start of this year, again pushed the world No 1 hard before losing 7-5, 6-3 after an hour and 21 minutes of fierce competition. After hitting the winning volley to secure her seventh Wimbledon title Williams fell on her back in relief as much as celebration.
In the 17 years since she won her first Grand Slam title at the 1999 US Open Williams had grown accustomed to winning – she lost just four of her first 25 Grand Slam finals - but in the last 10 months she has had to cope repeatedly with the pain of defeat on the biggest stages.
Wimbledon 2016 final weekend in pictures

Show all 17
The world No 1 did not play again for nearly four months after her semi-final loss to Roberta Vinci in the semi-finals of the US Open in September, when she was just two wins away from winning a pure calendar-year Grand Slam of the sport's four major titles, and this year she lost in the finals of the Australian and French Opens to Kerber and Garbine Muguruza respectively.
Having finally secured title No 22, Williams said that the last year had not been easy. "I've definitely had some sleepless nights, if I'm just honest, with a lot of stuff - coming so close, feeling it, not being able to quite get there," she said. "I put a lot of that pressure on myself. I had some really tough losses."
However, Williams said that she had gone into her ninth Wimbledon final with a different mindset, preferring to focus on her achievements in reaching seven of the last eight Grand Slam finals, including all three of this year's.
"I had to start looking at positives, not focusing on that one loss per tournament, which really isn't bad," she said. "Anyone else on this tour would be completely happy about it. Once I started focusing more on the positives, I realised that I'm pretty good. Then I started playing a little better."
Kerber, aged 28, was aiming to become the first German woman to win at the All England Club since Graf claimed the last of her seven Wimbledon titles 20 years ago. The world No 4, who will rise two places in Monday's updated world rankings list, had initially struggled to cope with her new-found status as a Grand Slam champion following her triumph in Melbourne, but played beautifully all fortnight to reach her first Wimbledon final.
The very first point was reminiscent of Kerber's triumph in Australia as she outrallied Williams before hitting a forehand winner, but it soon became clear that the outcome might be decided by the two players' serves. Williams, who has arguably the best serve in the history of women's tennis, cracked 13 aces, lost just five points on her first serve and faced only one break point. Kerber did not manage any aces and was repeatedly put under pressure by the quality of her opponent's returns.
Nevertheless, once the players started rallying, there was little to choose between them. Williams tried to finish the points quickly and made regular forays to the net, while Kerber relied on her athleticism to keep making the American hit the extra ball.
Kerber saved three break points in the second game and another in the 12th before Williams converted her second set point, hitting a big forehand wide to Kerber's left which the German was unable to retrieve.
When Williams served at 3-3 in the second set Kerber had her only break point opportunity. The world No 1 saved it with an ace. In the following game Kerber dropped serve from 40-15 up, missing backhands on the last two points. When Williams served at 5-3 the American went 40-0 up with three unreturned serves and on her first match point hit a volley winner.
"It was a great final," Williams said. "She played really well. We had a lot of long, tough points. I think I worked for every single point. Nothing was given to me. It made for a really good match."
Kerber said: "Serena served unbelievably. At the end I was trying everything, but she deserved it today. She really played an unbelievable match. I think we both played on a really high level.
"Of course, I'm disappointed, but at the end I'm also proud of what I did. I reached my second Grand Slam final this year and it was an amazing final. I really enjoyed it. There was a great atmosphere out there. I will never forget it."
Having equalled Graf's record, attention may now switch to whether Williams can match Margaret Court's all-time record of 24 Grand Slam singles titles and Martina Navratilova's record of nine Wimbledon singles titles.
However, Williams said that for the moment she would not be thinking about future targets. "One thing I learned about last year is to enjoy the moment," she said. "I'm definitely going to enjoy this. I have the Olympics coming up. I'll take it one at a time."
Register for free to continue reading
Registration is a free and easy way to support our truly independent journalism
By registering, you will also enjoy limited access to Premium articles, exclusive newsletters, commenting, and virtual events with our leading journalists
Already have an account? sign in
Register for free to continue reading
Registration is a free and easy way to support our truly independent journalism
By registering, you will also enjoy limited access to Premium articles, exclusive newsletters, commenting, and virtual events with our leading journalists
Already have an account? sign in
Join our new commenting forum
Join thought-provoking conversations, follow other Independent readers and see their replies