Wimbledon 2017: Roger Federer calls for rule change as day two sees seven players retire with injury
For the second time on Tuesday, a Centre Court men's singles match finished before its time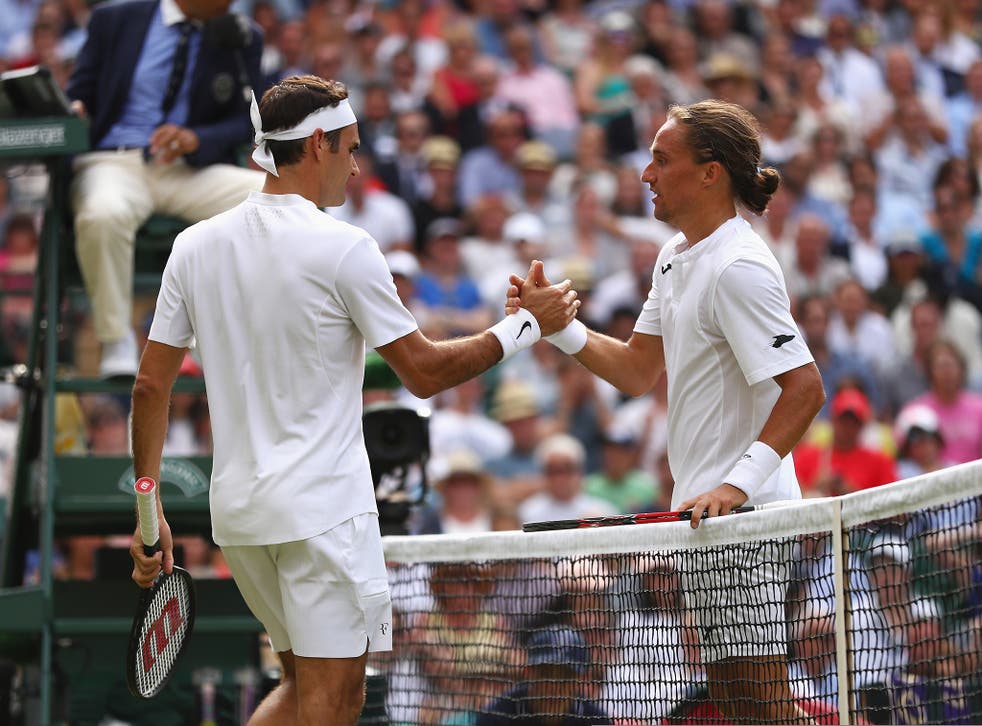 Roger Federer called for a rule change to discourage injured players showing up and pulling out after a day dominated by controversial and wildly unpopular injury retirements.
Alexandr Dolgopolov was one of seven players to retire injured from their first-round ties, pulling out of his match with Federer on Centre Court after just 43 minutes and 10 completed games.
Federer was bitterly frustrated to reach the second round in those circumstances, especially as his match immediately followed precisely the same thing happening with two other players. Federer faced Dolgopolov after Martin Klizan retired injured against Novak Djokovic, during the second set, after 40 minutes of tennis.
Wimbledon: The greatest pictures from The Championships

Show all 50
​
Those were the two highest profile retirements of the day, but that has been the story of the first round here at SW19. Seven first-round retirements from the men's singles matches the Wimbledon record set in 2008, with spectators increasingly frustrated at players not completing their matches.
Also on Tuesday, Spanish 19th seed Feliciano Lopez retired, Janko Tipsarevic retired while in the ladies' singles Anastasia Potapova retired too. This spate of pull-outs raised questions about whether players are showing up unfit, just to receive their £35,000 first round prize money, and then retiring when they cannot play anymore.
Federer admitted how bad he felt for the paying spectators, who were all looking forward to watching him play so much. "When I went out, I felt it was a let-down for the crowd. They could not believe that it happened again, exactly the same situation. He called the trainer after the set, pulled out at 3-0, the same thing. I feel for the crowd, they are there to watch good tennis, proper tennis. At least they saw the two of us who gave it all they had."
Dolgopolov told Federer when he retired that he felt "too much pain" while serving. But Federer suggested in his press conference that players who were not going to be able to complete their matches should not start them, and that Dolgopolov might have made way for a challenger.
"If you feel like it is getting worse and you can hurt yourself further, it is better to stop," Federer said. "The question always is: should they have started the match at all? Only the player can answer really. You hope they would give up their spot for somebody else if fitness is not allowing them."
Federer encouraged the Grand Slams to change the rules to help get prize money to players who pull out, thereby disincentivising players with injuries from trying to play. "A player should not go on court if he knows he should finish," Federer said. "In the process, maybe the slams should have a look at what they could do for the players to make it just a little bit easier."​
This match was never going to be an epic five-setter but the crowd desperately wanted to see three good sets before Federer made it through to the next round. They only got 10 completed games.
It was clear even in the first game that Federer would breeze this match, breaking Dolgopolov at the very start and playing with a control and range that his opponent could not match. Dolgopolov could never live with Federer and the Swiss legend's best two shots, two forehand winners in the seventh game of the first set even came in a game that he lost. The 6-3 set win came easily enough.
The second set felt like more of the same but when Federer broke again through a Dolgopolov double fault it was clear the Ukrainian was struggling. At 3-0 down in the second, Dolgopolov forfeited and everyone on Centre Court wondered what to do next.
As Federer walked off, the chairman joked with him that he should play a practice set with Djokovic, himself frustrated by the lack of playing time today. Federer found Djokovic in the locker room and suggested it, although of course it could not happen. Now the two greats will head into the second round having found it far easier than they wanted to get there.
Register for free to continue reading
Registration is a free and easy way to support our truly independent journalism
By registering, you will also enjoy limited access to Premium articles, exclusive newsletters, commenting, and virtual events with our leading journalists
Already have an account? sign in
Register for free to continue reading
Registration is a free and easy way to support our truly independent journalism
By registering, you will also enjoy limited access to Premium articles, exclusive newsletters, commenting, and virtual events with our leading journalists
Already have an account? sign in
Join our new commenting forum
Join thought-provoking conversations, follow other Independent readers and see their replies