Wimbledon hosts trial for tech that helps visually-impaired fans watch tennis
The technology uses 5G and TV footage to enhance the picture.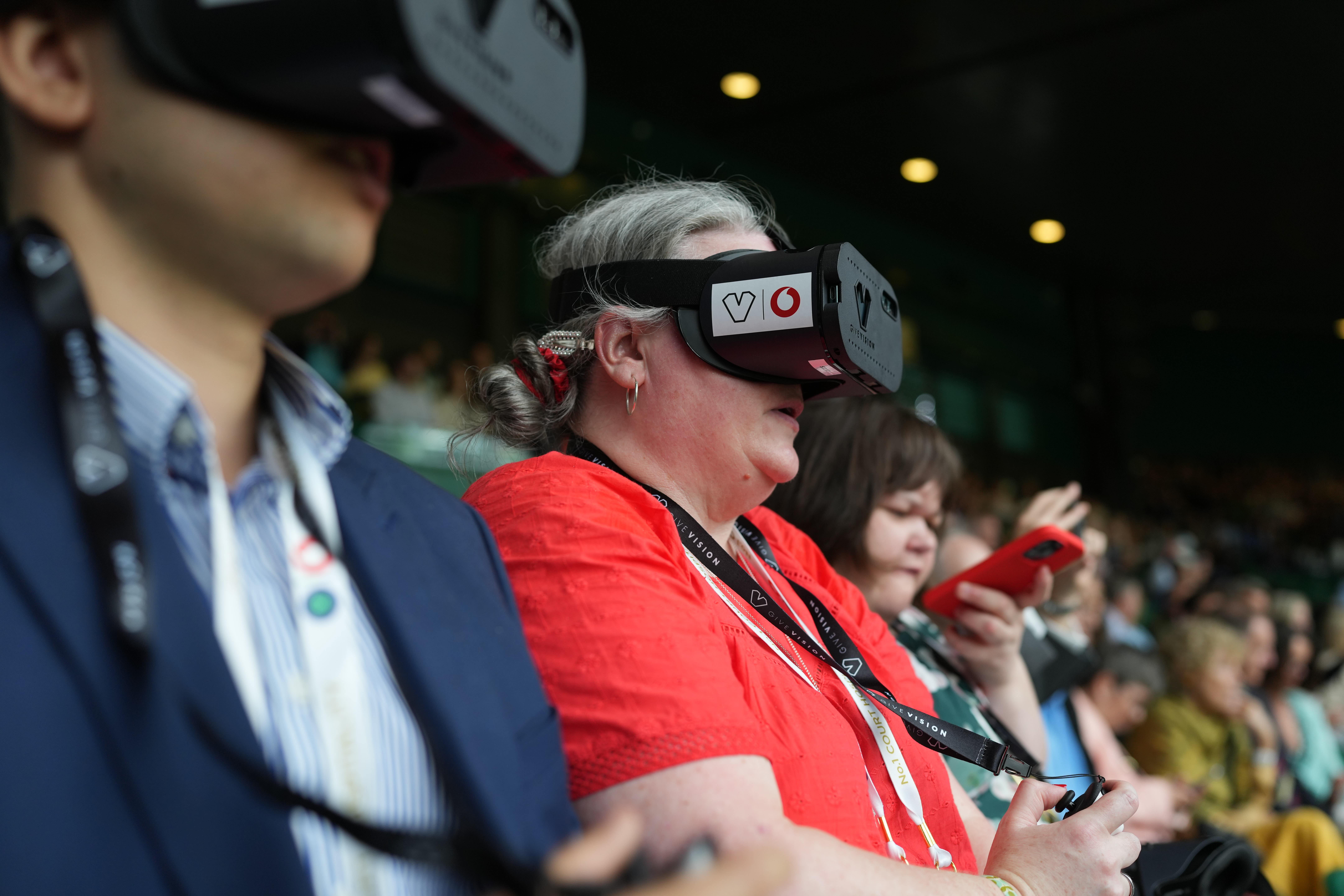 Visually-impaired tennis fans are trialling headsets at Wimbledon that enable them to watch live action from in the stands.
The headsets, developed by UK company GiveVision and powered by Vodafone 5G, stream live footage from local TV cameras and enhance it to suit a user's specific sight profile.
Sinead Grealy, a life-long tennis fan who once skipped school to queue for Wimbledon, has been taking part in the trial on Centre Court and Court One.
She told the PA news agency: "I can't tell you how fantastic it is. I would need a thesaurus and know how to work it for all the superlatives.
"The technology is incredible. It takes my eyesight to better than it was. The first time I put it on I just went, 'woah'. And then I went 'woah' again with the first adjustment because it's so simple. I'm a technophobe and it's so easy to use.
"I need it in my life, I will be buying it whenever it comes on the market. You don't know how many people it's going to help.
"I've got a very good chance of going 100 per cent blind. I don't have to fear that, and that genuinely, in the quiet hours when I couldn't sleep, kept me up at night, that I would never be able to go and enjoy live sport ever again. The scope this has is just beyond where I was even hoping it could go."
GiveVision has also been working in sport with Premier League club Crystal Palace and hopes the technology can be rolled out across many more venues.
Head of operations Joanna Liddington explained: "It brings the image much closer to the user's face, stimulates the photoreceptor cells in the retina and allows them to regain some of the sight they've lost, essentially.
"They can zoom in and out, change the brightness, have a look around and take in the atmosphere. They can manipulate it to fit their needs."
The ability for visually impaired people to experience sport without being restricted to specific areas is one of the key benefits of the technology.
"With the headset, people can sit anywhere they want, be with their friends and family," said Liddington.
"At the moment people with sight loss are severely under-represented. One in 30 people in the country have visual impairment and our experience with football is you have about five or six people at any given match.
"In Centre Court, you should have about 500 people, and of course we don't see that because people don't go because they can't see what's going on.
"There have been so many times I've seen people go, 'Wow, this is amazing'. To see the difference it makes to people who are passionate fans of their sport, finally get to see their first goal, first bit of tennis.
"One of the guys we work with, who was born visually impaired, he said the best thing is, when there's a foul, he can choose if it was a foul. 'I can argue with my friends about it, I can be angry with the ref, my opinion and my voice finally matters', and that's the impact."