Wimbledon's head groundsman defends condition of the courts as Andy Murray adds to criticism
Earlier this week the French player Kristina Mladenovic branded Court 18 'dangerous', while Murray was less than impressed with the state of Centre Court on Friday night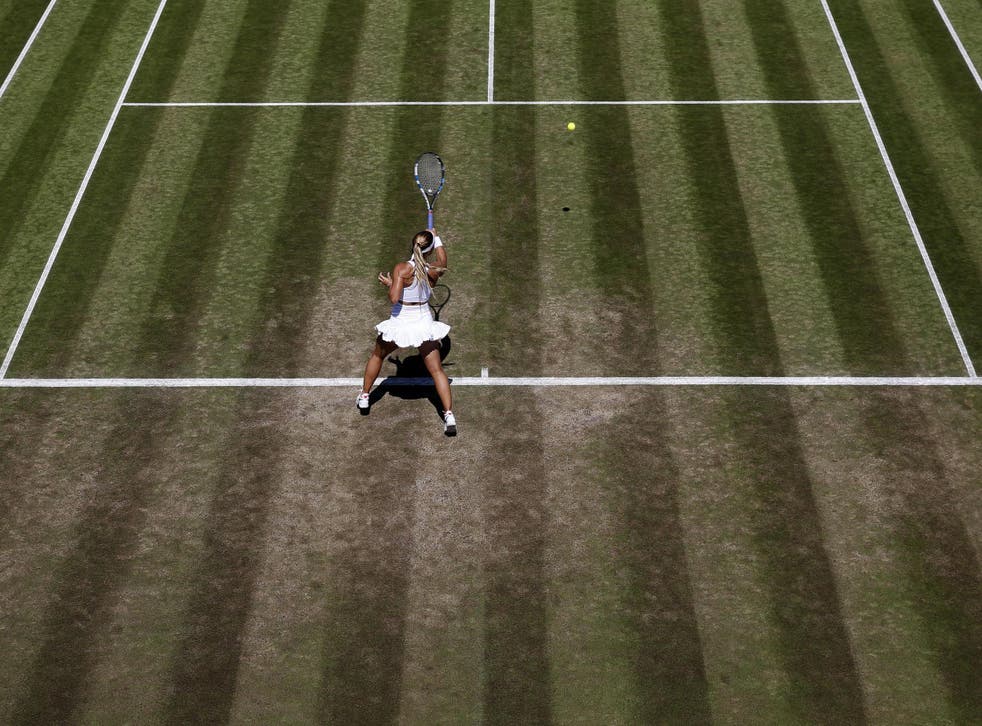 Wimbledon's head groundsman has defended the condition of the All England Club's courts following criticism from a number of players at this year's Championships.
Earlier this week the French player Kristina Mladenovic branded Court 18 'dangerous', while World No 1 and defending champion Andy Murray criticised the condition of Centre Court after his third round victory over Fabio Fognini.
"The court I don't think is in as good a condition as previous years," he said on Friday night. "There's quite a few spots on the court, just behind the baseline and just in front of the baseline, which I don't remember really being the case."
Neil Stubley, the All England Club's head of courts and horticulture, has however claimed the courts are in the same condition as usual.
"We set them up to the exact standard that we've done in many previous years," he said on Saturday. "Obviously we listen to players, because their feedback is important. But the data shows to us those courts that are in question are within range of the other courts, and they are within the range of previous years.
"That's all we can work to, is the data that we feel is best for the health of the courts."
The best pictures from The Championships 2017

Show all 55
Mladenovic twisted an ankle while warming up for her match against Alison Riske on Court 18, and later injured her knee during her three-set defeat.
"There's no grass," she commented afterwards. "I don't know how to describe it. It's not even clay. It's not flat. I mean, I don't know.
"I feel it's totally different than the previous years. But, you know, I'm not criticising. I'm not an expert at all on grass courts. I guess the climate doesn't help, the fact that it's too nice, too hot, too sunny, makes everything very dry. That's what we got as an answer from the officials."
Court 18 has been criticised by other players, but Stubley says his team have inspected the court and found little wrong with its condition.
"We looked at the baselines and the areas that they thought there was an issue," he said. "We didn't feel there was. The Grand Slam supervisor and Assistant Referee didn't believe that there was either.
"When you look at the comparisons of other courts within The Championships, they were in or around the same condition as the other courts."
Andre Agassi on Wimbledon tournament favourites
The courts came under extra scrutiny on the fourth day of the tournament, when the American player Bethanie Mattek-Sands suffered a horrific fall when chasing down a drop shot.
She had to be taken to hospital in an ambulance, and on Saturday she confirmed he had dislocated her right patella and ruptured her patellar tendon in the fall.
Stubley acknowledged that the extreme heat had meant that his team had had to change their management of the courts, but added that he was unsure if more players were suffering from slips and falls at this year's Championships.
"Obviously we're dealing with the extreme heat, which we're not used to every single Championships. So from one Championships to another you will get variations in temperatures which will actually have an effect on how you manage the courts," he added.
"But we set them up to the exact standard that we've done in many previous years. So I'm not quite sure. Are they more slippery? I don't know if there's been more slips this year or there's just been a couple of high-profile ones. I'm not sure."
Register for free to continue reading
Registration is a free and easy way to support our truly independent journalism
By registering, you will also enjoy limited access to Premium articles, exclusive newsletters, commenting, and virtual events with our leading journalists
Already have an account? sign in
Register for free to continue reading
Registration is a free and easy way to support our truly independent journalism
By registering, you will also enjoy limited access to Premium articles, exclusive newsletters, commenting, and virtual events with our leading journalists
Already have an account? sign in
Join our new commenting forum
Join thought-provoking conversations, follow other Independent readers and see their replies