Wimbledon 2017: Kei Nishikori's defeat exposed his limitations at this level
The brutal truth in today's game is that men with Kei's physique nearly always struggle
Nick Bollettieri
Friday 07 July 2017 19:18 Comments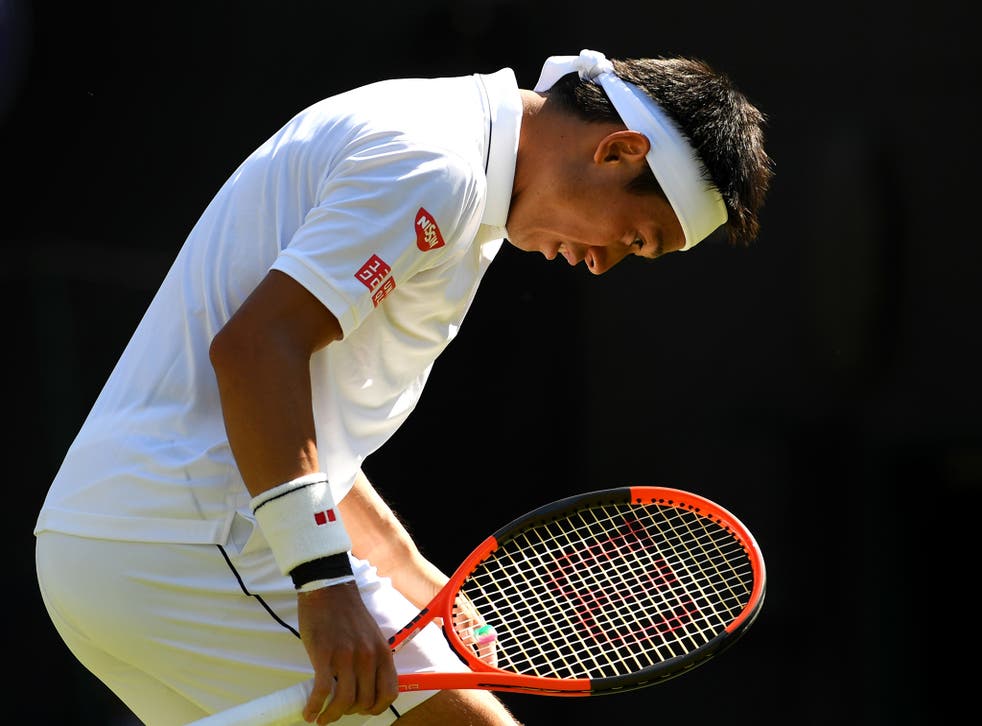 There have been very few players who have come through the IMG Academy who have had as much talent as Kei Nishikori. He's a wonderful shot-maker, has great hands, sees the ball quicker than almost anyone and moves beautifully. This guy could make a ballet dancer look leaden-footed with the way he flies around the court.
However, the brutal truth in today's game is that men with Kei's physique nearly always struggle. Kei is only 5ft 10in tall, weighs only 165lb (less than 12 stone) and has to work so hard against the bigger guys.
Roberto Bautista Agut, who won in four sets to reach the fourth round, is not exactly a giant, but I think the cumulative effect of the effort that Kei has to make to keep up with his rivals takes its toll on him. He has had a succession of injuries and his fragility means that he struggles to maintain a high level through a whole tournament, especially at Grand Slam level.
Wimbledon: The greatest pictures from The Championships

Show all 50
Kei's physical disadvantages are best illustrated by his serve, which just isn't big enough. Most of the top players know that on their first serves in particular the return is going to enable them to hit a big forehand on the third shot in three-quarters of the rallies. Kei just can't rely on that.
Mind you, pure strength isn't everything in the modern game. Karen Khachanov is one of the strongest guys among the new wave of players who are breaking through, but Rafa Nadal saw him off in three sets.
Nadal has played brilliantly so far, but I just wonder how he will cope when he gets stuck into a long match over four or five sets. His next match, against Gilles Muller, could be his toughest test yet.
Saturday's match of the day
It's not often that Roger Federer is forced on to the back foot, especially at Wimbledon, but we might see that happen when he takes on Mischa Zverev in the third round. Zverev's younger brother, Alexander, is a huge talent, but Mischa can be a danger too, as he showed when he beat Andy Murray in the Australian Open earlier this year.
Mischa loves to play serve-and-volley and I'm sure he'll be charging forward against Federer. The more the points are played from the back of the court, the more it will favour Federer.
I'll expect to see Federer hammering big returns into Zverev's feet. The key for Federer will be to get Zverev hitting his volleys up. If Federer hits his returns high over the net, enabling Zverev to hit down on his volleys, he'll be in trouble. That's why I'll expect Zverev to hit most of his serves to Federer's backhand in the ad court, in the hope that he will have big open spaces in which to put away his first volley.
Federer will play some serve-and-volley too, but he'll also be mixing it up. I think the variety of Federer's game will be too much for Zverev, but he won't have it all his own way.
Tales from the IMG Academy
It's commonplace these days to see players run around their backhands to hit more forehands. Watch someone like Federer. Man, he's so quick and reads the game so well that you even see him hitting some forehands when he's out in the backhand tramlines. However, we've only really seen that tactic in the last 20 years or so.
It was Jim Courier who helped to start the trend. I'd been aware of Jim's talent for a while before I offered him a scholarship at the IMG Academy when he was 14. His mother, Linda, asked me to change his double-handed backhand, which he hit with an unconventional semi-western grip.
However, when I had a chance to evaluate his game I decided that although that backhand was unusual, it was pretty effective. What struck me more was how deadly his forehand was. He hit it with an extreme western grip and generated enormous power.
My advice to Jim was therefore to try to hit as many forehands as possible, which involved running round his backhand whenever he could. It worked pretty well and Jim went on to enjoy a fine career, his 23 titles including two French Opens and two Australian Opens.
Wimbledon 2017: Daniil Medvedev throws coin at umpire after losing match
A tip from the top
When you get a little nervous or a little tired, it's sometimes tempting to go for the lines. You're better off to keep the ball in play, keep rallying and tell yourself that you can and will win the point.
For example, the most important aspect of the return of serve is to get the ball back in court. Holy cow, you ain't gonna get far if you keep slapping the ball but hit it long. Once you've got your return under control, then's the time to add power.
The perfect tennis player
Each day during Wimbledon I'm building a picture of the ideal tennis player by looking at a different aspect of the game. Today: the one-handed backhand.
I think it's best to separate one-handed and two-handed backhands because they're such different strokes. Most players today prefer the two-handed backhand, but there are still some great one-handed backhands around. Roger Federer and Dominic Thiem come immediately to mind, though the most explosive backhand today is Stan Wawrinka's. Man, you almost feel sorry for the ball when he unleashes that ferocious backhand of his.
In the past I always admired the backhands of Rod Laver, Gabriela Sabatini and Amelie Mauresmo, but I think the best single-handed backhand belonged to Justine Henin. The stroke itself was a thing of beauty but I also loved the way she used to come forward to hit it. For Henin, the backhand was a great attacking weapon.
Register for free to continue reading
Registration is a free and easy way to support our truly independent journalism
By registering, you will also enjoy limited access to Premium articles, exclusive newsletters, commenting, and virtual events with our leading journalists
Already have an account? sign in
Join our new commenting forum
Join thought-provoking conversations, follow other Independent readers and see their replies