Wimbledon 2017: The 'Next Gen' offer bright future for tennis but must first topple dominant 'Big Four'
The likes of Alexander Zverev, Andrey Rublev and Karen Khachanov are fast establishing themselves as next in line to the Big Four's crown
Paul Newman
Wimbledon
Tuesday 04 July 2017 20:26 Comments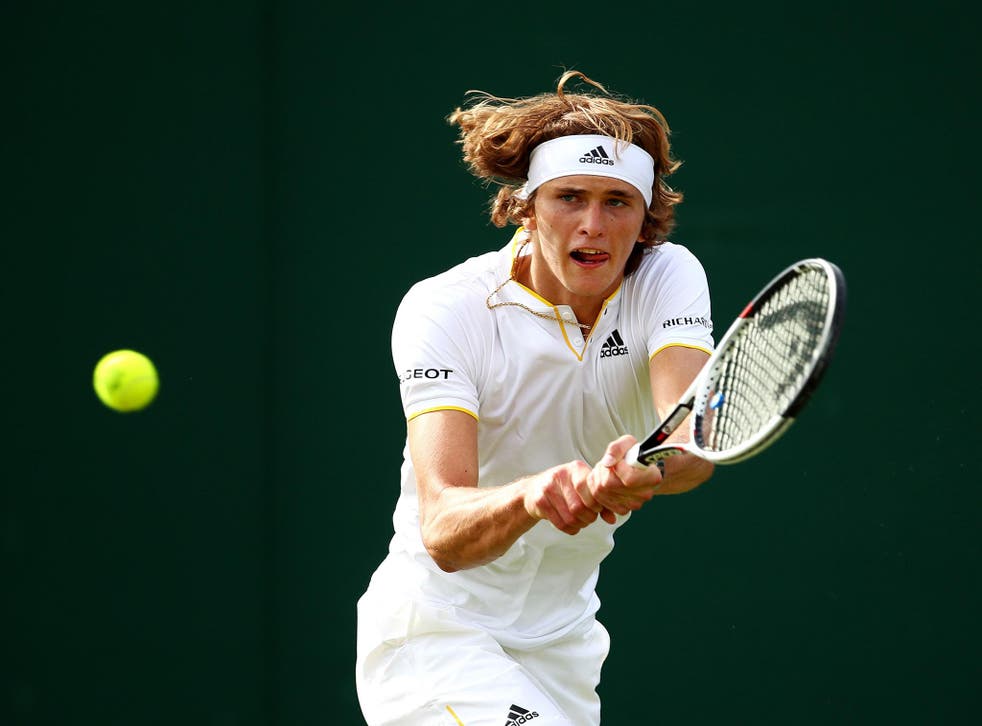 Andrey Rublev, one of the game's most promising teenagers, won his first match at Wimbledon here on Tuesday, but the 19-year-old Russian was keeping his feet firmly on the ground after his 6-7, 6-3, 7-5, 1-6, 7-5 victory over Italy's Stefano Travaglia.
"Of course I'm very happy to win my first match here, but I don't think of it as anything particularly special," the world No 95 said. "There are plenty of other guys who have won more matches than me. I have to work harder."
Rublev and his fellow "Next Gen" players set their sights high. There is a sense among the likes of Rublev, Alexander Zverev, Karen Khachanov, Thanasi Kokkinakis, Jared Donaldson and Daniil Medvedev that their time will come – and that it could be sooner rather than later.
For the first time ever, the top five men in the current world rankings – Andy Murray, Rafael Nadal, Stan Wawrinka, Novak Djokovic and Roger Federer - are all over the age of 30. The likes of Kei Nishikori, Milos Raonic, Grigor Dimitrov and Marin Cilic have so far found the task of usurping their elders to be an almost impossible task, which could mean that the men's game will skip a generation before a new order is established.
While the current "Big Four" (or "Big Five" if you include Wawrinka) have helped men's tennis to enjoy a golden era, the challenge for those running the sport has been to develop younger players capable of replacing the old guard and exciting a new generation of fans.
One of the responses has been to promote the "Next Gen" group of players, a marketing strategy which is proving very successful. Chris Kermode, the executive chairman and president of the Association of Tennis Professionals, has been a driving force behind the inaugural Next Gen Finals, which will be held in Milan at the end of this year, bringing together eight of the game's best players aged 21 and under.
Wimbledon: The greatest pictures from The Championships

Show all 50
The tournament will also use a new scoring system designed to appeal more to a generation of spectators who might prefer not to sit through lengthy matches. Played over the best of five sets, with each set won by the first player to win four games, the matches will feature sudden-death points at deuce, a no-let rule on serves and shorter warm-ups. An on-court clock will strictly enforce the rule allowing only 25 seconds between points.
The competition will give the best young players a chance to shine during an era in which the average age of professional players has been getting older, making it harder for the next generation to make their mark.
"I think it's good for the younger players," Rublev said when asked about the Next Gen Finals. "It's a chance to earn money and a chance for them to feel special."
He added: "I think it's harder for younger players now because tennis has changed since 20 or 30 years ago. Now all the players work much harder, they all have physios, they prepare their bodies much better, they do fitness much better. They know how to do the right things.
"That's why so many of the players who broke through many years ago, like Roger Federer, are still playing at the top. Twenty years ago it wasn't like this."
There is a sense of camaraderie among some of the Next Gen group. Alexander Bublik, who lost to Murray in the first round here on Monday, said he always preferred to watch his Next Gen contemporaries than a match between, say, Federer and Nadal.
Kokkinakis, who was beaten 6-3, 3-6, 7-6, 6-4 by Juan Martin del Potro in the latest of what has been a succession of tough draws for the 21-year-old Australian, also keeps track of what players of his own generation are doing.
"You grow up playing with each other," Kokkinakis said. "You're definitely aware of what they are doing and how they're going. I think they are all getting better, which is good."
Rublev, Khachanov and Medvedev, who beat Wawrinka here on Monday, form a particularly close group of young Russians. "I've known Karen and Daniil since we were about seven or eight," Rublev said. "We played in under-10 tournaments together so we know each other really well.
"It's good for me to see someone like Karen seeded here. He's a bit older than me and it's great motivation for me to see the success that he is having. We motivate each other.
"I've also known Alexander Zverev since we were kids. We always used to play doubles together. When he's winning big tournaments I'm very happy for him because in the juniors he was my best friend. We used to spend a lot of time together."
For the moment Zverev is the outstanding Next Gen player. The 20-year-old German, who kicked off his Wimbledon with a 6-4, 7-6, 6-3 victory on Tuesday over Evgeny Donskoy, has a big lead at the top of the Race for Milan standings, thanks in no small part to his remarkable victory at the Rome Masters in May.
Nevertheless, the size of the tasks facing some of the younger players was emphasised by some of the results on the second day here.
Borna Coric, who stands third in the Race for Milan, was beaten in straight sets by Ryan Harrison, while Taylor Fritz and Stefanos Tsitsipas went down by the same margin to John Isner and Dusan Lajovic respectively. Ernesto Escobedo and Christian Garin, meanwhile, lost in four sets to Adam Pavlasek and Jack Sock.
Donaldson, nevertheless, progressed to the second round when he profited from Janko Tipsarevic's early retirement and Frances Tiafoe, a 19-year-old American, struck a significant blow for the Next Gen group when he beat the experienced Robin Haase 6-3, 3-6, 7-6, 7-5.
We can look forward to a vision of the future in the second round. Zverev's meeting with Tiafoe will provide a chance to assess just how good the Next Gen group are.

Register for free to continue reading
Registration is a free and easy way to support our truly independent journalism
By registering, you will also enjoy limited access to Premium articles, exclusive newsletters, commenting, and virtual events with our leading journalists
Already have an account? sign in
Join our new commenting forum
Join thought-provoking conversations, follow other Independent readers and see their replies