Ashleigh Barty reflects on 'unbelievable week' as she prepares for showdown with Caroline Garcia in Wuhan final
The 21-year-old overcame a top 15 opponent in four successive matches to reach the final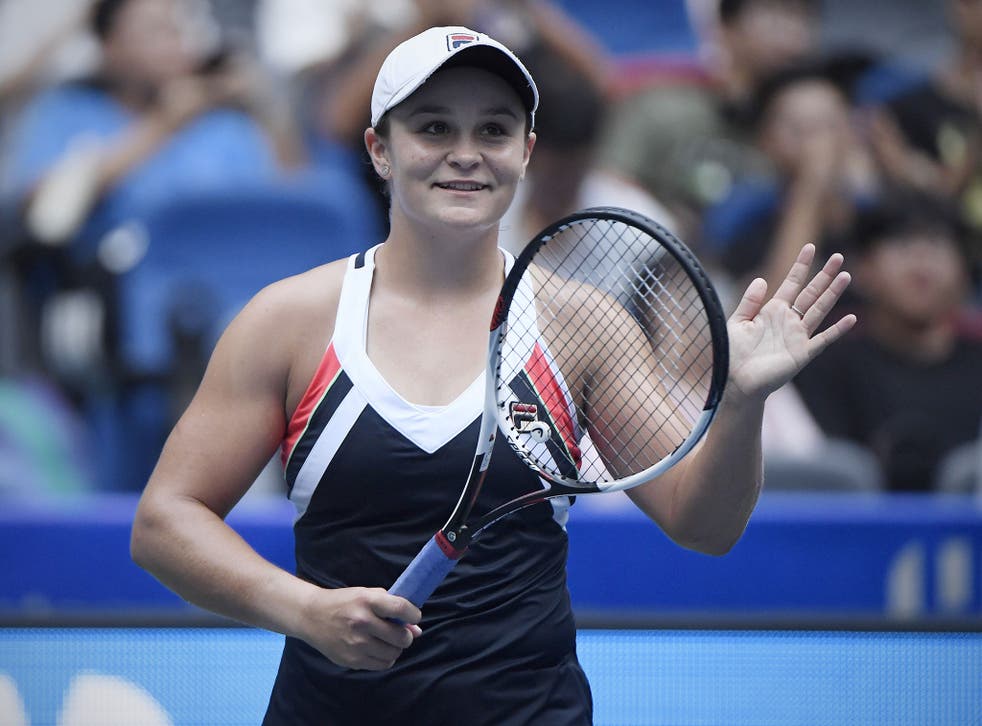 Ashleigh Barty's stunning week here at the Dongfeng Motor Wuhan Open will end in her first appearance in the final of a "Premier 5" tournament. The 21-year-old Australian overcame a top 15 opponent for the fourth round in succession when she booked her place in Saturday's final against France's Caroline Garcia by beating Jelena Ostapenko 6-3, 6-0.
After hard-fought victories in three sets over Johanna Konta, Agnieszka Radwanska and Karolina Pliskova, Barty had a comparatively easy passage against Ostapenko, who appeared to pay for her efforts over the previous two weeks.
Barty began the year ranked No 271 in the world after taking a break from the sport, is already up to No 37 and is now knocking on the door of the top 20.
Commenting on her "unbelievable week", Barty said: "I feel like I'm moving well on the court. The ball is obviously coming nicely off the racket. I feel like I have full control of the ball, which in some conditions it's really tough to do.
"I'm really enjoying playing in these conditions. It's very similar to Brisbane and to home for me. It's been a really enjoyable week so far."
Ostapenko won the title in Seoul last weekend and had reached the semi-finals here with three successive three-set victories, the last of which, over Garbine Muguruza, had finished at midnight the previous day.
Given that late finish Ostapenko had hoped to play in Friday's second semi-final, but found herself back out on court less than 18 hours later.
After a competitive first set the French Open champion was a shadow of her usual bubbly self in the second, during which she called for the doctor because she was feeling dizzy.
"I was feeling pretty bad," Ostapenko said afterwards. "Even in practice I felt like I had no energy and really, really tired because I had been playing so many matches."
Ostapenko, who was on an eight-match winning streak in Asia after her tournament victory in Seoul last week, said her victory over Muguruza had been an "emotional win" and added: "We finished quite late yesterday so I didn't really have enough time to recover before today's match. I was expecting something like that could happen."
Garcia, who has won only three titles on the main tour, secured her place in the biggest final of her career by beating Greece's Maria Sakkari 6-3, 6-2. By reaching the final the 23-year-old Frenchwoman has already guaranteed that she will climb to her highest place in the world rankings next week.
Currently No 20 in the world, Garcia is expected to rise to No 17 even if she loses in the final.
Join our new commenting forum
Join thought-provoking conversations, follow other Independent readers and see their replies