The Last Word: The day football saved lives
Football is occasionally a matter of life and death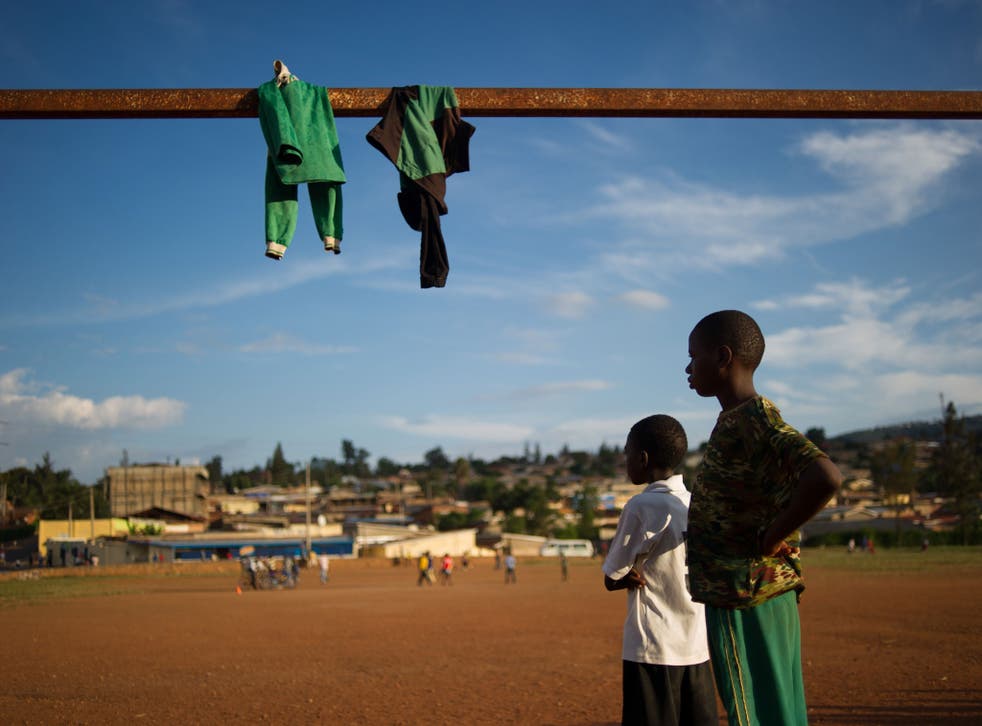 Football saved Eric Murangwa's life. Without it, he would have suffered the fate of 35 members of his family, anonymous victims of Rwanda's genocidal insanity. He survived the carnage of ethnic retribution because human bonds, forged by the game, proved uniquely powerful.
He persuaded a five-man death squad to spare him by showing them a team photograph which proved he played for Rayon Sports, Rwanda's most successful club. Though a Tutsi, he was sheltered by a Hutu team-mate, Longin Munyurangabo, before being rescued by a club director, Jean-Marie Vianney Mudahinyuka.
Known by his nom de guerre, Zuzu, Mudahinyuka was a notorious leader of the Interahamwe militia, subsequently imprisoned for torture, rape and murder of countless Tutsis. Yet he shielded the goalkeeper nicknamed Toto from other Hutu militants, because he was one of his favourite players.
Murangwa was fearful and powerless, haunted by the knowledge his benefactor was a mass executioner in a conflict which killed 800,000 in 100 days. He remained a target until he absconded after making his full international debut in a World Cup qualifying match in Tunisia.
His career instantly over at the age of 21, he made his way to Belgium and then on to London, where his life acquired a higher purpose through the game to which he owed everything. Three years ago, before the concept was commercialised and distorted by Fifa, he founded the organisation Football for Hope, Peace and Unity.
Working with such similar bodies as the Holocaust Memorial Day Trust and Football Beyond Borders, he uses football's transformative emotional impact to promote tolerance, remembrance and reconciliation. He takes British coaches to Rwanda, and stages matches in the UK to raise awareness.
"It's hard to go into a refugee camp and find people who are interested in religion or politics, but go in there, or any other disadvantaged area, and throw a ball," he says. "You don't need to encourage anyone – they will all come running. That's the power of football."
He regards the game as society's great leveller, a pivotal factor in generating mutual respect and community cohesion. The positivity of his message is critical and timely, since football is so often defined by bad-news stories, even at what has largely been a rehabilitative World Cup in Brazil.
African football is tainted by the grotesque spectacle of Ghanaian players kissing wads of banknotes, flown in by their government and ferried through the streets of Rio by an armoured convoy. It is cheapened by Nigerian players refusing to train until guaranteed payment.
If such episodes symbolise the cynicism generated by an inherently corrupt structure, the canonisation of Luis Suarez, and the instinctive siege mentality of a small nation fed fantasies of prejudice, epitomises the absurdity of the star system.
Murangwa's perspective has been painfully acquired: "For many years afterwards, I kept asking 'why me?' And, recently I came to realise that those who survived had all survived for a purpose, which is to make sure our loved ones weren't lost in vain. The only way we can do that is to make sure that what happened to them, and to us, never happens to our children."
He cannot forget. Munyurangabo, the teammate who protected him, scavenged for food and bribed soldiers to look the other way, was killed in the chaos: "He was just an ordinary man who happened to be an incredible human being with courage and humanity that most people inside and outside Rwanda lacked at a time when people needed it most."
Remember his sacrifice when the madness and majesty of the World Cup becomes overpowering. Football is, occasionally, a matter of life and death.
Capello still boring
Fabio Capello is unhappy. It tends to be his default mechanism, especially when the naughty boys in the popular prints are in the mood to mock the myth of his genius.
Stop me if you have heard this before. His team were palsied and remorselessly defensive. Such joylessness was futile, because failure became a self-fulfilling prophesy.
His players were miserable and resentful. Banned from social media, they were instinctively fearful of the coach's mistrust of anyone with a more prominent profile.
His employers scuttled to his defence out of self-interest, attempting to justify their unfeasible generosity by supporting his claims Russia were victims of a refereeing conspiracy.
Capello refuses to walk away, citing the security of a contract which has four years to run. The Italian art collector's annual salary, £6,693,750, is more than the combined earnings of 16 fellow managers at this World Cup. It may not be entirely coincidental that the three highest paid – the others are Roy Hodgson, who makes do on £3.5million and Cesare Prandelli, who gets by on £2,575,000 – were abject failures.
The era of tycoons in tracksuits is drawing to a close. Mexico's Miguel Herrera, who makes £125,000 a year, may lack Capello's supposed style, but he has proved himself to be a coach of greater substance. Ciao, Fabio.
Formula for disbelief
Formula One returns to Silverstone next weekend. Judging by the desperation of the build-up to the British Grand Prix, it is likely to have the dignity of a pit-wall debate staged by Jeremy Kyle.
The so-called sport craves new followers, to augment the petrolheads who regard Jeremy Clarkson as a modern Oscar Wilde. The solutions are simplistic, revealingly crass.
Titanium skid plates are being installed on cars. They may sound like lawn mowers, but at least they will shower sparks. Standing re-starts are being introduced during races, in the vain hope of a telegenic pile up.
You couldn't make it up. With Bernie Ecclestone, you don't need to.
A spoke in Scotland's wheels
Bradley Wiggins remains a national treasure, despite his dubious dropping from the Tour de France. The prospect of the thinking fan's maverick ruining Scotland's Braveheart Commonwealth Games, as the highest-profile member of the England team, is delicious.
Register for free to continue reading
Registration is a free and easy way to support our truly independent journalism
By registering, you will also enjoy limited access to Premium articles, exclusive newsletters, commenting, and virtual events with our leading journalists
Already have an account? sign in
Register for free to continue reading
Registration is a free and easy way to support our truly independent journalism
By registering, you will also enjoy limited access to Premium articles, exclusive newsletters, commenting, and virtual events with our leading journalists
Already have an account? sign in
Join our new commenting forum
Join thought-provoking conversations, follow other Independent readers and see their replies