The Independent's journalism is supported by our readers. When you purchase through links on our site, we may earn commission.
The Movers List: Skateboarding pioneer Jess Melia is encouraging everyone to Roll With The Girls
Like many extreme sports, skateboarding is very male-dominated. Leeds-based Jess is hoping to redress the balance
Emma Ledger
Tuesday 10 September 2019 07:30 Comments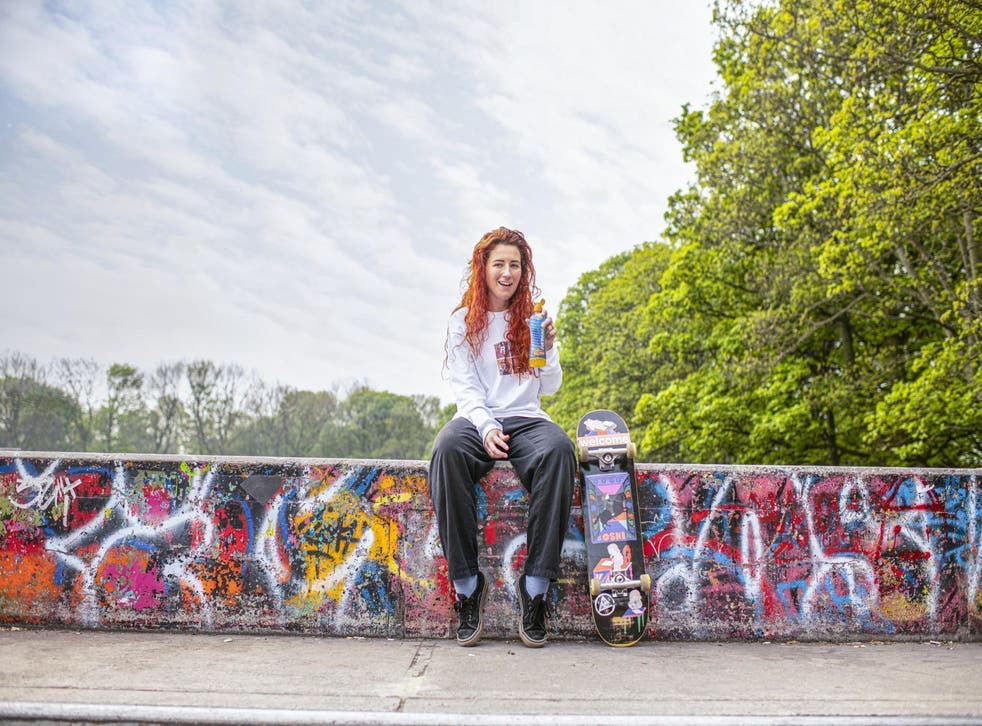 "When I started skateboarding just over a year ago, someone at work said to me 'aren't you a bit old for all that?'" smiles 28-year-old Marketing Manager Jess Melia. "But you're never too old to try something new."
'Just give it a try' is a big part of the inclusive, fun-seeking ethos behind Rollin' With The Girls, the all-female skateboarding initiative that Jess set up shortly after she first tried the sport. "My fiancé had been skating forever, and I'd always wanted to get into it but skate parks full of guys can be intimidating," says Jess, who lives in Leeds. "It can be scary if you're going to be the only girl there. I also had issues with my back and didn't want to risk hurting it more. But then my back got a bit better and I thought, I'm just going to try it."
After one go, Jess was hooked. "There's something addictive about skateboarding, because you're challenging yourself physically and mentally. I was outside doing new things with my body, achieving things and feeling proud of myself for the first time in years. I'd master a kick turn, feel the buzz and want to achieve more."
Happily, Jess quickly found that there were other girls skating in Leeds. She created a WhatsApp group to help connect them so they could plan meet-ups, share tips and hopefully bring in even more girls. "I called the group Rollin' With The Girls as a bit of a joke, because a lot of the skater guys say 'I'm going rollin' with the boys; 'RWTB' has been a 'thing' for years in Leeds'," says Jess
Like many extreme sports, skateboarding is very male-dominated. At a professional level, the media coverage and sponsorship are saturated by men, and there are still only 23 pro-female skaters compared to more than 150 males. But Jess was determined for girls to think that anything is possible when it comes to skating. She set up an Instagram account, also called Rollin' With The Girls, to celebrate the girl skateboarding community, arrange meet-ups and to post clips of girls practicing – and often failing at – tricks.
The Movers List

Show all 50
Her commitment to making the sport more inclusive was noticed by Lucozade Sport, which chose to feature Jess in its inaugural Movers List 2019 as one of 50 people who are using sport to change communities and encourage more active lives. "It's not about being the best," she says. "It's about learning and showcasing girls getting out and just doing it. Showing what women can do and taking out any notion that you need to be at a certain level to join in. I wanted to make sure anyone could scroll through the videos and think 'Hey, I could probably do that'.
"I get so many positive comments, even from people who don't want to skateboard, but feel inspired to take up a new hobby."
The Rollin' With The Girls Instagram has since built a loyal following of almost 2,500 in just over a year. "So many girls are supporting and encouraging each other online, it's incredible," says Jess, who cites the fantastic sense of community – as well as the satisfaction at being able to nail a trick – as the sport's main appeal. "Skating takes real patience and dedication. It's taught me to see little wins as huge victories and to conquer my fears. I wanted to encourage other girls to do the same. Everyone is welcome and there's no age limit – one woman called Julie in her forties started skating because her daughter does, and now she's doing ramps and all sorts.
"We get so many people getting in touch asking how to get involved. We try to bring people together by holding events, or telling people where we are going to be so they can make that first time less scary."
As well as the Rollin' With The Girls community, girls' skate nights are growing in popularity all over the country, slowly changing the face of skating in the UK. At House of Vans beneath Waterloo station in London a girls' skate night regularly hosts more than 300 people. At Flo in Nottingham they have a females-only night where kids as young as eight show off their tricks, in Cardiff, Kay Russant's monthly skate night for women, Prom Queen Social Club, has doubled in size in three months, and in Glasgow, the female-run skateboarding collective Doyenne sells non-gendered skate clothes and runs events for women, LGBT people and people with disabilities.
Jess has been a trailblazer for making the skate scene as inclusive as possible locally – and some of the most positive responses have come from men. "At Hyde Park's skate park in Leeds all the guys are really behind Rollin' With The Girls, they share our Instagram. And at our local skate shop Welcome Skate Store they tell any girl who goes in about us.
"Skateboarding is such a brilliant community, that's what it boils down to. It isn't just a sport, it's a lifestyle built on friendship, supporting each other and being creative. It's refreshing and inspiring. I'd love to one day teach skateboarding to kids and adults full time. My advice to anyone is to just get out and give it a go."
For more information about the Movers List and to find local facilities and classes to move more, visit www.lucozadesport.com/the-movers-list.
Register for free to continue reading
Registration is a free and easy way to support our truly independent journalism
By registering, you will also enjoy limited access to Premium articles, exclusive newsletters, commenting, and virtual events with our leading journalists
Already have an account? sign in
Join our new commenting forum
Join thought-provoking conversations, follow other Independent readers and see their replies