The Movers List: Meet Mac Ferrari, the former London bus driver getting young people back on their bikes
Since the first BikeStormz ride in 2014, more than 7,000 people – mainly teenagers, but also children as young as nine – have taken part
Emma Ledger
Thursday 07 November 2019 09:10 Comments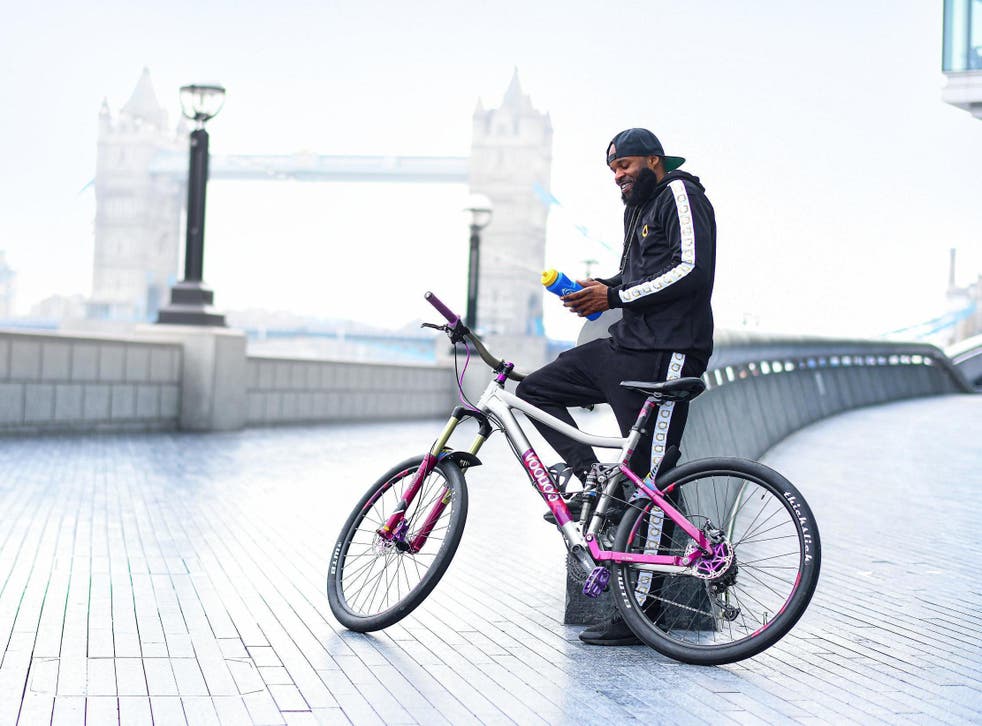 "Seeing kids on bikes swerving buses would make my heart jump out of my mouth," says former London bus driver Mac Ferrari. "I decided I could either moan about it, or I could find a solution."
The solution that Mac found was to start promoting youth bike riding as a sport that should be taken seriously. Five years ago he set up Bikestormz, a community that connects young people who have a passion for bikes through free, regular cycling meet-ups – as well as a bi-annual mass ride to protest against youth violence. His work has been recognised by Lucozade Sport as part of its first Movers List, celebrating 50 individuals who are using sport to change communities and encourage more active lives.
Mac, a keen motorcyclist, didn't even own a bicycle when he set up Bikestormz. "At the time I was getting a lot of respect for my motorbike riding, so I used that 'cool status' and put it into bicycles. Unlike with motorbikes where we had a community with regular rides, there was no place for kids on bikes to go. They were being shooed away from car parks.
"I love kids and I wanted to protect and help them. The idea was to give young people an alternative to crime through bike riding. So I sold my motorbike and got myself a bicycle and started riding. Soon I had a huge crew, and we grew and grew. In my dreams, I was imagining 500 people wheelie-ing through central London for the Bikestormz cause."
Since the first BikeStormz ride in 2014, more than 7,000 people – mainly teenagers, but also children as young as nine – have taken part. The movement has spread to cities across the UK from Birmingham to Liverpool, and to Paris and Amsterdam. The most skilled riders have become celebrities in their community.
The Movers List

Show all 50
But Mac is very clear that it's not just about having a good time or getting some exercise. As the number of deaths due to youth violence and knife crime continues to rise across the UK, Mac is determined to use BikeStormz to break down barriers and bring young people together. As such, aggressive behaviour, drugs and fighting are not tolerated.
"I want the kids to fight stereotypes, so itsabout building a community where they support each other," says Mac, 35."As long their time is occupied and they have somewhere to ride, they won't be on the streets getting in trouble.
"I treat them all like sportsmen and give them a respect that they don't want to lose. I tell them it's their responsibility to behave well so they control themselves and find their own respect."
Mac's message manages to unite the all important 'cool' factor with a vision for improving social cohesion and reducing crime. And it works – the BikeStormz community is a lifeline for many riders who listen to Mac in a way that they wouldn't if they were sat in a classroom.
"We get children riding bikes as a way to try to get away from their pain, autistic children who never had any friends before. Everyone is accepted. Its about taking to them on their level and trying to change the way of young people think. I want to let them know they don't want be an adult too quickly, they need to slow down and enjoy being a child."
The media often derides bike crews who take to the streets stopping traffic and filming tricks for social media. But BikeStormz is making huge strides to legitimise riders and their collective power for positive change. This year the initiative received official backing from the Mayor of London and the Metropolitan police.
The movement hit the global stage at this year's Glastonbury when rapper Stormzy featured four BikeStormz riders in his headline set. Mac says "Stormzy gave the kids a platform at Glastonbury and did something that's never been done before – it was a ripple effect for the whole bike riding culture. I was behind the stage shouting them on, and it was the proudest moment of my whole career.
"I started with a bike and a dream five years ago. I wanted to bring young people together to ride as one. These are different kids from different postcodes, but the bike is the glue. It's the connection. No one cares where you're from when you ride. No one cares about the colour of your skin, they just care about riding. The minute the wheel is in the air, it's a total mind block of anything going on in your life."
For more information search #Bikestormz.
For more information about the Movers List and to find local facilities and classes to move more, visit www.lucozadesport.com/the-movers-list
Register for free to continue reading
Registration is a free and easy way to support our truly independent journalism
By registering, you will also enjoy limited access to Premium articles, exclusive newsletters, commenting, and virtual events with our leading journalists
Already have an account? sign in
Join our new commenting forum
Join thought-provoking conversations, follow other Independent readers and see their replies