The Sporting Mind: Introducing The Independent's series on mental health in sport
Across a week-long series, The Independent strips back the privilege, fame and fortune that surrounds today's athletes to shine a light on the inner turmoil that can rest beneath and expose the industry's darker side. By Samuel Lovett
Tuesday 30 July 2019 13:10 Comments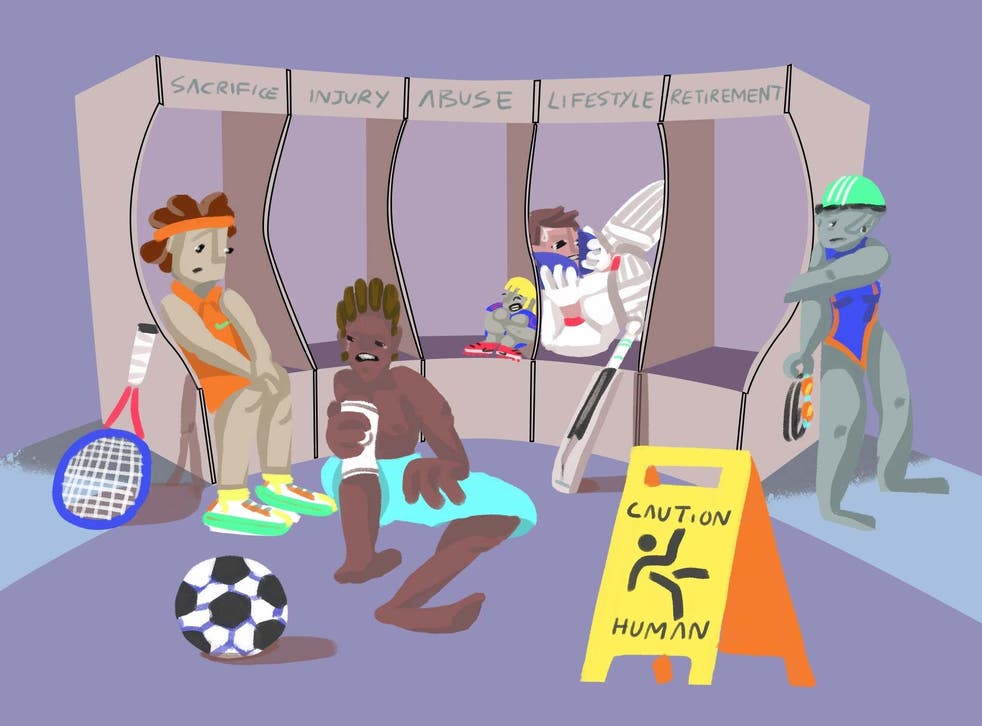 To us – the fans, the neutrals, the armchair pundits – the sporting life is one of privilege and prestige. It's defined by fame, fortune, success, and all the rest that comes with being an elite athlete. It's a life in the fast lane, shorn of the monotony and predictability that makes our own lives so, well, normal. We fantasise of standing in our idols' shoes, of those nights beneath the lights, an inspiration to thousands, millions even, ready to make history on the greatest of sporting stages. They don't know how good they've got it, we tell ourselves.
But perceptions can be deceiving. Does the life of an athlete really match the picture of perfection we paint? What if we peeled back the layers and took a closer look at what lay beneath the surface? What would we find?
Crippling pressure. Scrutiny. Self-doubt. The flippant expectations of a demanding fanbase. Job insecurity. Bouts of loneliness. Constant displacement. Time away from family and friends. Financial instability. An uncertain future. These are the starting points for those thoughts of anxiety, worthlessness and depression which can push today's athletes – regardless of where they stand on the sporting spectrum – to the brink.
Rarely, though, do we stop and pause to consider this. When it comes to the rush and drama of the playing field, it's easy to lose sight of an athlete's humanity as the focus turns to results, aesthetics and success. We deify them in their moments of greatness but, in the blink of an eye, admonish them for their shortcomings and failures. Particularly in team sports, where the presence of fan tribalism can heighten that process of dehumanisation, this criticism will morph into visceral, hateful abuse.
It's an unforgiving environment but as professionals working at the summit of their respective sports, who, in some cases, earn unimaginable riches, there is an expectation that these athletes should be accustomed to the mental challenges thrown their way, whether that's dealing with the agony of defeat, the demand for perfection or the glare of the spotlight.
Athletes who have spoken out

Show all 13
But the assumption that sport can only be populated by those with the mental constitution to survive and thrive in the face of such adversity is a dangerous one. It wrongly suggests that athletes are immune to mental health issues and simultaneously silences those within the industry who are suffering, discouraging them from reaching out for help.
It's because of the toxicity of those entrenched, antiquated views which persist within sport – and society as a whole – that many fans will react with dismay, and even contempt, at the prospect of a mentally ill sportsperson. That these athletes are capable of suffering as we do – in spite of their success, fame and lifestyle – doesn't seem to compute. When some of these individuals then go on to kill themselves, the shock to the system is seismic in scale. It is the most tragic of remainders that they were human after all.
Because the truth is that mental health remains stigmatised in sport, even today, even in spite of the huge progress that has undeniably been made by the relevant authorities and bodies. It is still misunderstood, neglected and, in certain corners, dismissed. It is a topic some of us do acknowledge in the open – on TV, discussion panels, Twitter – while others skirt awkwardly around it, unsure of what to say and how to say it.
Although sport has learnt many painful lessons over the years, more still needs to be done in humanising the conversation around mental health and propagating an understanding that is stripped back of all harmful generalisations. That many of us fail to understand why a sportsperson may be struggling is indicative of the stigmas that continue to persist in elite sport. There can be no room for those assumptions that the privilege of a sporting life guarantees a healthy state of mind. The lives of those athletes lost to suicide is testament to this. The last 12 months alone has seen the high-profile deaths of US cyclist Kelly Catlin and GB snowboarder Ellie Soutter, both of whom took their own lives. For these individuals, sport was an irrelevance; in their eyes, life was simply not worth living.
Do we have a 'silent crisis' on our hands? Numerous sporting figures in the field of mental health – psychotherapists, ex-players, directors of welfare and others – have told The Independent that this is categorically the case. They point to the research and annual surveys – one of which recently found almost two-thirds of women in sport had suffered from mental illness. They point to the reactive nature of the current system, which accommodates for those on the verge of crisis but does little to prevent their downward spiral in the first place. They point to the perceptions of the wider community, with fans, social media and certain corners of the press ignorant to the inner conflict that can exist in an athlete's life.
How, then, do we soften the conversation around mental health in sport and reach a greater level of understanding – especially when the gulf between them and us seems so great? How do we normalise a group of individuals who live inordinately different lives to our own? As will be explored across the entirety of this series, the answer lies in stripping back all stereotypes – of privilege and prestige, of fame and fortune – and highlighting those 'triggers' that can and do influence an athlete's state of mind.
In identifying these pressure points, we can began to decipher the sporting mind – learn what shapes it, what fuels it, what defines it – and create a safe space which treats these individuals as humans first and athletes second.
From a three-month overseas cricket tour to the "darkness" that follows an Olympic gold medal, as Michael Phelps once put it, the triggers present in sport are broad, varied and niche in scope. And given the nature of mental health, what impacts one athlete may barely register for another. Specifically, this series will be focusing on the following five triggers:
The pursuit and price of success
Injuries
Changing-room abuse
Sporting lifestyle
Transition out of sport
These five themes, given their multifaceted nature, will allow us to cast a sweeping brush across the field of mental health in sport, one that examines the overarching issues at hand as well as the detailed, more specific cases which suggest there is much more work to be done.
The objective of this series is not necessarily to elicit sympathy or pity. It's not to shock or sensationalise. It is to generate understanding. It's to humanise. It's to challenge the methods, practices and cultural views of an industry that, as will be shown, continues to place the mental wellbeing of its athletes on the line. Because while the struggle to improve mental health across all walks of life poses a significant challenge, every forward step – regardless of how and where it's taken – can and will make a difference.
Register for free to continue reading
Registration is a free and easy way to support our truly independent journalism
By registering, you will also enjoy limited access to Premium articles, exclusive newsletters, commenting, and virtual events with our leading journalists
Already have an account? sign in
Join our new commenting forum
Join thought-provoking conversations, follow other Independent readers and see their replies