PART THREE
'These problems aren't going away': The dark side to changing-room culture
Despite efforts to purge elite sport of its outdated mindsets and approaches, the continued abuse that takes place behind closed doors remains a pressing issue. And in most instances, it's the athletes who pay the price, writes Samuel Lovett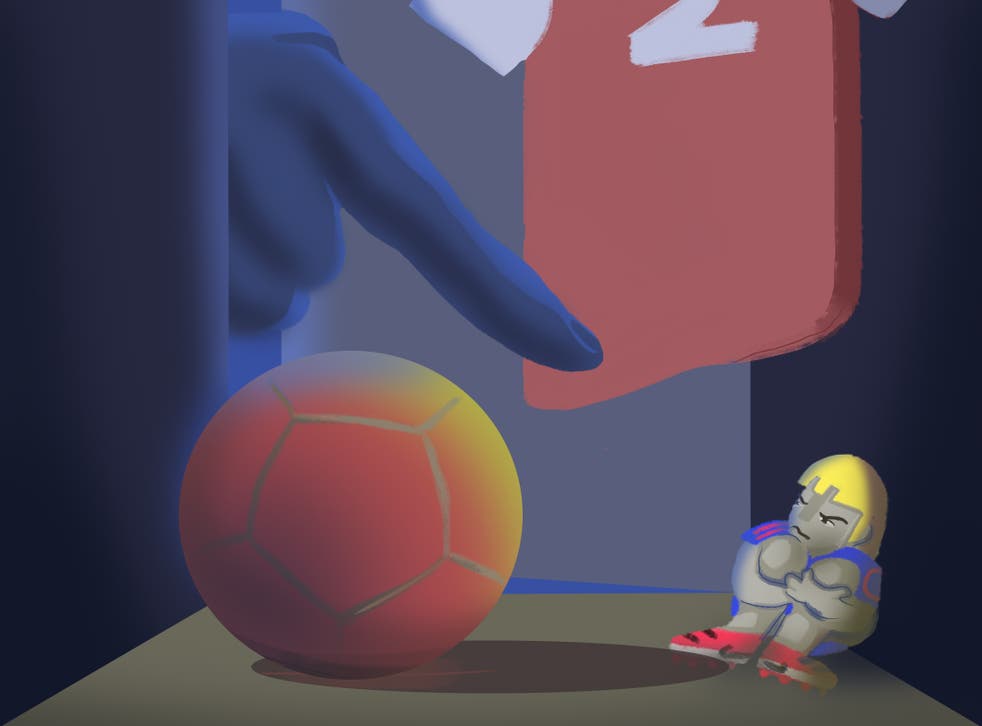 The young lad knocked on Pete Lowe's door, asking for a quiet word after an incident out on the training pitch. As director of youth at the club in question, Lowe knew straight away something wasn't right. Five minutes of tentative conversation followed before the boy eventually broke down.
"It wasn't crying," Lowe tells The Independent. "It was uncontrolled sobbing. Excuse the phrase: he'd been spoken to by a member of staff and called a 'f*****g c**t' in front of everybody. Why should he be abused like that? He was just 17."
The player – "a big strapping lad of about 15 stone, 6ft 4in, centre forward" – struggled to return to training at the club in question. Humiliated in front of his peers and spoken down to in such aggressive terms, he was left traumatised by the incident. "It was on the way to being a mental breakdown," reflects Lowe.
This was more than 10 years ago, before Lowe later moved into his role as head of education and performance management at Manchester City. But even now, through his current work with PlayersNet, he continues to encounter similar cases that point to an uncomfortable truth.
"I don't believe these problems are going away – quite the contrary," he says. "Let me say: there are some fantastic standards out there. Some clubs do it magnificently.
Athletes who have spoken out

Show all 13
"[But] if people say bullying doesn't happen in sport or in football – given my experiences – I can say they're talking rubbish. I've got active examples of that. My friends and ex-colleagues who still work in football have active examples of that. So the governing bodies say it doesn't happen or that they're managing and they're dealing with it – sorry, they're not and it does. It's as simple as that."
Football is just one thread of the bigger picture. As part of The Sporting Mind investigation, The Independent has learned of multiple cases of bullying and abuse across the sporting community.
From three rugby union players who were pushed to the brink of suicide under a dictatorial head coach, to an elite Commonwealth athlete left grappling with her deteriorating mental health as a result of her mistreatment under British Athletics, these cases highlight an industry still continuing to drive its athletes to the very edge in the pursuit of perfection.
But many of those suffering under this system remain frightened to come forward with their experiences given the repercussions they could face in speaking out against their coaches, teammates, clubs or governing bodies. Instead, they're left to suffer in silence, not yet able or willing to take their story public. The athletes may soldier on, putting on a brave face as they weather the storm, but beneath the surface they find themselves spinning out of control.
***
Traditionally, much has been made of the athlete-coach relationship and the issues that can arise through this dynamic. The perception is one of a tyrannical coach imposing a toxic, abusive regime that can either break or make a sporting mind. These figures do still exist, but the relationships forged between athletes themselves can be just as problematic. It's been a long time coming but only now are the authorities tuning in to the dangers that can arise within a changing room.
"More of the challenges, I think, exist between athlete to athlete," explains Dr James Bell, head of mental health at UK Sport, in reference to the Olympic and Paralympic movement. "Most of the challenges we hear about [regarding changing-room culture] is where an alpha-male or female athlete, who has a very dominant personality, has a big influence on the athletes they're training around. We hear more about challenges there than we do about the coach-athlete relationship."
How these "challenges" manifest is to hard to say without an intimate knowledge and understanding of a given changing room. But, particularly in team sports, the issue of 'banter' is an obvious one. For Malcom Rae OBE, chair and co-founder of rugby league's State of Mind charity, it's vital sportspeople delineate between 'banter' and 'bullying' within this context. "Any discussions we have," he tells The Independent, "we talk about what is good-natured banter to someone can be seen as bullying, harassment, lowering esteem to someone else – particularly if that person is low at one time."
It's a similar message being driven across sport's player associations. Ian Thomas, head of welfare at the Professional Cricketers' Association, suggests it's the responsibility of senior players to "set the example".
"I'd like to think that we're educating our members to look after each other and stay within remits of what's acceptable and what's not," he tells The Independent. "My take: I think the senior players always set the example. They can define the culture, they're so important, that's why it's important to have the right ones around."
In football, the Professional Footballers' Association ran its own 'Don't cross the line' workshop to clarify what is acceptable and what is not within the changing room. It's elementary stuff, yes, but a necessary starting point for those sports attempting to normalise the conversation around mental health. More work is naturally needed, but a growing awareness is now in place.
Nonetheless, it's far easier said than done in getting these messages to take root, especially in the hard-nosed, alpha-dominated environments that are to be expected with the likes of rugby union, rugby league and football.
Danny Sculthorpe, a former Wigan Warriors player who came close to suicide after suffering a career-ending injury, describes the changing room as a "ruthless" place to be.
"In 2011, when I was struggling, if I'd have said 'I'm suffering from depression here boys', they'd have given me it more," he tells The Independent. "If I'd have been them, I'd have been the same. That's just the way it works. The more you can upset one of your teammates and give it them, the better it was."
There are enough examples of bullying, banter, laddish behaviour – call it what you want – over the years to prove this.
At Leicester Tigers, during the early Richard Cockerill days, new signings were expected to face the 'take the back seat' initiation. This involved fighting your way along a bus full of rugby players in order to reach the back. "Pretty much every time someone needed to get stitched up," one former Tigers player told The Independent. "They always had the team doctor on board. Because it's not just stopping, it's punches in the face, head-butts, it's violence." Some loved it, and the culture it belonged to at Welford Road, while others despised it. For these individuals, it proved mentally exhausting.
Manchester United was similarly infamous for its initiations. "Shag Sunbed." "The Lap." "The Bong." Read the autobiographies of Gary Neville, David Beckham and Ryan Giggs, and the details are there in black and white. Regardless of whether it was perceived as banter or bullying, numerous ex-United players have gone on record stating they dreaded entering the dressing room as a youngster. Which raises questions of all those talented young players who, under such conditions, found it too much. How was their state of mind impacted? Were their careers hindered as a result? How much talent has been wasted through exposure to these environments?
Today's elite sports teams have largely moved on from such antiquated practices. But it remains worth acknowledging the mental challenges that past generations faced inside those institutions that were supposed to be lifting them up, as well as accepting that many still bear the scars from such experiences.
***
Even so, vestiges of this past still linger on in modern sport – as embodied in the mentally damaging cultures propagated by the coaches themselves. These are the individuals still wedded to those methods which, 20 or 30 years ago, were the accepted norm. The impact of implementing such practices – whether that's verbally abusing a footballer for misplacing a 30-yard pass in training or pushing a gymnast to the point of exhaustion – can be ruinous.
"You will have at clubs the old-school coaches and old-school managers for whom that is normal," Michael Bennett, head of player welfare at the PFA, tells The Independent. "It's not acceptable, but for them that was normal. Which is why we go back to the importance of educating managers and coaching."
But despite the authorities' best efforts to purge the game of its dinosaurs, these outdated mindsets and approaches continue to persist. One psychologist told The Independent that, through his work with a Premier League club, he regularly witnessed "1980's-style bullying". This involved the manager telling his players "not to throw the ball like a f*****g p***y" at throw-ins, or forcing the worst trainer of the week to wear a pink top with the words 'I am shit' written on it. "It's just a bit of banter," the coach purportedly argued when approached about such incidents. "The boys love that stuff." Banter for some, but for others harmful bullying.
Even age, in some instances, counts for little. In one case disclosed to The Independent, an 11-year-old academy goalkeeper at another top Premier League club was berated at half-time by his coaches for letting in two goals during a tournament. He was subsequently brought off, having played just 15 minutes up until that point. The criticism was so virulent it left him in a place where he no longer wanted to remain at the club. Following numerous attempts to downplay the situation, the club eventually acknowledged the boy's parents' complaints and dismissed the coaches – but without offering any public explanation. As such, the two men remain within the coaching industry, their methods and philosophies unchecked and unaddressed.
Somewhere in between the coach who calls his player a "f*****g p***y" and the coach who abdicates all sense of responsibility and authority, there lies a happy median – a balance that can be struck in getting the best out of a sportsperson.
So what does this look like? "At times it means creating quite an uncomfortable, quite anxiety-provoking, quite challenging environment," says Dr Bell. "The best coaches do that at the appropriate levels, they do it at the right time. If you do that all the time then you're under constant stress, and they're eventually going to shut down. If you never put someone under challenging circumstances then they're not going to be ready to produce a performance on the day. The great coaches have a nuanced ability to get that right and get the balance between those two things right."
For Lowe, it's a simple matter of "emotional intelligence". Those coaches and teammates who understand an athlete, who understand what makes him or her tick on a psychological level, are essential to building a mentally positive sporting culture. "The simple reality is: a coaching or staffing environment, it can create or destroy mindsets," says Lowe. "If you know all the players in your changing room, all that knowledge you've gathered on those people will tell you whether they will respond to type of culture you're trying to propagate. And if they don't, then why do it? It's not, and shouldn't be, a generic one-size fits all approach."
But until this philosophy is adopted across the width of the sporting community, there will always be those in positions of authority who continue to abuse and victimise in the name of a higher cause. And in nearly every instance, it's the athlete who pays the price.
Register for free to continue reading
Registration is a free and easy way to support our truly independent journalism
By registering, you will also enjoy limited access to Premium articles, exclusive newsletters, commenting, and virtual events with our leading journalists
Already have an account? sign in
Register for free to continue reading
Registration is a free and easy way to support our truly independent journalism
By registering, you will also enjoy limited access to Premium articles, exclusive newsletters, commenting, and virtual events with our leading journalists
Already have an account? sign in
Join our new commenting forum
Join thought-provoking conversations, follow other Independent readers and see their replies