Dan Hardy column: UFC heading to Krakow, Berlin and Glasgow - the impact it will have will be huge
British UFC welterweight and UFC commentator, Dan Hardy, shares his thoughts on the three upcoming European UFC events, announced last month by the organisation.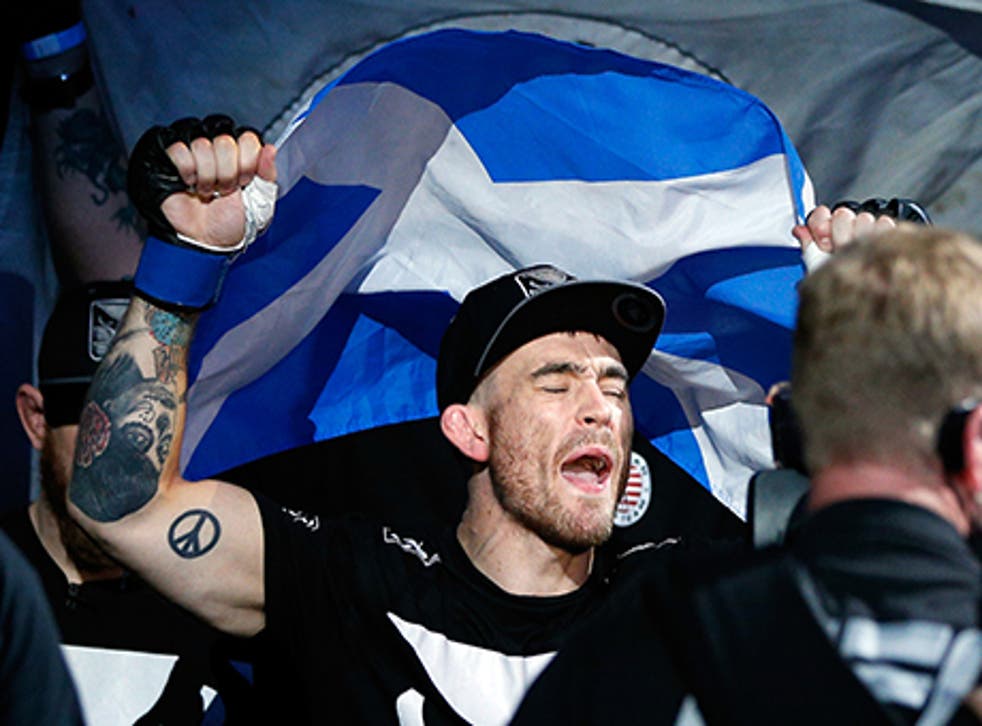 January was a busy month for the UFC. With four events and four huge fight cards, it was the strongest start to any year that the organization has experienced. Not wanting to lose that momentum, the UFC announced three more events for the EMEA region (Europe, The Middle East and Africa). The next stop of the Octagon's European tour will be Krakow, Poland.
On April 11th the UFC will give three of its Polish fighters a chance to fight on home soil. So far, the native athletes have shown to be gritty and determined, with great kickboxing skills and a strong grappling game. Krzysztof Jotko will be stepping into the Octagon for his third time, hoping to improve his UFC record to 3-1. Jotko will go into the fight off the back of a hard fought win over Tor Troeng in Sweden last October.
He will be joined by two other local fighters. Relative newcomer, Pawel Pawlak made his debut on the same card as Jotko's last fight. It was a long night for Pawlak, losing a decision to Peter Sobotta despite pushing forward for most of the bout. It was surely a frustrating night, especially with that being the first loss on his professional record. But now the UFC jitters are out of the way I am expecting some great performances from him.
Usually a strong finisher, Pawlak has stopped opponents in nine of his ten victories. His aggressive style will do him well in the UFC and Europe is wide open for some exciting fighters to really lead the way. He will be swimming in the wake of his Polish counterpart heading into this event, as Jan Blachowicz has already wowed fans with a surprising TKO of Ilir Latifi two minutes into their bout in Stockholm.
A thunderous body kick, which would have brought down a oak tree, had Latifi not absorbed the full force with his midsection. Now, Blachowicz will face another tough test in the UK's Jimi Manuwa, in the co-main event in Krakow. It should be a dramatic night of fights, featuring homegrown talent in a country with a well established mixed martial arts scene.
The other new dates announced were June 20th, where the UFC will be returning to Berlin, and July 18th, when the Octagon will finally visit Glasgow - the organisation's first ever visit to Scotland. This is exciting news for athletes from those regions, as it's a sure sign that MMA is growing fast close to home.
It's amazing to see the impact that a UFC event has in new cities that it visits. Within a few months, gym facilities develop and more local talent starts emerging.
Already in Germany, we have fighters Nick Hein, Dennis Siver and Peter Sobotta representing the sport well - a strong contingent of fighters for the fans to get behind.
In Scotland, meanwhile, You have Jo Calderwood, who will surely be a prominent feature on the Glasgow card. As the landscape sits right now, across the weight classes in the UFC, I am seeing Calderwood as one of the most likely European fighters to become a UFC world champion in the near future.
We have yet to crown a champion from a European country and Calderwood was so close to the finale of The Ultimate Fighter 20, with a little more work in her home gym - The Griphouse in Glasgow - I think she will be contending for the belt in no time at all. Her kickboxing skills stand out above most in the division; She is a fluid striker and a game opponent. The UFC machine will be pushing her forward with a couple of impressive wins, of which I think she is more than capable.
All in all, lots to look forward to across Europe in 2015!
For information on how to buy tickets for UFC events in Kraków, Berlin or Glasgow, or to register your interest now, visit www.ufc.com
Register for free to continue reading
Registration is a free and easy way to support our truly independent journalism
By registering, you will also enjoy limited access to Premium articles, exclusive newsletters, commenting, and virtual events with our leading journalists
Already have an account? sign in
Register for free to continue reading
Registration is a free and easy way to support our truly independent journalism
By registering, you will also enjoy limited access to Premium articles, exclusive newsletters, commenting, and virtual events with our leading journalists
Already have an account? sign in
Join our new commenting forum
Join thought-provoking conversations, follow other Independent readers and see their replies