UFC welterweight Danny Roberts: 'Growing up there were a lot of gangs, lots of racism – fighting found me'
Interview: London-born MMA fighter is trying to be the father he never had, while filtering his profession for his young son
Alex Pattle
Friday 13 December 2019 08:18 Comments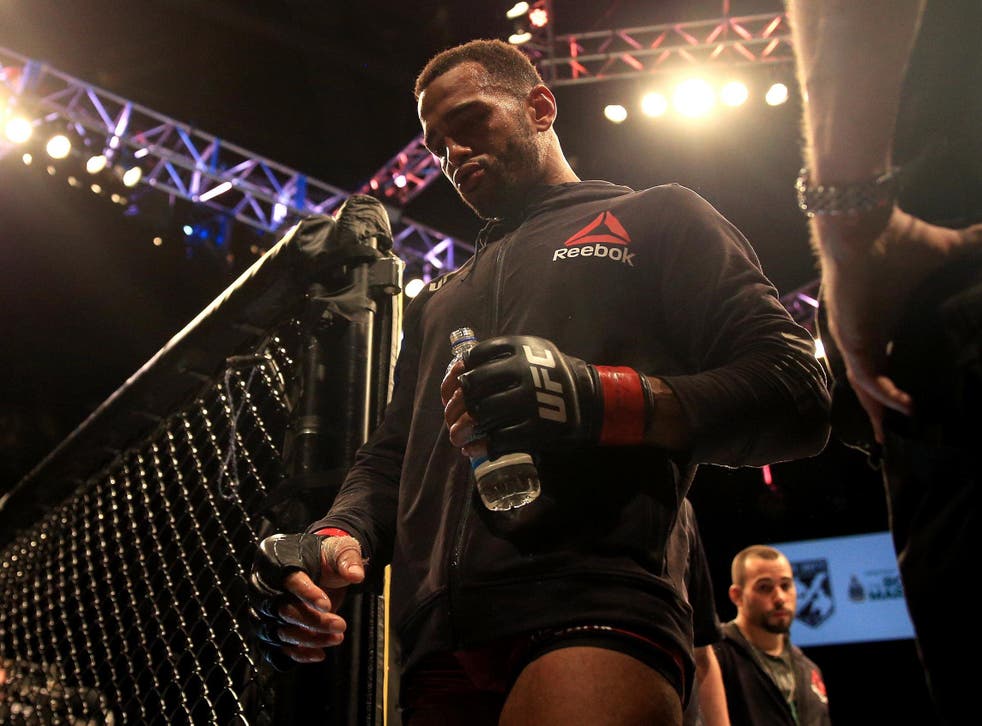 Perched atop a cage in Moscow, surrounded by stunned Russians, Danny Roberts is face to face with his agent, Yuri Javier.
"Where we from? Where we from? Where we from?" Javier demands an answer from the UFC welterweight.
"London, bruv, London!" Roberts roars. The fierceness matches that displayed moments earlier when Roberts careered a left hook into the chin of Zelim Imadaev. But it is also a roar of relief.
The southpaw's shot folded Imadaev in front of his hometown crowd on that November night with seconds remaining in the round, handing the Russian a second straight loss, something Roberts experienced in his previous outing.
When the Londoner, 32, was knocked out by a flying knee from the hurtling Michel Pereira in the first round of the pair's clash in New York this May, he had to come to terms with back-to-back losses for the first time in his professional career.
UFC 243 in pictures

Show all 14
"You have to overcome the natural, human thoughts," Roberts tells The Independent. "The negative things that will just claw at the cracks in your mental structure, like: 'Have I bitten off more than I can chew?'"
The reality of back-to-back defeats was particularly difficult to accept given the nature of Roberts' March loss to Claudio Silva at this year's edition of UFC London, the contest finishing when referee Kevin Sataki deemed that Roberts had verbally submitted while trying to escape from an armbar. Sataki was mistaken – Roberts was still very much in the fight.
"That left me in a dark place with a lot of questions that I couldn't answer," Roberts says. "I kind of fell into this small percentage of athletes that fall into a grey area, where something [out of your control] determines the outcome. It was something that never sat right with me. I'm a very clean-cut fighter; I either like wins or losses, that's it. I get the job done, or I fail."
The manner of the defeat drew sympathy from MMA fans around the world and UFC president Dana White, but it could not be overturned. Such was Roberts' eagerness to rectify the situation that he re-entered the Octagon just two months later to face Pereira, perhaps too soon.
"Looking back at it, I don't know if it was the right thing to do," Roberts (17-5) admits. "After back-to-back defeats a few people were talking about me maybe being cut from the UFC."
But reflecting on a career in which the wins have far outweighed the losses, Roberts – nicknamed 'Hot Chocolate' – quickly drew the confidence necessary to embrace the hostility awaiting in Russia and face off with Imadaev. And Javier provided a helping hand in diminishing the effect of travelling to enemy territory.
"It was about Danny kind of doubling down on where he's from," Javier says. "So I asked him to visit some of the places where he grew up, and Bristol, where he started his fighting career. If he remembers where he's from and what he can bring to the table, it doesn't matter where in the world he fights; he can go into someone else's backyard and do what he needs to do.
"Where we from? Where we from? London."
And while Imadaev scrambled in search of consciousness, Roberts used the post-fight interview to dedicate the victory to his young son, who had stayed up back home to watch his dad in action.
Roberts' son is inextricably tied to his father's career – "lo and behold, I had a phone call that my missus was going to drop my little man the same day that I got a call from my agent to say I'd gotten into the UFC" – but how much does his son understand? How much should he understand?
"There is a filter," Roberts says. "What we do revolves around violence, you can't take that element out of it. But there are elements in it that I want to portray for him as things that are going to help him throughout his life – the work ethic, growth, defeat and being able to come back from that, having naysayers but still being able to prosper and have a flamboyant outlook towards life.
"One of the reasons I didn't give up in the submission in the Silva fight was because I was thinking of my son. When the ref came over and stopped the fight, the last thing in my head was my son. I'd just spent 10 weeks away in the United States, sweating, working my a*** off… I'd just let my son down."
Seeking to right the wrong of a defeat is one thing, but righting the wrong of his own father's absence by being present for his son is an altogether more important initiative for Roberts.
"The absence of my father when I was young brought me into circumstances where I was vulnerable to certain things you obviously don't have any control of as a child – a lot of bad attachments, people and altercations."
At the age of 10, Roberts, his younger siblings and his mother moved from London to Bristol. It was a decision Roberts' mother took to remove her children from the dangerous situations in which they had found themselves.
"Not having a male role model, and the males that were around me being involved in violence, abuse, it led me to being very comfortable with that lifestyle," Roberts says. "There was a lot of going back and forth with different gangs, and I used to find myself always fighting – especially as I used to stick up for my brother and sister, who never had a dad there for them.
"And I was one of very few black males in my area – we had a lot of racism at the time. So fighting found me, I didn't find it. But I've just been able to cultivate it and turn it into something so that I can provide for my family."
Being a versatile mixed martial artist – of his 17 wins, eight have come by knockout or TKO, five by submission and four by decision – there are numerous ways for 'Hot Chocolate' to get the job done in the Octagon and provide for his family. And he is eyeing UFC London, the scene of his perplexing result against Silva, as a potential stage to return to action in March.
In preparation, Roberts has even trained with welterweight champion Kamaru Usman, who headlines arguably the biggest card of the year on Saturday as he defends his title at UFC 245 against Colby Covington – a friend of Donald Trump and enemy of many an MMA fan.
"Usman is going to win this 100 percent, but I don't think it's going to be a walk in the park at all," Roberts says. "You can't take a shower without getting wet, and Colby is going to be coming forward, trying to out-cardio Usman.
"As for me, we're scoping for some of the best opponents. We want entertainment, we want fire and fury, and we know I'm ready to give all that. I'm in a physical and mental place right now where I feel like I can't be touched."
Coming from a man who has spoken so contemplatively, Roberts' final thought juts out in its crudeness.
"Now it's just about getting the victims to destroy and make an example out of."
Register for free to continue reading
Registration is a free and easy way to support our truly independent journalism
By registering, you will also enjoy limited access to Premium articles, exclusive newsletters, commenting, and virtual events with our leading journalists
Already have an account? sign in
Join our new commenting forum
Join thought-provoking conversations, follow other Independent readers and see their replies