UFC: Rarest of athletes Khabib Nurmagomedov earns rarest of endings – going out at the very top
Debate will rage on about who is the greatest MMA fighter of all time, but 'The Eagle' will forever be as unique an entity as they come in combat sports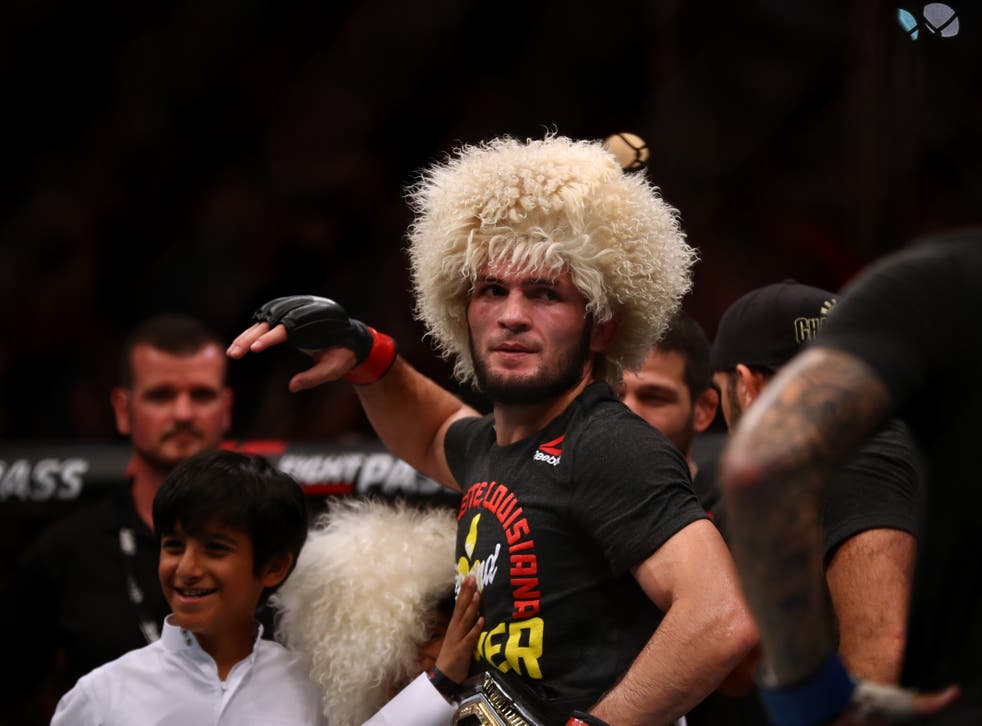 As Khabib Nurmagomedov waited for his hand to be raised following his stunning submission win over Justin Gaethje, he began to bite into the straps of his gloves. At last, he could free himself of those shackles.
It was at that very moment that it dawned on every MMA fan watching around the world: Dusk was not descending on the career of the undefeated, undisputed lightweight champion of the world – it had already descended.
Many followers of the sport had predicted in recent years that the Dagestani would move to 30-0 before retiring. But the untimely passing of Khabib's father, head coach and hero, Adbulmanap Nurmagomedov, in July led many to question whether 'The Eagle' would ever step foot in the Octagon again.
Even with that in mind, Khabib's retirement at UFC 254 on Saturday was a moment that defied belief. Nurmagomedov's coach on Saturday, Javier Mendez, admitted that even he had not known it was coming. In recent years, Khabib's contests have become events, and perhaps fans, fighters and journalists alike were so caught up in the atmosphere of fight week – a year on from Nurmagomedov's last – that they were already dreaming of the next one.
Gaethje had said he wanted to be the first man to make Nurmagomedov bleed in the ring, to see how the champion would react to finally being hurt – for the first time in so many bouts, so many rounds – but by the end of the night the canvas was simply soaked in the Russian's tears.
Perhaps it was the sight of seeing the 32-year-old so vulnerable that made the moment so shocking. Twenty-nine men had tried to put the wrestler in such a position – every one of them had failed. Not one came close.
Gaethje was supposed to have the best chance of them all, but he spent the best part of seven minutes in the Octagon desperately seeking space that – in the words of Dan Hardy – did not exist. He was hunted by Khabib, and inevitably he was caught and submitted in one of the most perfectly-executed grappling sequences in UFC history. Gaethje (22-3, 19 KOs) is a knockout artist with legitimate wrestling credentials and the interim champion had never before been submitted in MMA. The American was also up against a man who, as revealed by UFC president Dana White after the bout, had broken his foot three weeks ago. On 'Fight Island' in Abu Dhabi, it didn't matter. Against Khabib, it never does.
All that mattered to Nurmagomedov was that he kept his promises. Firstly, completing "father's plan", retiring as the No1 pound-for-pound fighter in the world. Secondly, honouring a more recent promise to his mother.
"It was my last fight, no way I'm gonna come here [again] without my father," an exasperated Khabib said after the main event of UFC 254. "When UFC called me about Justin, I talked with my mother for three days. She didn't want me to go fight without father, but I promised her: 'It's gonna be my last fight.' And if I I give my word, I have to follow this.
"I know only one thing I want from UFC: You guys have to put me as No1 pound-for-pound fighter in the world, because I deserve this. UFC undisputed lightweight champion, I think I deserve it."
'The Eagle', who grew up wrestling bears as a child in a Dagestani mountain village, will rightfully reach the summit of the pound-for-pound list this week. No one would dare to dispute that he is the greatest fighter on the planet, but his retirement has intensified the debate around who is the greatest of all time.
Conventional wisdom disqualifies former light heavyweight titleholder Jon Jones on account of his failed drug tests – both pertaining to performance-enhancing and recreational substances – and other misdemeanours outside of the Octagon, with former UFC welterweight and middleweight champion Georges St-Pierre generally viewed as the GOAT.
St-Pierre, who retired 26-2, avenged his defeats emphatically, and his resume includes some of the greatest to ever do it. As far as mixed martial artists go, it is hard to look beyond someone as versatile and well-rounded as GSP.
But Khabib is as unique an entity as could ever exist in a sport as volatile as MMA. It's not just that he was never defeated in 29 bouts; he was never once knocked down, never once cut, even when facing the most elite strikers the sport has seen. Conor McGregor, Dustin Poirier, Rafael dos Anjos and Gaethje are just a few of those names. All are former world champions either in the UFC, elsewhere, or both, and they could barely touch Khabib. All looked scared, all were submitted, all succumbed to the ravenous Russian's relentless pressure, dismantled by the indefatigable grappler and his breakneck pace.
This is where Khabib differs from GSP – while the Canadian was incredibly well-versed in every aspect of MMA, Nurmagomedov was just good enough across the board to implement his one unrivalled strength, his wrestling, to devastating effect. The former sambo and wrestling champion competed in 60 rounds in his professional MMA career, and of the 41 that could be scored – those in which he didn't finish an opponent – he won 39. The two he lost – the third frame against McGregor and first against Gaethje – are even disputable. With his most recent victory, he tied the record for most successful defences in lightweight championship history. He overcame injury issues and problems cutting weight earlier in his UFC career to become as dominant a force as the sport has ever seen – and will likely ever see.
Fans will always look back forlornly on the bout that never was against Tony Ferguson – a contest that was made on five separate occasions and fell through each time – but following Nurmagomedov's performance against Gaethje, who brutalised Ferguson earlier this year, there is little reason at this point to believe that the unorthodox 'El Cucuy' would have fared much better than the 29 men who were able to share the cage with Khabib, eight of whom were finished with strikes and 11 of whom tapped or passed out in a submission.
In any case, it is not just what the Russian achieved in the ring that will be remembered; like GSP, Khabib has always been a bastion of respect outside of the ring. Although he was suckered into a bitter rivalry with McGregor that resulted in a post-fight brawl – for which the champion was condemned by his father – that stemmed from the Irishman's decision to target Khabib's Islamic beliefs, the only thing the 32-year-old holds as dearly as the memory of the late Abdulmanap.
In the end, there was nothing left for Khabib to accomplish, nothing left for him to prove. Whether or not he is the greatest MMA fighter of all time, he is unquestionably one of the greatest athletes of all time, full stop.
Ultimately, the weight of fighting without his father in his corner was heavier than any title belt he would ever hold.
While Nurmagomedov's retirement on Saturday was a sad moment for the sport, it was clearly the right decision for him, and fans should be happy for a man who only ever wanted to make his father proud and succeeded on that journey simply by making it.
That it led where it led is in some ways irrelevant when judging Khabib the person, but when looking back on Khabib the fighter, it will be impossible not to note that this rarest of athletes achieved the rarest of feats: leaving combat sports while still at the very top.
Register for free to continue reading
Registration is a free and easy way to support our truly independent journalism
By registering, you will also enjoy limited access to Premium articles, exclusive newsletters, commenting, and virtual events with our leading journalists
Already have an account? sign in
Register for free to continue reading
Registration is a free and easy way to support our truly independent journalism
By registering, you will also enjoy limited access to Premium articles, exclusive newsletters, commenting, and virtual events with our leading journalists
Already have an account? sign in
Join our new commenting forum
Join thought-provoking conversations, follow other Independent readers and see their replies