Ronda Rousey: What next for the UFC great? Loss to Amanda Nunes felt like the end as WWE and Hollywood beckon
Rousey has plenty of options available to her, but she needs some time to herself to have a long hard think about whether her career in the UFC still exists, and has plenty to work on if so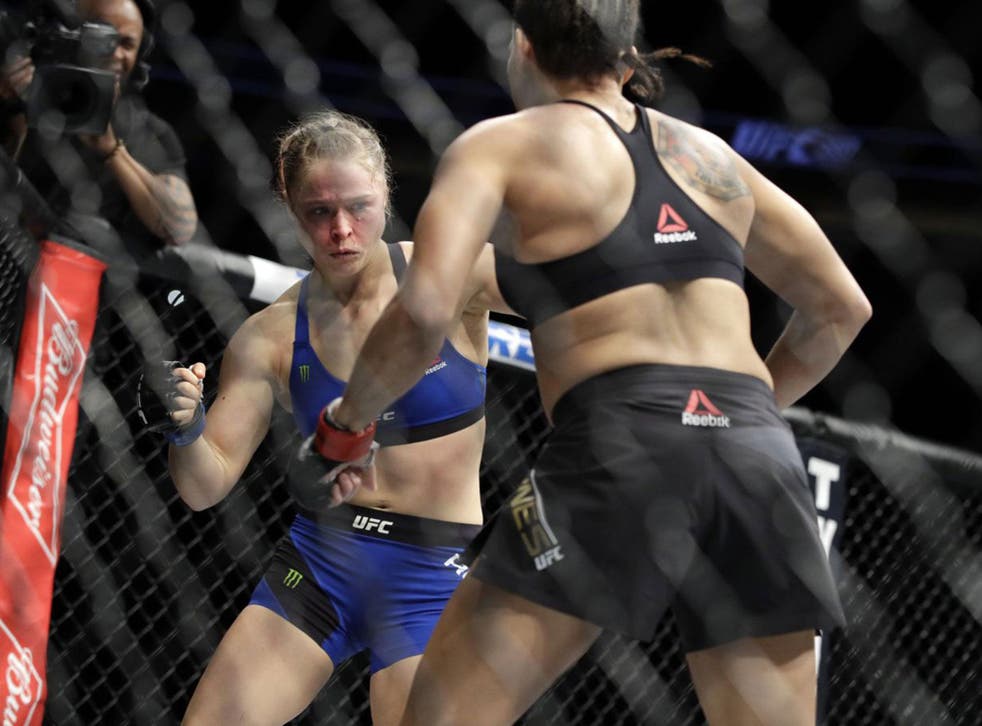 Mixed martial arts has never been a sport lacking drama, but last night really was something to behold.
UFC 207 at the T-Mobile Arena in Las Vegas, Nevada, hosted the last UFC event of the year and just like the rest of the fifty plus events that'd gone before it, it didn't fail to leave the viewer with their jaws on the floor.
Cody Garbrandt's utter masterclass in beating Dominick Cruz was shocking enough, but what followed in the main event blew even that out of the water.
Ronda Rousey, who was returning after a thirteen-month layoff, was beaten by the current UFC bantamweight champion Amanda Nunes in just 48 seconds in devastating circumstances. Nunes dominated the fight from the opening exchange and cracked Rousey with a hard jab to put her on the back foot.
With Nunes continuing to pour forward hitting Rousey with shot after shot, Rousey attempted to close the distance and implement her Judo but she never looked close to controlling her opponent for a second. Rousey, bleeding from the nose, disorientated and dishevelled was totally out of her depth and with less than fifty seconds on the clock the referee, Herb Dean, jumped in to call a well-timed stoppage before a brutal knockout could take place.
The former champion had been embarrassed in front of the world, again, and to be honest, it was hard at times to watch.
Crestfallen by the nature of the loss, Rousey continued to dodge the press and instead of conducting a post-fight press conference she left the arena shortly after the conclusion of her bout with her family.
UFC 207: Amanda Nunes beats Ronda Rousey

Show all 16
Many are speculating this will be the last time we see Rousey in the UFC Octagon, but what are her options after this latest embarrassment?
Hollywood
Rousey has had no shortage of options on her plate from the movie makers and having already featured in three Hollywood films, she is starting to build her resume in the industry.
She has already been cast in the remake of the Patrick Swayze movie Road House though who knows when the filming for that can take place given what happened last evening.
If Rousey wants to pursue a career she in the spotlight in the mass public that doesn't involve her getting hit in the face, Hollywood would be the best place to do that. She would be following in the footsteps of another pioneer of women's MMA, Gina Carano, who retired from the sport in 2009 and has since featured in films such as Fast & Furious, Fight Girls and Deadpool.
It's good work if you can get it, but whether it's as much of an option as it was before last evening in Las Vegas remains to be seen.
WWE
World Wrestling Entertainment have made it no secret that they would like to work with Rousey in the future.
The former UFC bantamweight champion made an appearance at WrestleMania back in 2015 when she confronted both Triple H and Stephanie McMahon inside the ring alongside The Rock.
The clip of the confrontation instantly went viral and ever since the WWE haven't been shy in letting everyone know that they want to work with Rousey on a much grander scale.
Even if Rousey doesn't end up quitting MMA, the WWE is still a massive option for her going forward. Don't be surprised if it happens as early as next year.
She keeps on fighting…
Rousey may have suffered two of the highest profile losses in the sport in a row, but let's not forget what she had done prior to that where she'd gone on a tear of twelve unbeaten matches and destroyed everything in her path.
At the end of the day, Ronda Rousey is known for being a true competitor, a pioneer for the sport and an inspiration to women all over the world. Forgetting what she's done previously in her career would not only be unfair, but it would be foolish—make no bones about it this woman is as competitive as they come and she will be hurting inside sorely once again after last night.
That said, having gone through the media blackout this week leading up to her return it's almost impossible to determine where her mental state is right now.
There are so many questions we wished we had answers for: was she really focused on the fight? Did she prepare to the best of the capabilities? How did she feel during fight week? Was she carrying any injuries? And perhaps most importantly … how are you feeling now Ms Rousey?
Ronda Rousey needs to wake up in the morning—look at herself in the mirror and ask a very simple question; am I still a fighter?
If the answer is no, she needs to retire now and ride off into the sunset pursuing either of the two options mentioned above with her +$3 million-dollar check from last night burning in her pocket.
However, if the woman staring back at her is motivated to right the wrongs and prove to the world she's still one of the best on the planet then she needs to make fundamental changes.
Firstly, her coach Edmund Tarverdyan needs to step aside and she needs to find a top camp to go train at. Once again last evening, Tarverdyan's cornering was beyond ridiculous. His instructions were shouted not in a calm way to relax his fighter, but rather with the tone of a distressed father watching his child taking a beating. The clips are out there on social media and it's frankly embarrassing.
Rousey's positioning, countering, distance management and just overall striking technique was shown up by Holly Holm thirteen months ago, and last evening there were zero signs of her making improvements.
Her performance was very different from the way Conor McGregor handled defeat earlier this year. After being submitted by Nate Diaz in March, the Irishman worked on his cardio like a man obsessed and faced up to his shortcomings in both a humble and dignified way in the press.
Rousey was the opposite. She shunned everyone, blamed the media for causing her loss and last night proved she'd not made the required developments since her first defeat.
If she continues, the high drawing fights would be rematches with Amanda Nunes or Holly Holm. The other big option would be the fight with Cris Cyborg, though that now would feel like sending a lamb to the slaughter and is a fight that should really never take place following the two devastating losses we just witnessed.
So where do we go from here then?
It's funny to say some time away from the spotlight is required given her lack of media work this week, but still some time away with her thoughts is the thing Rousey requires most right now.
No one can deny or ever take away from her what she's done for both the sport or women in general, but right now it feels like her mixed martial arts career is done. Should we see a return, it needs to be done with a significant amount of changes to both her training camp and the way she conducts herself with the MMA press.
Her attitude this week wasn't something anyone enjoyed. Us press obviously disliked it, the UFC disliked it, and importantly most fans disliked it because they didn't get to see a side of her that we all enjoy—her personality.
This week, Ronda Rousey was nothing more than a fighter who shunned everyone around her and who got ripped to pieces in under a minute.
That's not how I want to remember Ronda Rousey. Repression is real, but it's rarely granted to people in the public eye.
Now we find out if Ronda Rousey is 'all about that thing', or if she's content with what she's already achieved and ready to leave the sport.
Right here, right now I simply don't know the answer.
Register for free to continue reading
Registration is a free and easy way to support our truly independent journalism
By registering, you will also enjoy limited access to Premium articles, exclusive newsletters, commenting, and virtual events with our leading journalists
Already have an account? sign in
Register for free to continue reading
Registration is a free and easy way to support our truly independent journalism
By registering, you will also enjoy limited access to Premium articles, exclusive newsletters, commenting, and virtual events with our leading journalists
Already have an account? sign in
Join our new commenting forum
Join thought-provoking conversations, follow other Independent readers and see their replies