UFC 185: Joanna Jedrzejczyk profile - just for kicks….and a UFC world title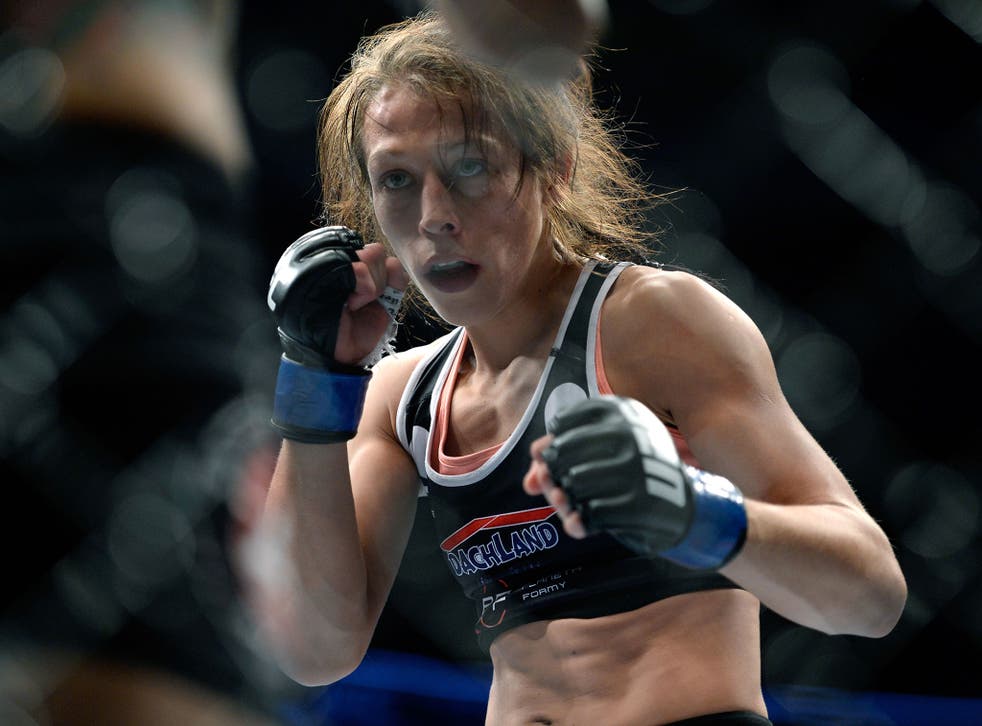 On Saturday March 14th, Joanna Jedrzejczyk will take on current UFC women's strawweight world champion, Carla Esparza, in a bid to secure the world title. UFC commentator, John Gooden, travelled to Joanna's home city of Olsztyn, Poland to find out more about this fascinating world class female fighting.
Joanna Jedrzejczyk is on the verge of creating history. On March 14th in Dallas, Texas, she will challenge current UFC women's strawweight world champion, Carla Esparza, for the illustrious UFC championship belt. If successful, Joanna's name will be etched into mixed martial arts history, as she will become the first European female UFC champion. She would also become the first UFC champion ever to hail from Poland. So, commit the name to memory now, as Joanna Jedrzejczyk will most certainly appear in future UFC trivia.
I first met Joanna during a visit to Olsztyn, Poland alongside a UFC Countdown production crew. We were awaiting Joanna's arrival at a local radio station, where Joanna had been invited to speak on air to discuss her UFC career and upcoming title challenge.
Within the first few minutes of Joanna's arrival, three things became very clear: she is hugely personable, has energy by the bucket-load...and is a self confessed kicks-a-holic. (My initial interpretation of this phrase couldn't have been more wrong). A 6-time Muay Thai world champion, I took this choice of words to be a clever pseudonym to describe her own fighting style. Alas, in amongst the handshakes and hellos on this first encounter, Joanna spotted a retro shoe worn by one of the crew members and quickly admitted her weakness for 'kicks'. She went on to describe her sizeable collection of trainers – something which the strawweight is evidently very proud of, due in no small part to its value, as 'kicks' don't come cheap in Poland. I wondered whether, more recently, those purchases had come a little easier by way of UFC victories.
Standing at just 5ft 6in, Joanna is currently 8-0 as a professional mixed martial artist. Her remarkable degree of skill is outweighed only by the level of passion she invokes with every challenge she encounters. I was keen to learn what drove her to combat sports and, indeed, what has kept her there.
Clues as to the roots of Joanna's drive and motivation lie within the walls of her gym, Arrachion MMA. Historically, the building was designed and conditioned for combat. A former stable block for the military horses, the spirit of battle and discipline still exist within the space. Strapped to the wall is the spelling of Arrachion, arguably the most famous Olympic Pankration champion from 568 BC. This, I realise, is the perfect setting to nurture talent in combat sport.
The fight team, which has grown out of this North Eastern Polish territory, has had much success. Joanna is among many other champions who train at the facility, including Polish MMA stand out, Mamed Khalidov. Under the watchful eye of Szymon Bonkowski (a judo and ju jitsu black belt) and Robert Drysdale (a BJJ brown belt), Joanna has developed a style which arguably sets her apart from the rest of the UFC women's strawweight division - stay on the feet and make the opponent pay for any grappling charges with fierce power and relentless conviction.
When Joanna and I discuss her beginnings as a martial artist, she modestly recounts the last ten years spent travelling the globe to train and compete. Standout moments for her existed under the guidance of kickboxing legend, Ernesto Hoost, with whom she spent two years. She also mentions Polish kickboxer, Paul Slowinski, who has opened doors for her and has motivated her through his own successes. That success has been quantified by six world championship belts in Muay Thai.
Of the eighty or so visits to the ring, Joanna recalls leaving without a win only twice - not bad for someone who, as an energetic teenager, struggled to pronounce the words 'Muay Thai' and only really went along to her very first class to lose weight.
As opportunities dried up within Muay Thai, mixed martial arts was the natural progression for Joanna and she found herself, not as the recognised number one, but as a striker wearing four ounce gloves. But it didn't take long for her to demonstrate her natural athletic abilities in MMA. She promptly remapped her fight sensors for success in the world's fastest growing sport and her progress, since then, has unfolded at Aracchion.
Aracchion is very much a team. There is no obvious hierarchy attached to the fighters' pay scale. And despite an ensuing crack at a UFC world title, Joanna receives no special treatment beyond the transfer of knowledge. No-one wraps Joanna's hands for her or laces her gloves, nor is she assigned her own water boy (or girl). Coach Pawel explains that this is a system which he believes keeps everyone grounded and Joanna, he says, is no different.
But there is also a great deal of camaraderie during practice at Aracchion. Here, lies a family of individuals who train hard, support one another and smile during their efforts.
From the moment the gloves touch for sparring I witness a transformation occur. She tilts her chin behind her left or right shoulder, sets her feet, establishes range and shifts through the gears effortlessly with hugely, varied, unyielding attacks.
Joanna's pedigree is glaringly obvious. There are few mixed martial artists whose striking talent warrants the label of 'elite', but Joanna's absolutely does. Former UFC lightweight champion Jens Pulver assessed her handiwork as "pound for pound the strongest striker with long hair". But what also sets Joanna apart is her ability to demonstrate kicking and punching options whether moving forwards, backwards or laterally.
Despite being in fight camp, Joanna continues to coach others; she likes to share knowledge. Watching her conduct a boxercise class is a sight to behold. With passion and authority, she commands the attention of students who range from 125 pound women to 200 pound men. She speaks of the satisfaction she gets from these sessions.
Outside of her rigorous training schedule, which involves eleven visits to the gym per week, Joanna spends her time with friends and family. She lives in a two bedroom flat on the second floor of an apartment block, a space she shares with her boyfriend, her twin sister, brother-in-law and nephew.
In watching their interaction, I notice a real sense of closeness. Joanna's family accept her career choices and their support for her needs no explanation. And it works out well for those around her, particularly during Joanna's fight camp, as they can indulge further in the favoured delights of sushi or pizza, whilst the title challenger abides by a somewhat stricter diet of zero-carb pasta.
It was during a family meal that Joanna took a call from her coach to say she was required to extend her stay in the US for a further two weeks preceding her title challenge against Esparza. She was told that she could expect to sit side-by-side with current UFC women's bantamweight champion, Ronda Rousey, during some media duties in Las Vegas. Joanna could not have been happier with the new itinerary and the news was welcomed by her family with high fives, smiles and embraces. To many fighters, travelling further afield to fight is one of the drawbacks to their line of work; for Joanna it seems almost a treat.
Another important aspect of Joanna's life, which she shares with her family, is her Christianity. Whilst her striking coach and some teammates take trips to swim in the frozen Baltic waters on Sundays, Joanna prefers to visit church and connect with God. She tells me this gives her strength and a sense of protection.
Joanna's parting gesture to myself and each of the crew members was a homemade Polish sausage and a small bottle of Polish vodka. Never would she allow us to depart empty handed. The gifts were gratefully received, and Joanna's fan base grew by just a few more.
The city of Olsztyn now waits in anticipation to see whether their returning daughter will bring with her some rather valuable hand luggage. The country of Poland, meanwhile, hopes to celebrate its very first UFC World Champion.
Watch Joanna fight for the UFC women's strawweight world title at UFC 185: Pettis vs. Dos Anjos on Saturday 14th March from midnight, live on BT Sport 1 or catch the early prelims from 10:30pm on UFC Fight Pass.
Register for free to continue reading
Registration is a free and easy way to support our truly independent journalism
By registering, you will also enjoy limited access to Premium articles, exclusive newsletters, commenting, and virtual events with our leading journalists
Already have an account? sign in
Register for free to continue reading
Registration is a free and easy way to support our truly independent journalism
By registering, you will also enjoy limited access to Premium articles, exclusive newsletters, commenting, and virtual events with our leading journalists
Already have an account? sign in
Join our new commenting forum
Join thought-provoking conversations, follow other Independent readers and see their replies