UFC 202: Conor McGregor can prove his greatness, but he must respect Nate Diaz or risk defeat, says Dan Hardy
UFC welterweight and commentator previews the highly anticipated rematch between Conor McGregor and Nate Diaz at UFC 202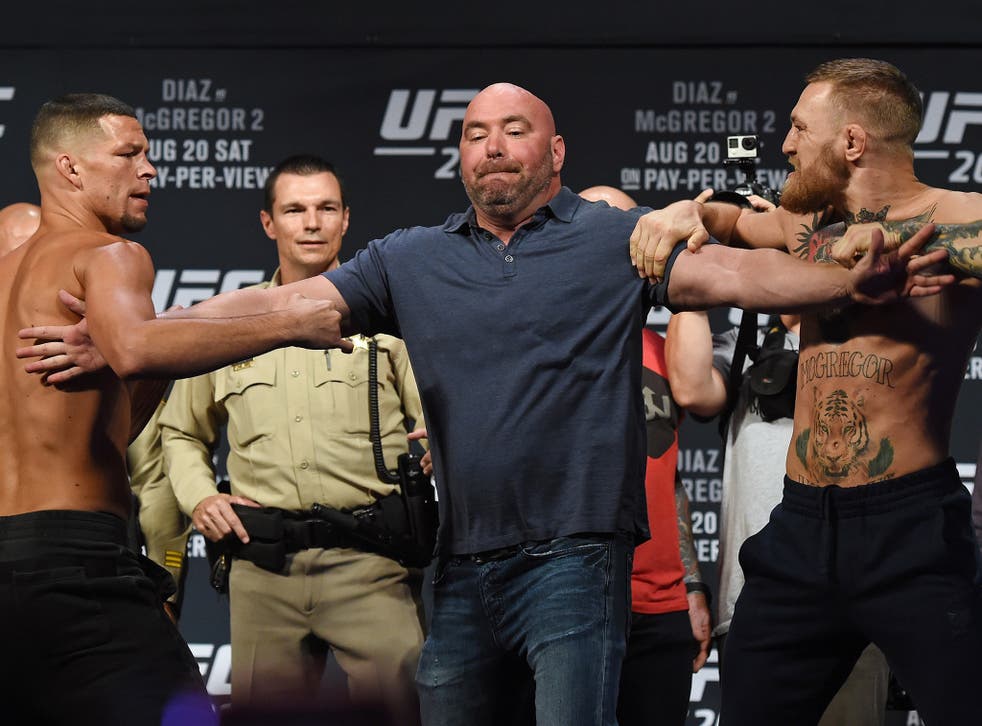 UFC 202 will be the biggest pay-per-view event of the year. So much hype, so much trash talk and drama, the echoes of the first fight still ringing in everyone's ears, but none more than Conor McGregor. This is what the rematch campaign was all about; the redemption. An opportunity to right the wrongs of last time. To square off with Nate Diaz once more, and attempt to even the score. McGregor knows that his last outing was far from perfect. Over-reaching, over-throwing, over-committing.
'Inefficiency' as McGregor himself puts it - a lack of structure in the training camp, and a more relaxed schedule. Aligned with the privileges of a successful fighter, he is now able to build the camp around him - perhaps making the approach less focused - spending long hours in the gym, but not preparing with a mind on sport specifically. Mixed Martial Arts is a high paced sport, twenty-five minutes or less of trading blows, wrestling, and attempting to break your opponent's body, or will to fight.
Diaz lives for that. Last time around, McGregor seemed to lack the fluidity and adaptability, which everyone thought would be his advantage. McGregor's creativity and his ability to preoccupy his foe with a barrage of different strikes, while lining their chin up for his power left. It just didn't happen against Diaz, and as McGregor began to fade, the Stockton representative came on strong. A swift left hand on the chin of the 'Notorious' one put him on the back foot, and Nate smelled blood.
A few seconds later the filled-out featherweight champion was in a tangle and Diaz was squeezing the life out of him. With a few taps of the hand Diaz stood to his feet and left McGregor on the canvas, trying to figure out what went wrong. A candid post-fight interview showed that McGregor was already accepting of his shortcomings, but was adamant about a rematch. And here we are, counting down the minutes, after one of the most dramatic build-ups the sport has ever seen.
The pre-fight press conference descended into chaos as McGregor strutted onto the stage thirty minutes late, all around him the roar of the Irish faithful, making the trip over once again to support their hero. The streets of Dublin will be quiet come fight time. It's Conor's responsibility to make sure that they don't stay quiet. Another loss here would be devastating for the featherweight king. He will surely have to return to his division, two weight classes below where he is right now.
Nate Diaz beats Conor McGregor at UFC 196

Show all 10
Nate Diaz rolled the dice once before, and it paid off in ways even he was not expecting. The added media attention seemed to drain him at first, but that has passed. He has embraced his blunt and aloof character and the fans love him for it. He is the antithesis of McGregor, and at this point, it is what the sport needed. Another strong personality, but a very different one to Conor's. No flashy suits and watches, no beautifully rehearsed jabs that he keeps loaded in the chamber for press encounters. Just a real street fighter. No airs and graces, no apology for being himself in every circumstance. No elaborate or witty retorts to McGregor's jibes, just impatience for his opportunity to throw down. Diaz feels he exposed McGregor the first time around, with no opportunity to prepare for the bout. This time, he has been afforded a full training camp, and feels even more certain that he will bring the victory home.

The pressure is on McGregor more now than ever before. We have seen him thrive under pressure in the past, and if he can do that this weekend he will truly prove how great a fighter he really is. To reach that destination he must be adaptable, and respect what Diaz is capable of as an athlete. If nothing else, he has to respect Diaz's durability, for that was his undoing in their last dance.
It seems like Diaz took control of the press conference when he walked out in the middle of Conor answering a question. Doing a lap of the arena with his team, yelling expletives as they approached the door, and then hurling water bottles at the stage. It may seem childish, but knowing the response they would get from a riled up McGregor, it may have been a tactical move.
McGregor was never going to allow Diaz to throw abuse and projectiles, and just walk out. But Diaz had already had his say while they were waiting for McGregor to arrive, and was leaving anyway. So when the situation escalated to McGregor throwing cans into the crowd, the presser was abandoned, and he never got his say. If I were to bet which man was pacing back and forth in his bedroom last night, sleepless with anticipation, I would put my money on McGregor.
McGregor has built his own mountain, and up until this point he has been alone at the summit. Now, Diaz has a stronger footing on the precipice, and it is McGregor fighting for a piece of rock to stand on. When the bell rings for the first time at the UFC 202 main event, not only will two warriors be trying to put the other on the canvas, but two dynasties are warring for territory.
Diaz is looking to expand that 209 area code to every corner of the UFC, and the McGregor clan have crossed an ocean and are staking a claim at the heart of the fight capital. Las Vegas will grind to a halt as these two tribes collide, and the vibrations will be heard around the world. With the grace and elegance of the violent arts, these two men will stand alone, in front of millions. The stakes have never been higher for either man. And the fall, not nearly as far. This is not to be missed.
Watch UFC 202: Diaz vs. McGregor 2 live on BT Sport from 1am BST Sunday morning, or catch the Early Prelims from 11:30pm BST on Saturday
Register for free to continue reading
Registration is a free and easy way to support our truly independent journalism
By registering, you will also enjoy limited access to Premium articles, exclusive newsletters, commenting, and virtual events with our leading journalists
Already have an account? sign in
Register for free to continue reading
Registration is a free and easy way to support our truly independent journalism
By registering, you will also enjoy limited access to Premium articles, exclusive newsletters, commenting, and virtual events with our leading journalists
Already have an account? sign in
Join our new commenting forum
Join thought-provoking conversations, follow other Independent readers and see their replies