UFC 214: Dana White launches scathing attack on Tyron Woodley after boring victory over Demian Maia
The UFC president was so unimpressed that he has taken the future fight against Georges St-Pierre away from Woodley and handed it to Michael Bisping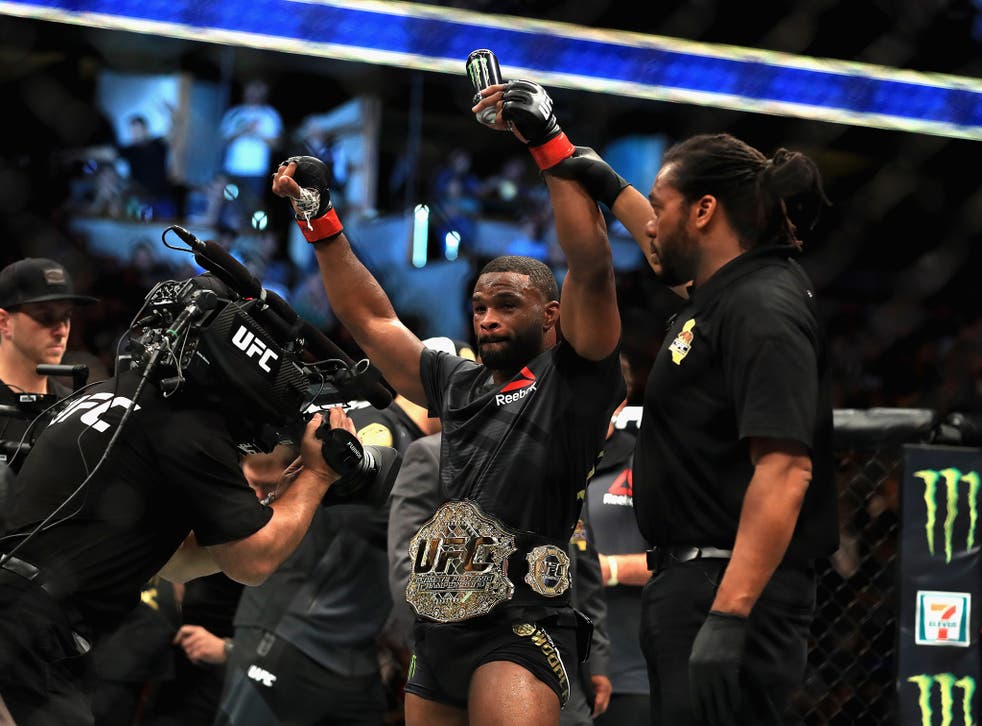 UFC president Dana White gave a stinging assessment of welterweight champion Tyron Woodley following his victory over Demian Maia at UFC 214 by question who would want to pay to watch him ever again given how boring the bout was.
In what was the co-main event to the headline light heavyweight match between Daniel Cormier and Jon Jones, Woodley made his third defence of the title he won back at UFC 201 in July 2016 when he beat Robbie Lawler.
35-year-old Woodley claimed a unanimous 50-45, 49-46, 49-46 victory over Brazilian Maia, with one change scoring the fight as a whitewash for the American, with the other two giving just one round each to Maia.
However, as has happened in his two previous fights against Stephen 'Wonderboy' Thompson, Woodley was repeatedly booed by fans inside the Honda Centre in Anaheim, California, and White was in agreement.
"You ask fans if they want to see Woodley fight again, I think that'll be a flat-out 'no'," he said. "Who wants to pay to see Tyron Woodley fight again?
"What did you think about watching the Woodley fight? Listen, when you break a record for the least punches ever thrown in a five-round title fight, and it was about 130 and these guys threw 60 or something like that, I think that sums it up."
The lack of a performance has led to White taken drastic action against Woodley as he confirmed that the slated fight against the returning UFC legend Georges St-Pierre would no longer take place, with 'GSP' now set to meet British fighter and middleweight champion Michael Bisping when he eventually returns to the Octagon.
Asked if the rumours of the change were true, White answered: "Yep, because I know Michael Bisping will fight. Michael Bisping will show up and fight, so I'm going to give it to him."
Register for free to continue reading
Registration is a free and easy way to support our truly independent journalism
By registering, you will also enjoy limited access to Premium articles, exclusive newsletters, commenting, and virtual events with our leading journalists
Already have an account? sign in
Register for free to continue reading
Registration is a free and easy way to support our truly independent journalism
By registering, you will also enjoy limited access to Premium articles, exclusive newsletters, commenting, and virtual events with our leading journalists
Already have an account? sign in
Join our new commenting forum
Join thought-provoking conversations, follow other Independent readers and see their replies