UFC 220: Miocic vs. Ngannou preview - Heavy and light-heavyweight heroes guarantee explosive knockout drama
UFC commentator and analyst Dan Hardy looks ahead to tonight's event as the UFC light heavyweight and heavyweight titles are contested in Boston, US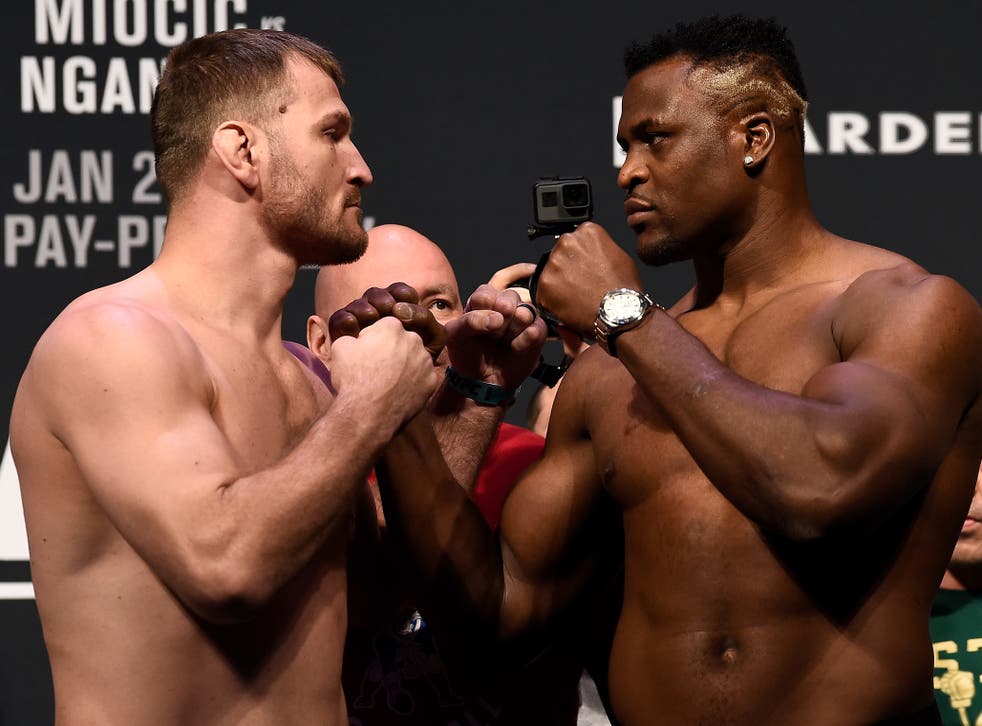 The heavyweights kick off this year's pay-per-view calendar, as reigning champion, Stipe Miocic, defends his belt for a third time. His challenger is widely considered to be the most intimidating knockout artist we've seen in the Octagon in a long time.
Miocic is an excellent champion with solid skills all-round. He is on a five fight win streak, four of them needing less than a round to knock his opponent out. The other was a comprehensive shut-down of one of the sport's most dangerous punchers. You have to think that a similar gameplan would be employed against a fighter like Francis Ngannou. Ngannou's last four fights have been over before the two minute mark and his explosive power is responsible for a 'Knockout of the Year' award in 2017.
On that night Ngannou faced the veteran Dutch kickboxer, Alistair Overeem. After stalking him for about 60 seconds, feinting and trying to draw the attack, he faked a left hook, Overeem took the bait and ate the nastiest uppercut I've seen since Mike Tyson was in his prime. The potential of this athlete appears to be limitless, but in a sport where experience and wisdom play a huge part, Miocic has him beat. With only 12 professional bouts on his record, his experience is somewhat limited. When we also consider that many of his fights ended in the first round, that equates to even less Octagon time. The longest he has fought for is 10 minutes and now he finds himself in a 25 minute fight with a proven endurance heavyweight.
Should this fight make it into the third round, I would expect Micoic to run away with a decision or get a late stoppage. Those first two rounds are critical though, and contrary to what instinct would tell you to do, the smartest approach is to get as close to Ngannou as possible. A close, clinch battle against the fence will fatigue the challenger and fill his power-punching arms with lactic acid, making the muscles burn. Then he can get to work breaking his man down, working takedowns, leaning on him, punching him at short range. This could be a rapid spiral downwards for the challenger. Once fatigue sets in a minute rest between rounds isn't enough for Ngannou to recover.
I'm sure a big part of Ngannou's focus would be pushing his conditioning to a new level, but that strength and muscle mass comes at a cardiovascular cost. Especially in such a high-paced and dynamic sport. He has to fight conservatively in the early going and use that potential use of power as a deterrent to buy him space and time. If he can convince Stipe that moving towards him would be unwise, then he can dictate the pace and pick his shots.
He may need a show of force early to stun Miocic and discourage him from any further aggression. It is likely that Stipe's coaching team will have seen the same things I have and prepared their fighter accordingly. It's a very dangerous challenger, but every fighter the UFC heavyweight champion faces is dangerous in one way or another.
Conor McGregor's most memorable quotes

Show all 15
On the surface at least, Miocic seems very nonchalant about the whole punching power hype surrounding Ngannou. If he carries that into the fight then he has the tools and condition necessary to retain his belt. As soon as the first bell rings though, every fan will be on the edge of their seat, waiting to see which fighter falls first. It's a tantalising main event but there is plenty more before that.
The title in the weight class below will be up for grabs in the co-main, as Daniel Cormier defends his throne against another fast rising challenger in Volkan Oezdemir. Nicknamed 'No Time', his last two fights have been a statement of that.
In a total time of one minute and 10 seconds, Volkan knocked out two dangerous top 10 light-heavyweight contenders in Jimi Manuwa and Misha Cirkunov. His UFC debut was a little more difficult, when on two weeks notice he stepped in as a replacement to face Ovince Saint Preux. A tough and awkward athlete, Saint Preux was able to push Jon Jones five rounds, so he's no pushover for anyone. Still Oezdemir came away with the win, and in only three fights he's established himself as the top contender in a division full of monsters. Similar to the main event though, the longer this one goes, the less likely the belt is to change hands.
Daniel Cormier is an excellent wrestler. His conditioning and tenacity, when brought together, are a suffocating force inside the Octagon. In his bouts with Anthony Johnson, another terrifying power-puncher, Cormier stuck to him like glue, dragged him to the mat and choked him out. I would expect a similar approach here. Perhaps a slightly longer fight, maybe a decision even, but a smothering beatdown none-the-less. The intangible here is the short range power of Volkan. In his last two fights he's been a few inches from the target, and Cormier loves a close range battle. Using a single neck tie, Cormier uses hooks and uppercuts to beat up his challenger. Much like he did to the tall Swedish striker, Alexander Gustafsson.
Oezdemir only seems to need a small amount of space to lay his opponent out cold though, and the regular gameplan of Cormier may leave him vulnerable to that power. It's an interesting dilemma for the champion to work around, and in spite of his nickname, Volkan Oezdemir has all the time in the world for Cormier to walk onto one of his punches. At some point in the fight, if Cormier wants to win, he will have to traverse the striking ranges of Oezdemir, and that is risky. We could see two big knockouts in both of our title bouts at UFC 220. Or we see the dominance of two champions fend of the rising tide of challengers to their crown. Either way its a must-watch kind of event.
Watch UFC 220: Miocic vs. Ngannou live on BT Sport 2 from 1am GMT early on Sunday, January 21 or catch the Early Prelims exclusively on UFC Fight Pass from 11:30pm GMT on Saturday
Register for free to continue reading
Registration is a free and easy way to support our truly independent journalism
By registering, you will also enjoy limited access to Premium articles, exclusive newsletters, commenting, and virtual events with our leading journalists
Already have an account? sign in
Register for free to continue reading
Registration is a free and easy way to support our truly independent journalism
By registering, you will also enjoy limited access to Premium articles, exclusive newsletters, commenting, and virtual events with our leading journalists
Already have an account? sign in
Join our new commenting forum
Join thought-provoking conversations, follow other Independent readers and see their replies