UFC 244: Jorge Masvidal defeats Nate Diaz as doctor stops 'BMF' title fight in New York City
'Gamebred' earned his third win in a row with the controversial stoppage against cult hero Diaz
Alex Pattle
Sunday 03 November 2019 08:24 Comments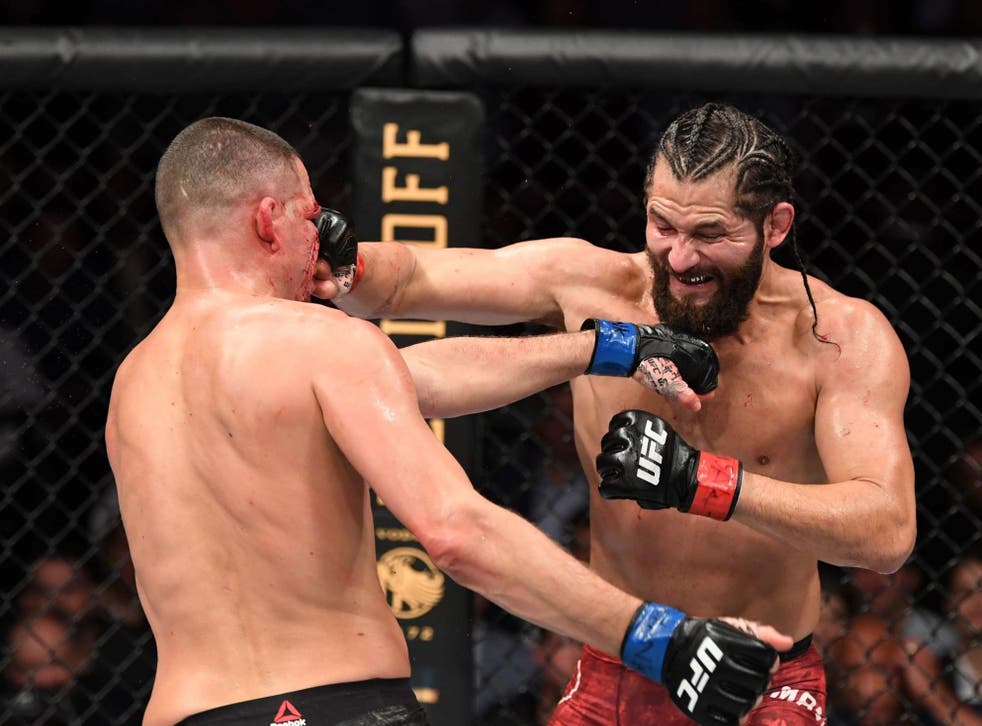 Jorge Masvidal is the baddest motherf***** in the UFC.
That is official, as far as the UFC is concerned, after Dwayne 'The Rock' Johnson wrapped a specially designed title belt around the waist of 'Gamebred' moments after the Florida native's victory over Nate Diaz at UFC 244 in Madison Square Garden on Saturday night. Oh, and the President of the United States, Donald Trump, was looking on.
Gimmicky? Sure. But no one would advise telling Masvidal that.
The main event in New York City – at the 500th live event in UFC history – pitted the West Coast against the East Coast, with the brand new 'BMF' title on the line. The belt is supposedly a one-off, though one has to wonder whether the strap will now become a permanent accessory for Masvidal.
He certainly earned it with a ferocious, pitbull-like performance in Saturday's main event, though not in the 'BMF' way he would have wanted as a doctor stopped the fight before the fourth round could begin, owing to a gash above Diaz's right eye.
UFC London in pictures: Darren Till vs Jorge Masvidal

Show all 17
Diaz was expectedly unperturbed by the cut, and the crowd belted boos in the direction of the doctor responsible for the decision. The medical official was, of course, simply looking out for the safety of the fighter – something that should be appreciated this year – but combatants with far worse injuries have escaped such deflating endings to their evenings.
The stoppage was especially frustrating as it followed such fierce fun. Masvidal began the main event by faking a flying knee – a reference to his record setting five-second knockout of Ben Askren this summer – a move that Diaz laughed off. Diaz's grin soon turned into a grimace, however, as Masvidal showed off his sharp striking to bloody and drop his opponent, leading a combination with an elbow and finishing it with a kick to the head of a stooped Diaz.
As Conor McGregor's old rival laid on his back, attempting to bide time, he struck Masvidal with an up-kick to the chest, causing 'Gamebred' to feign pain. Moments later, a standing Diaz caught his opponent with two winging punches, and a bloodied Masvidal again smiled, thoroughly enjoying the brutality of the competition.
But bubbling below the masochism was an undercurrent of determination. While many fans bemoaned the gimmick of the 'BMF' title, and despite Masvidal's incessant smiling during the fight, 'Gamebred's tactical aggression demonstrated that he was taking the contested moniker very seriously.
The baddest man on the UFC roster? Perhaps the most dangerous. Masvidal pushed a punishing pace against Diaz – who himself always looks to initiate pressure – and every time he did, he reminded fans of the warpath that he seems to be on. Masvidal had the bit between his teeth, which would have been visible with each terrifying grin if not for his mouthguard. He dropped Diaz again in the second round, later landing a takedown after slowing the normally irrepressible jiu-jitsu specialist with cynical body shots.
Diaz regained some composure in the third round and offered more resistance – as well as his signature 'Stockton slaps' – but was undoubtedly still behind on the cards when the stoppage came. What was especially impressive about Masvidal's showing was that he – through his own efficiency – had only been in the Octagon for a round and a half this year, as a result of his quick finishes against Askren and Liverpool's Darren Till. The prospect of a five-round war of attrition with Diaz posed different challenges, to which Masvidal rose with little trouble.
Fights can often be broken into two key parts: the contest and the context. The context surrounding a fight usually feels like a footnote, with the contest itself carrying greater importance. Here, though, the opposite felt true (which was convenient given the way the contest ended).
UFC 244 was the first company's first pay-per-view not to be headlined by a (proper) title fight since Diaz-McGregor II. While the winner on Saturday night got a belt, the irony was that neither combatant needed one to force himself into a prestigious pay-per-view headline slot.
After three years out of the ring since his second fight with Conor McGregor, Diaz has demonstrated that his drawing power has not diminished. He returned to defeat Anthony Pettis in August, his volume and pressure proving too much for a very game opponent. That win was all it took to slingshot Diaz back to main event status.
Meanwhile, Masvidal's 2019 has been as transformative a year as perhaps any fighter has ever experienced in the UFC. While Diaz enjoyed cult status before his superstar-making victory over McGregor, and McGregor himself seemed destined for stardom from the off, Masvidal's emergence into the mainstream has been much less foreseeable.
Before he knocked out Till in the main event of UFC London, Masvidal was seen as a solid fighter, not especially quick to talk trash, well respected by fans – especially for his past as a backyard brawler – and that was that. Even after knocking out Till, he was largely seen in the same light. For about 30 minutes. Then came his backstage brawl with another British welterweight, Leon Edwards, whom 'Gamebred' infamously served a "three piece and a soda" – or a sharp combination, in other words. Then came the obliteration of Askren and his undefeated record.
Suddenly, Masvidal was as galvanised outside the Octagon as in it, spitting one-liners with an ease that few fighters can access. Then came the call-out from Diaz after the Pettis bout at UFC 241. Few had thought of pairing these two 34-year-old mavericks, yet it made so much sense. And Diaz's claim of wanting that fight to be a defence of his metaphorical 'BMF' title – a term he seemed to coin on the spot – made the call-out even more of a moment, and the inevitable fight even more of an occasion.
And an occasion it was.
Again, whether or not the 'BMF' belt makes a reappearance remains to be seen. If it does, will fighters actively aim for the chance to dispossess Masvidal of the prize? In doing so, fighters could effectively establish their own league within the promotion. And while some fans and many fighters have argued that the belt, if it is to reappear regularly, will devalue real championships – especially considering Masvidal (35-13) and Diaz (20-12)'s records aren't among the elite in the sport – part of the fun has been trying to determine which fighters would exist in such a division.
Whatever the future of the 'BMF' belt, the future of Masvidal is somewhat clearer.
Though he could offer Diaz a rematch – "Let's run it back, I don't like to leave the ring like this with my opponent conscious," Masvidal said after the fight – 'Gamebred' should save that for a later date. Especially considering he was on course to beat Diaz at UFC 244 before the doctor intervened.
Next for Masvidal should be a fight for a title with as legitimate a lineage as it gets: the UFC world welterweight championship.
And with Masvidal's friend-turned-enemy Colby Covington competing for that strap against champion Kamaru Usman in December at UFC 245, there's the potential for a title fight with considerable heat behind it next year. Should Covington, the UFC's greatest villain and Trump's favourite fighter, beat Usman in their grudge match in Las Vegas, a defence against Masvidal would make too much sense and money for UFC president Dana White to deny.
But until a formal pursuit of the welterweight crown begins, Masvidal can enjoy knowing he is the 'BMF' in the UFC.
Elsewhere at UFC 244, Till rebounded from his knockout loss to Masvidal by making a successful middleweight debut against former title contender Kelvin Gastelum.
'The Gorilla' (18-2-1) edged out a split decision victory (27-30, 29-28, 30-27) over Gastelum (15-5) in a largely uneventful affair to halt a two-fight skid, which started with a submission defeat to then-welterweight champion Tyron Woodley last September.
Till looked much healthier at 185lbs after consistently struggling to make the cut to welterweight, and will be relived to have earned a much-needed win on a sizeable stage.
Register for free to continue reading
Registration is a free and easy way to support our truly independent journalism
By registering, you will also enjoy limited access to Premium articles, exclusive newsletters, commenting, and virtual events with our leading journalists
Already have an account? sign in
Join our new commenting forum
Join thought-provoking conversations, follow other Independent readers and see their replies