UFC 245 Usman vs Covington: 'Chaos' continues to court controversy with life of Trump, sex and MMA
Describing himself as the 'supervillain of the UFC', Colby Covington has polarised fans with his conservative politics and verbal warfare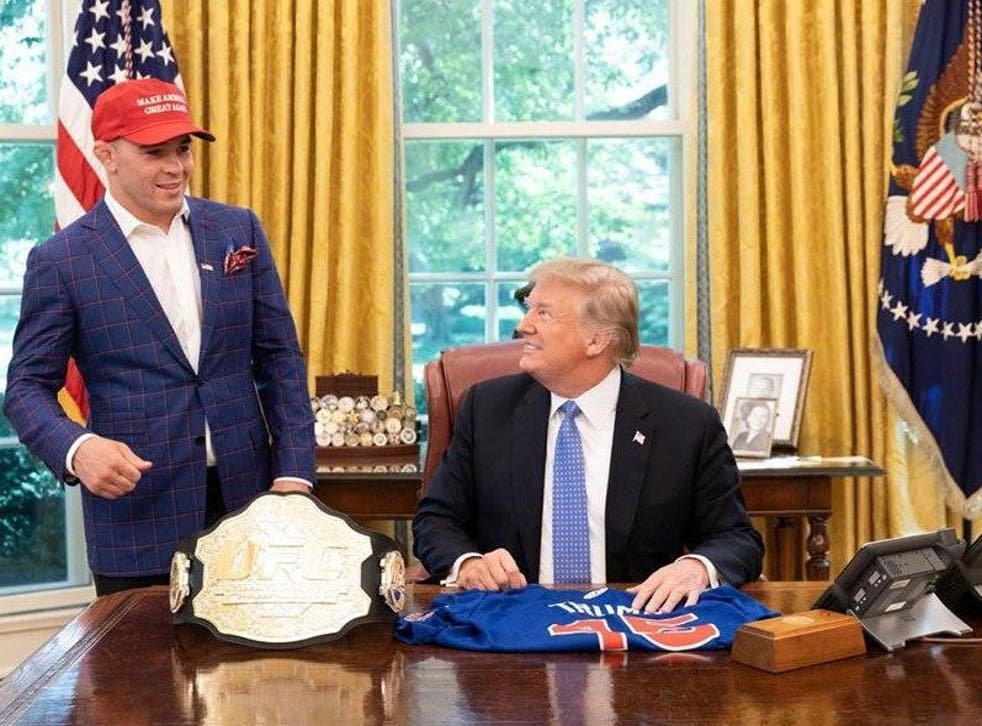 Colby Covington is a polarising fighter that reflects the ever-changing face of MMA. His irrefutable talent, trash-talking antics and MAGA advocacy have become a central point of discussion in the mixed martial arts sphere. On Sunday 15 December at UFC 245, the No2 ranked welterweight will embark on a title fight against current champion, Kamaru Usman. As the pivotal moment in his career approaches, fans are left wondering, who is the 31-year old and why have his controversial views and fighting career become entangled?
Born in 1988 in Clovis, California, 'Chaos' found a passion for wrestling in High School. After lettering four years to win the 171 lb wrestling championship, Covington refined his skill as a freshman in college. Unbeknownst to him at the time, Covington was already in the company of UFC royalty. His roommate was current light heavyweight champion, Jon Jones. Covington, the collegiate wrestler, graduated from Oregon State University in 2011 with a bachelor's degree in Sociology and was scouted by training facility, American Top Team that same year.
The home of top-ranked MMA fighters Dustin Poirier, Yoel Romero and Jorge Masvidal (to name a few), Covington moved to South Florida to train at the prestigious facility. He began to integrate his wrestling into mixed martial arts and rapidly progressed in the burgeoning sport. He turned professional a year later and compiled a 5-0 record before signing to the UFC organisation in 2014.
Known first and foremost for his wrestling pedigree, the welterweight contender has evolved into a versatile and well-rounded athlete. His impeccable cardio and constant pressure in the cage allowed Covington to erode his opponent's offence and achieve his current 15-1 fighting record. As the name would suggest, 'Chaos' throws strikes with reckless abandonment. Combined with his ability to change levels and make accurate reads of his opponents, Covington's fighting skillset stands up against the most seasoned professionals.
His two successful wins against Demian Maia and Rafael Dos Anjos put the collegiate wrestler on the UFC map. His credentials were substantiated by his last fight against former ATT teammate, Robbie Lawler. The 31-year old delivered a dominant performance against the UFC veteran, elevating him to prime position for a title shot against the current welterweight champion, Usman.
Whilst Covington has proved his fighting ability is deserving of a title shot, his behaviour has raised questions about his MMA future. As his UFC career has evolved, the welterweight fighter has cultivated an antagonistic persona that holds no prisoners.
Describing himself as the 'supervillain of the UFC', 'Chaos' has polarised fans with his conservative politics and verbal warfare. Since his 2017 win against Demian Maia, Covington has metamorphized into the athletic emblem for traditional American values. The self-proclaimed #GreatAmericanWinningMachine, Covington is an avid Trump supporter who is outspoken about his support for republican politics. Much like Donald Trump, Covington offers little sympathy to those he offends. In fact, the rising contender has spoken to the President on multiple occasions, even visiting him at the Oval Office. Donald Trump Jr also considers Covington a friend and would walk him out for his upcoming fight.
Covington has vocalised his thoughts on tighter immigration policy and has even targeted athletes outside of MMA for their political views. The welterweight has come under fire for many statements, including racially profiling Brazilian fans as 'filthy animals', following his Maia bout in Sao Paulo.
His provocations extend outside of political commentary. The welterweight star's social media posts entail scantily clad women, private jets, and a never-ending stream of American flags that echo the sentiments of Dan Bilzerian or Hugh Hefner.
The lines between his persona and real-life personality are increasingly blurred, especially when his antics come at the expense of his inner circle. In an interview, Covington called his former friend and ATT teammate, Jorge Masvidal a 'jealous little b****'. He also mocked ATT fighter Dustin Poirier over his title shot loss to Khabib Nurmagomedov.
"Sorry you suck you are not the best fighter of the world. He should get a sponsor from Kleenex with that Emmy award winning act in the post fight press conference crying (about his dreams)."
Whilst his political views are most likely genuine, Covington has purposely antagonised the MMA circuit with his inflammatory comments to rally new fans. This is arguably because his fighting style has failed to captivate audiences.
Whilst knowledgeable MMA fans can appreciate his technical proficiency, his technique can be lost on the casual sports watcher. Covington exercises an intelligent fighting style that is admirable, but nevertheless lacks the flair of show-stopper fighters like Jon Jones. His last five fights have all gone to decisions. In comparison, Conor McGregor had four TKO finishes in a row before finishing the champion, Jose Aldo in the same KO fashion. The lack of authenticity and appreciation for his fighting has caused Covington to push to the extreme in compensation for being overlooked.
His upcoming opponent and welterweight champion, Kamaru Usman has had his fair share of verbal and physical run-ins with 'Chaos'. Covington has threatened to beat up the Nigerian-Muslim fighter before his "a** [is] deported back to Nigeria." They also got into a fight at a Las Vegas Casino earlier this year.
Whilst Usman strongly opposes Covington's behaviour, the pair share a similar fighting style. Both are elite fighters with relentless wrestling expertise. Their headliner fight at UFC 245 will demonstrate a duel of skill but is still expected to be a slow burner.
Unfortunately, elite skill doesn't always equate to top Pay-Per-View numbers. As their UFC 245 confrontation approaches, will their rivalry culminate in a show-stopping war that echoes that of Khabib Nurmagomedov vs Conor McGregor? Or will Covington's intentional trash-talking force an indifference from viewers that results in a wrestling anti-climax? Whatever the outcome, Covington shows no signs of slowing down as the 'UFC villain', regardless of how sincere it is.
Register for free to continue reading
Registration is a free and easy way to support our truly independent journalism
By registering, you will also enjoy limited access to Premium articles, exclusive newsletters, commenting, and virtual events with our leading journalists
Already have an account? sign in
Register for free to continue reading
Registration is a free and easy way to support our truly independent journalism
By registering, you will also enjoy limited access to Premium articles, exclusive newsletters, commenting, and virtual events with our leading journalists
Already have an account? sign in
Join our new commenting forum
Join thought-provoking conversations, follow other Independent readers and see their replies