From wrestling bears to beating the best in the world: The journey that took Khabib to MMA greatness
Undefeated Russian will defend his lightweight title in the main event of UFC 254 this weekend
Alex Pattle
Thursday 22 October 2020 17:20 Comments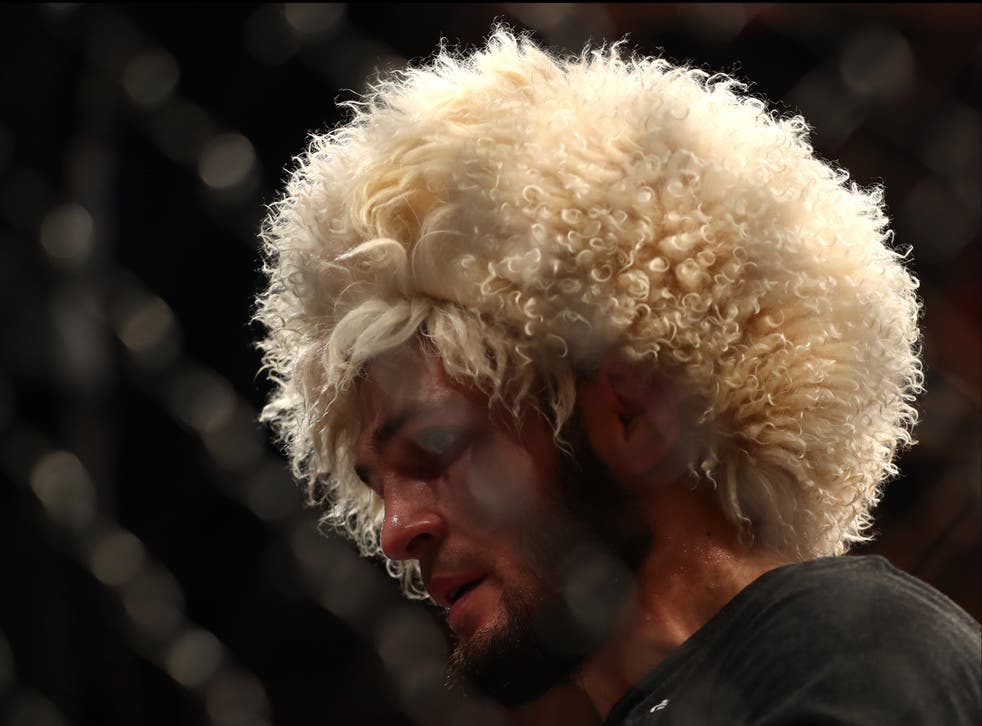 When the UFC's reigning, defending, undisputed lightweight champion Khabib Nurmagomedov goes for a single-leg takedown on title challenger Justin Gaethje this weekend, it will not simply be the application of a staple wrestling tactic honed through years of drilling techniques in gym environments around the world.
It will be an exercise in muscle memory, the roots of which can be traced back to the dry mud of a Dagestan forest floor, where Nurmagomedov would graze his knees through the fabric of his tracksuit trousers as he wrestled bears as a nine-year-old in the late 1990s.
And no, you certainly did not misread that.
Nurmagomedov (28-0), now 32, is a different breed of MMA champion because he is a different breed of human.
Raised in Dagestan – a republic of Russia whose main industries include oil production, engineering, chemicals, machine building and timber – the man now known as 'The Eagle' can count wrestling bears as one of the least challenging aspects of his childhood, which saw a failed military invasion from a Chechen group of Muslims and innumerable street fights for the son of an army veteran.
Abdulmanap Nurmagomedov, Khabib's father, was also a decorated athlete and renowned MMA coach. He served as his middle child's head trainer all the way up until his passing in July, at 57 years old, due to complications caused by coronavirus. It was a moment that has hit the lightweight champion harder than any opponent has ever managed to. While Nurmagomedov has often spoken about extending his already unprecedented record to 30-0 before retiring, the death of his father led many to question whether he would even step into the Octagon again.
Khabib's wrestling skills can be traced back to his interactions with bears, but so much of the champion's character is inherited from – or starkly influenced by – his father. Nurmagomedov's unwavering emphasis on respect stems from the teachings of the late Abdulmanap, and in post-fight victory speeches – in Khabib's career, there have been no other kind of post-fight speeches – his father would always be the first to be thanked, after Allah, of course.
That is unlikely to change if Nurmagomedov beats Gaethje in the main event of UFC 254 on 'Fight Island' in Abu Dhabi this Saturday. Even if he were to lose – for the first time in his MMA career – the former wrestling and sambo champion would no doubt call on the humility that he was taught by his father in order to accept defeat with grace.
But labelling the notion of defeat as hypothetical would feel like an understatement in Khabib's case. Twenty-eight men have tried to erase the zero from Nurmagomedov's record. All have failed. Most have been mauled.
With 18 finishes from his 28 victories – eight by KO/TKO and 10 by submission – Nurmagomedov has torn apart much of the UFC's lightweight division, establishing himself as the most feared and dominant fighter on the roster of MMA's flagship promotion.
Conor McGregor, Dustin Poirier, Edson Barboza, Rafael dos Anjos, Al Iaquinta and Michael Johnson make up just a small selection of the revered fighters whom Nurmagomedov has defeated, many of whom he has menacingly spoken to while beating them bloody. All are as resilient as they come, yet all have wilted under the intense pressure that 'The Eagle' applies.
While his striking has improved over time, Nurmagomedov is a fighter who sticks to his strengths. Any period of the fight that is spent standing up is purely used to facilitate the forcing of the opponent's back towards the cage. From there, it is essentially inevitable that the indefatigable 'Eagle' will sink his talons into his prey, holding his weight on them, draining them so as to leave them helpless against his ground and pound or submission attempts. Known to have the strength of a heavyweight, it is no wonder that the champion encounters such little resistance in the lightweight division.
And even when his opponents do make it to the final buzzer, they often emerge from the ring as changed fighters; they certainly look much different. While some decry Nurmagomedov's style as boring, it is undeniably effective, and brutal when implemented expertly.
In his last two fights, Khabib submitted Poirier and McGregor, but it was actually against the lesser-known and lower-ranked Iaquinta – a last-minute replacement for Tony Ferguson – against whom Nurmagomedov became undisputed lightweight champion in April 2018.
With the belt vacated by an absent, boxing McGregor, Nurmagomedov was set to take on interim champion Ferguson, but the hugely-anticipated bout fell through – not for the first time, and not for the last. Then-featherweight titleholder Max Holloway was briefly a replacement for Ferguson, but UFC doctors would not let the Hawaiian compete due to issues around his weight cut, so Iaquinta became the most unlikely of reserves.
In truth, Nurmagomedov played with the New Yorker in Brooklyn, seemingly spending more time on his feet than he had done in any of his previous contests in an attempt to test out the tools he had been trying to sharpen since his last performance. While not exactly lascerating, Khabib's striking was better than in prior outings, a stiff jab the most notable addition – in the long run, another means of pressuring the opponent to the fence.
Nurmagomedov eased to a decision victory, but the most talked about moment of the weekend was McGregor's unexpected arrival, which saw the not-as-absent-as-previously-mentioned Irishman launch a railing at a UFC bus with numerous fighters onboard, injuring more than one of them. His target was Khabib, who had previously confronted McGregor's team-mate Artem Lobov at a hotel.
The rivalry intensified from that moment, leading to a title bout between the two in October of that year. Nurmagomedov's religion and politics were among the topics on which McGregor chose to spit in his efforts to rile up the Russian, but Khabib remained composed in the Octagon come fight night, dominating McGregor for periods of the main event – though McGregor became the first man ever to take a round from Nurmagomedov – before finishing 'Notorious' in the fourth round with a rear naked choke.
Nurmagomedov's composure did not endure beyond the final buzzer, however, with 'The Eagle' taking flight as he launched himself over the Octagon fence and into the crowd to confront another of McGregor's team-mates, Dillon Danis, igniting a mass brawl in the process.
Although the victory set up a meeting with Russian president Vladimir Putin, Khabib was scolded by his father for the example he set with such an assaultive post-fight action – one that led to a nine-month ban and hefty fine – and has since doubled down on his emphasis on respect. The champion even insisted on sitting out for a further three months until his team-mates' year-long bans – administered for their roles in the ruckus – had been served.
Twelve months on, Nurmagomedov handily defeated interim champion Poirier in Abu Dhabi to retain his belt, and another 12 months on, he is again set to fight an interim champion in Abu Dhabi.
Standing across from him this weekend will be Gaethje, a former World Series of Fighting lightweight champion with a professional MMA record of 22-2.
Gaethje has finished 20 of the 22 men he has defeated, knocking out 19 of them. In his last fight, he stunned fans of the sport by dismantling Tony Ferguson for the best part of five rounds, leading the referee to step in and proving that 'The Highlight's transition from a masochistic brawler to a refined, intelligent striker was complete.
And while Gaethje's legitimate wrestling credentials are shockingly underused – the American still enjoys striking too much to use his wrestling for anything other than defence, though that might be all that is required against Khabib – make no mistake, they will be with him on Yas Island, as will Trevor Wittman, one of the best coaches around.
Gaethje undoubtedly marks the sternest test that Nurmagomedov has faced in his MMA career, and – while the above text goes some way to explaining who Khabib is – beating 'The Highlight' would further define 'The Eagle' and his place in the sport: as one of the greatest, if not the greatest, of all time.
Register for free to continue reading
Registration is a free and easy way to support our truly independent journalism
By registering, you will also enjoy limited access to Premium articles, exclusive newsletters, commenting, and virtual events with our leading journalists
Already have an account? sign in
Join our new commenting forum
Join thought-provoking conversations, follow other Independent readers and see their replies