UFC 261 results: Kamaru Usman knocks out Jorge Masvidal in brutal fashion to retain title
Rematch ended via second-round KO to cap off one of the most eventful cards in UFC history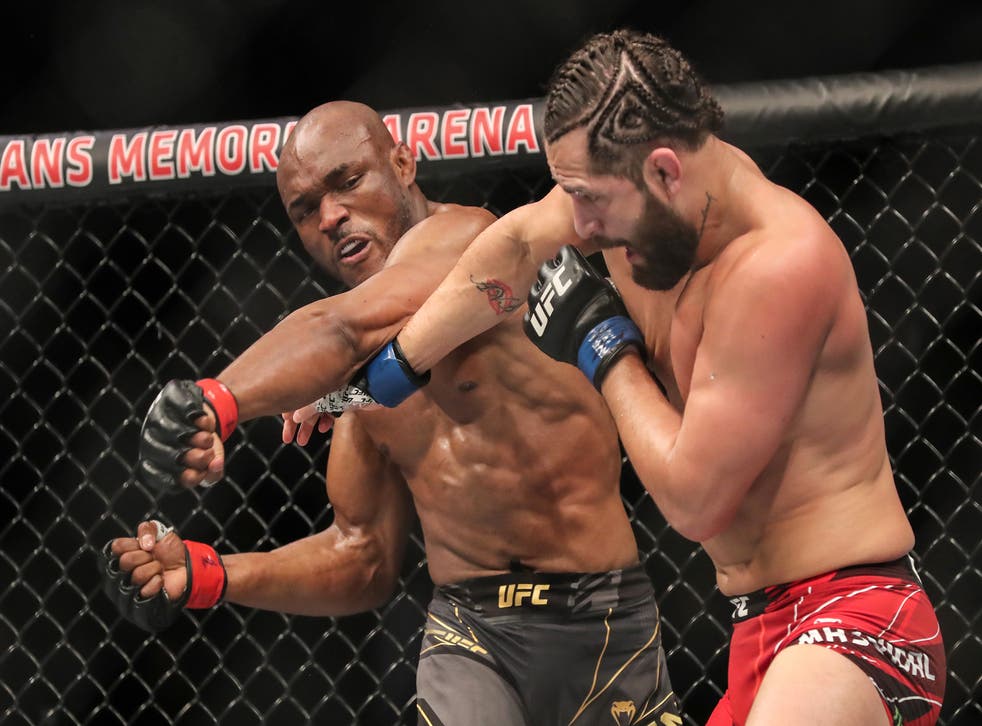 Leer en Español
One of the most eventful cards in UFC history ended with one of the greatest fighters in UFC history further cementing his legacy, Kamaru Usman shattering Jorge Masvidal's enigma with a brutal second-round knockout.
The narrative around the main-event rematch was that a full camp might just give Masvidal (35-15) the chance to reverse the result from last July, when 'Gamebred' stepped in on six days' notice and lost to the welterweight champion via unanimous decision.
But it feels as though no amount of preparation could have prepared Masvidal for Saturday night, when he was knocked out cold in front of a packed arena in his home state of Florida.
A full-capacity Veterans Memorial Arena in Jacksonville hosted 15,000 returning fans, almost all of whom wanted Masvidal's two-year "resurrection" to end in ascension, but the challenger would go the other way, dropping limply to the mat after one devastating right straight from the 'Nigerian Nightmare'.
In their first meeting, Usman (19-1) had used his wrestling prowess to stifle Masvidal's brawling tendencies, and it was clear that 'Gamebred' was wary of engaging the champion on Saturday for fear of being taken down.
That fear kept him on the outside, where he stood early in the second round when Usman span Masvidal's chin onto his shoulder with a picture-perfect punch that sent his challenger's sweat spraying out of the Octagon.
Masvidal was out at once but appeared to wake up as he hit the canvas. A handful of hammer fists put him back to sleep, the Floridian remarkably resembling Ben Askren from the night Masvidal turned the former Olympian into a meme with a record-setting five-second KO.
Masvidal will no doubt be on the wrong end of a fair few memes in the morning, but the 36-year-old thankfully recovered to congratulate Usman as the bad blood between the rivals seemed to dry.
Usman has now won 18 straight fights and continues to improve with every victory, his striking now almost as much of a threat as his renowned wrestling abilities.
It is unclear who, if anyone, can unseat the welterweight king from his throne.
In the evening's co-main event, Rose Namajunas became a two-time strawweight champion in stunning fashion, ending Weili Zhang's 21-fight win streak with a first-round head-kick knockout.
Zhang (21-2) protested the stoppage, but it was evidently the correct call as Namajunas landed numerous follow-up strikes after dropping her opponent.
In 2019, Namajunas (10-4) had lost the belt to Jessica Andrade, who was also in action at UFC 261.
Andrade was dominated by flyweight champion Valentina Shevchenko, who retained her gold with a second-round finish after hammering the Brazilian with elbows and punches in crucifix position.
The first two bouts on the main card ended due to leg injuries, with former middleweight champion Chris Weidman breaking his leg while throwing a kick against Uriah Hall.
Seventeen seconds into the first round, Hall checked a low kick thrown by Weidman, causing the American's leg to seemingly snap at the shin.
Weidman immediately fell to the mat in agony and the bout was waved off, with Hall declared the winner. The Jamaican-American could not bring himself to watch as Weidman was treated, before the former titleholder was carried out of the Octagon on a stretcher.
In the previous contest, Jimmy Crute could not continue after the first round, having been hit with an effective leg kick by Anthony Smith.
Full UFC 261 results
Main card
Usman (C) def. Masvidal via second-round knockout (strikes, 1:02)
Namajunas def. Zhang (C) via first-round knockout (head kick, 1:18)
Shevchenko (C) def. Andrade via second-round TKO (ground strikes, 3:19)
Hall def. Weidman via first-round TKO (leg injury, 0:17)
Smith def. Crute via first-round TKO (leg kick, 5:00)
Prelims
Brown def. Oliveira via first-round submission (rear naked choke, 2:50)
Grant def. Sekulic via split decision (28-29, 29-28, 29-28)
Allen def. Roberson via first-round submission (heel hook, 4:55)
Sabatini def. Connelly via unanimous decision (30-27, 29-28, 29-28)
Batgerel def. Natividad via first-round TKO (punch, 0:50)
Vargas def. Zhu via unanimous decision (30-26, 29-28, 29-28)
Molina def. Qileng via unanimous decision (29-28, 29-28, 29-27)
Carnelossi def. Na via second-round TKO (ground strikes, 1:28)
Register for free to continue reading
Registration is a free and easy way to support our truly independent journalism
By registering, you will also enjoy limited access to Premium articles, exclusive newsletters, commenting, and virtual events with our leading journalists
Already have an account? sign in
Register for free to continue reading
Registration is a free and easy way to support our truly independent journalism
By registering, you will also enjoy limited access to Premium articles, exclusive newsletters, commenting, and virtual events with our leading journalists
Already have an account? sign in
Join our new commenting forum
Join thought-provoking conversations, follow other Independent readers and see their replies