UFC Fight Night: Barboza vs Lee exclusive preview — Redemption on the agenda in Atlantic City
UFC commentator and analyst Dan Hardy looks ahead to this weekend's event, UFC Fight Night: Barboza vs Lee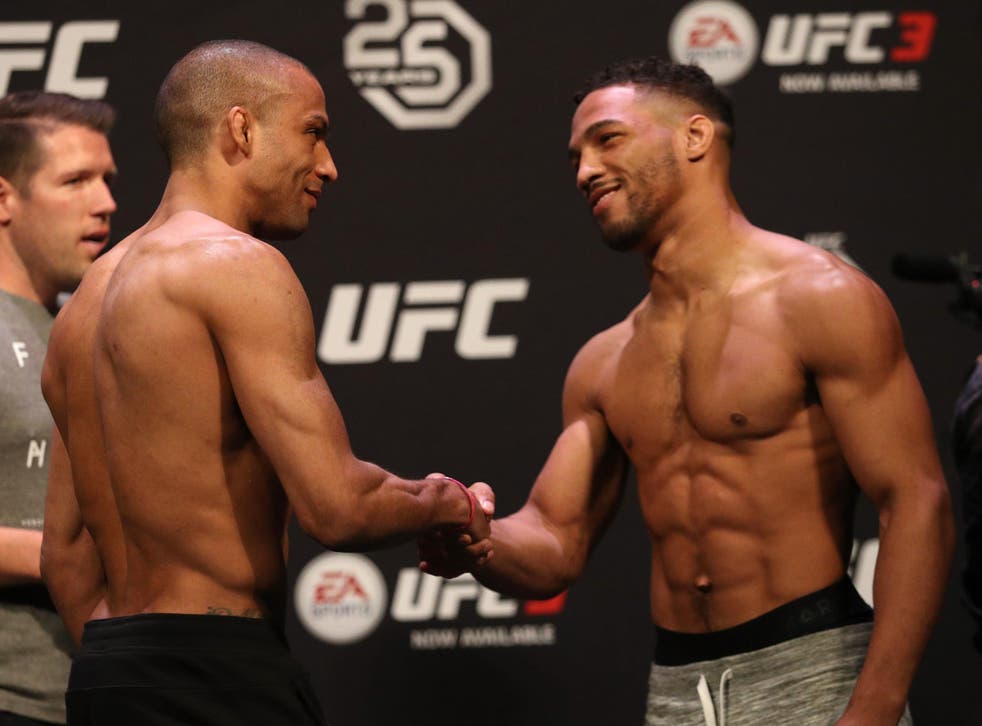 Redemption is on the agenda in this weekend's main event, as both parties look to get back on track after reaching and falling short in their last outings.
Edson Barbosa and Kevin Lee were both in reach of a certain title shot in their last fights but weren't able to muster the offensive to score a victory. Lee faced current interim lightweight champion, Tony Ferguson, and after battling hard for the best part of three rounds, Lee got tangled up and was forced to tap. For Barbosa it was an utterly discouraging, grinding defeat at the hands of the new lightweight champion, Khabib Nurmagomedov.
Going into that fight we knew that it could play out two ways. For Khabib it was about grinding and smashing his way to the final bell, which is what happened to Barbosa, and more recently to Al Iaquinta in the capturing of the title. With Barbosa it was about the lethal striking game with a heavy focus on kicking, and that one perfect moment where limb and head align to create beautiful knockouts. It may not have happened that night but that is why Khabib is the best in the world. Nobody has been able to beat him. What Barbosa did show in that fight is that no matter how badly the fight is going, he will always try to better his position and find a way to win.
Conor McGregor's most controversial moments

Show all 13
Against Kevin Lee he has a much less 'bull-dozer-like' opponent, but someone as dynamic and athletic as himself. Slightly in favour of the wrestling game, compared to Barbosa, Lee loves to box and grapple. His takedowns are fluid and powerful, and his ground and pound has that single punch knockout capability. I would expect that Barbosa's recent gameplan for Khabib will be just as applicable here, but perhaps without quite as much urgency to stop the takedown. Barbosa is a brown belt in Brazilian Jiu Jitsu, and is very good at scrambling back to his feet.
Both of these men are right back in title conversations with a win here, because their recent defeats were at such a high level that their rankings were largely unaffected. Kevin Lee has stated many times that he doesn't rate Khabib, and believes that he is the man to hand the champion his first loss. Barbosa is on the other side of the coin. He's fought Khabib, knows what its like, and wasn't successful. After a fight like that though, you have to expect everything else to be easier, including taking on Kevin Lee. Knowing that Lee isn't the wrestler that Khabib is, must take some pressure off Barbosa.
Lee is also more willing to chase the submission, meaning that is will give up a controlling position to attack the neck or a limb. They are windows of opportunity for a scrambler like Barbosa, and if Lee makes a mistake the submission defence of Edson kicks in and he's back to kickboxing with one of the best in the sport. A win is essential for title hopes in 2018. An impressive stoppage would be impactful. Especially if you are Kevin Lee, with a big mouth and no loss to the champ on your record. And its worth keeping in mind that Khabib decisioned Barbosa. If Lee stops him, that's a real statement for a title shot.
The co-main event could easily headline its own event, and the Atlantic City fans know how lucky they are to have veterans like Frankie Edgar and Cub Swanson on the card. In their first encounter, back in November of 2014, Frankie took 'Performance of the Night' honours with a neck crank submission with four seconds left on the clock in the fifth round. It is one of my favourite fights in all of Mixed Martial Arts, and if you haven't seen it, I recommend you get on UFC Fight Pass and check it out. Now both further along in their careers, both adding things to their game, and becoming better at their foundational techniques.
When these two long-serving gladiators square off again, we get to see if Swanson has been able to bridge those gaps highlighted in their first fight, or if Edgar still has his number. Many of the fighters on the undercard will have grown up watching these two competing at the top level years ago. It is impressive that they have both stayed competitive for so long, and that again their paths cross and we get to witness the collision. Talking of undercard fighters, this card is worth some focus on a whole selection of the preliminary bouts.
I'll give you my quick summary of what to watch out for and why. Third fight of the night features Leslie Smith, coming in for her eighth UFC bout, taking on Aspen Ladd, an undefeated prospect in six professional outings. Smith can and will war with anyone, and she will see Ladd as one of the new faces in the division trying to steal her spot. Ladd is quiet and unassuming, but fights like a woman possessed. I was on commentary duties for her UFC debut, and she could be clearly heard screaming with each ground and pound strike. It was quite terrifying! I'm excited to see her career unfold, and if she is ready for the likes of Leslie Smith.
Ryan LaFlare versus Alex Garcia is a game of finesse and power. Garcia is a specimen of an athlete. Lean and quick, he hits hard, and is very accurate. LaFlare is much more of an all-rounder, but will feel like he has the skill to hit and not be hit, or grapple until Garcia slows down. Jumping back onto the main card, undefeated Welsh prospect, Brett Johns, takes on Aljamain Sterling. When his rare calf-slicer submission over Joe Soto went viral, calls for Johns to get the next step up were heard. Additional challenges come when you consider that Sterling is practically fighting on home soil. The crowd will definitely be in favour of the local fighter. I'm expecting stand out performances this weekend in Atlantic City, New Jersey. Make sure you are tuned in.
Watch UFC Fight Night Barboza vs. Lee live on BT Sport on Sunday April,22 from 3am BST or catch the Prelims exclusively on UFC Fight Pass from 1am BST.
Register for free to continue reading
Registration is a free and easy way to support our truly independent journalism
By registering, you will also enjoy limited access to Premium articles, exclusive newsletters, commenting, and virtual events with our leading journalists
Already have an account? sign in
Register for free to continue reading
Registration is a free and easy way to support our truly independent journalism
By registering, you will also enjoy limited access to Premium articles, exclusive newsletters, commenting, and virtual events with our leading journalists
Already have an account? sign in
Join our new commenting forum
Join thought-provoking conversations, follow other Independent readers and see their replies