UFC Fight Night Chiesa vs Lee: Dan Hardy previews the action with serious scores to be settled in the Octagon
Dan Hardy's UFC preview: Scores will be settled in this weekend's main event, after the press conference to announce the headlining bout nearly turned into a fist fight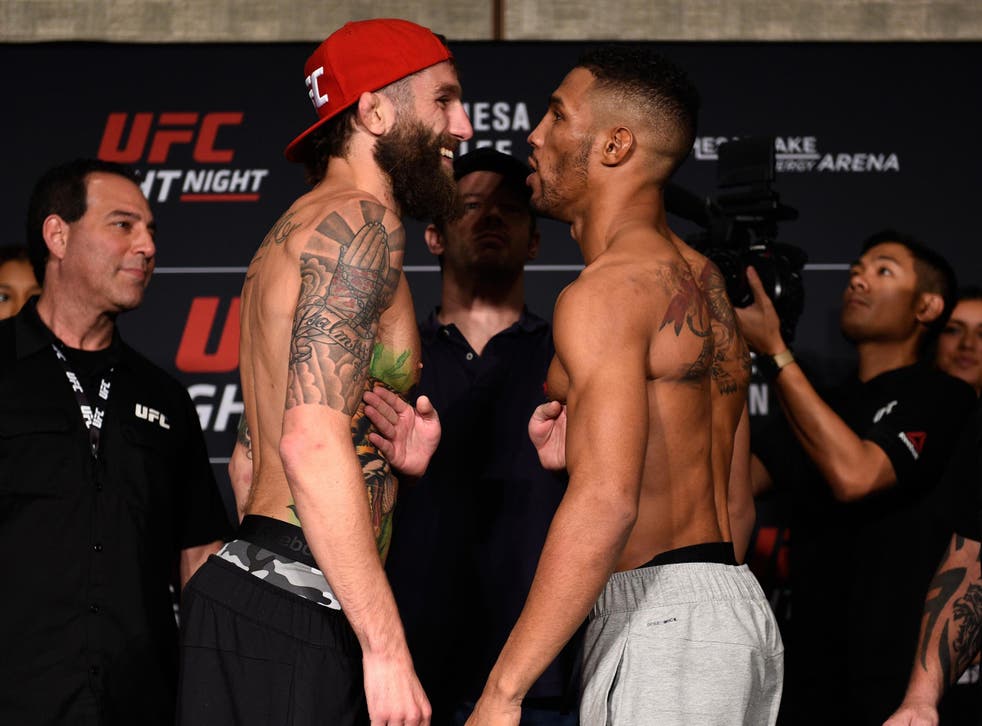 Scores will be settled in this weekend's main event, after the press conference to announce the headlining bout nearly turned into a fist fight.
Michael Chiesa is one of the brightest stars in the UFC lightweight division. Currently ranked sixth, Chiesa will be moving into title contention within a couple of wins.
Before he can once again look up the ladder for higher ranked opposition, he must first silence number eleventh ranked, Kevin Lee, who has recently decided to start trash-talking everyone within twenty pounds of his weight class.
After comments were made about Chiesa's family, particularly his mother (a subject usually respectfully avoided in the psychological warfare before a fight), it was no surprise that security had to act fast as he flew across the stage to reach the perpetrator. Kevin Lee sat there grinning until he realised that the fight was being brought to him far sooner than scheduled.
In a brief scuffle as security attempted to control the situation, Lee was able to clip Chiesa with a glancing right hand. Both fighters were ejected from the stage, and continued to yell at each other behind the scenes. There will be some clear animosity between the two come fight time.
Chiesa is a talented grappler with a long, lean frame which he uses to wrap up his foe and squeeze the air out of them. Of his fourteen wins, ten come by way of submission, eight of which are rear-naked chokes. He is an Ultimate Fighter winner and a regular 'Performance Bonus' winner.
The only two losses on his record come by D'arce choke to the current welterweight contender, Jorge Masvidal, and an unfortunate doctor stoppage against veteran, Joe Lauzon. It is clear from his record and his performances that Chiesa is one of the best lightweights in the world.
In order to keep that forward momentum, an impressive win over Kevin Lee will not only confirm that he is ready for a top five ranked opponent, but it will also quieten down the lower ranked Lee. A prospect which many of his fellow UFC fighters would be grateful.
The 'McGregor Effect' seems to have taken hold of Lee more than anyone else on the roster, and his cringeworthy attempts to draw attention to himself have landed him an opportunity to leapfrog several fighters that are closer to the title and jump feet-first into the top ten.
There is no doubt that Kevin Lee is a confident young man. With a similar record and only two losses, his current four-fight win streak has added three more finishes to his ever-growing resume. Also a fan of the rear-naked choke, four of his seven submission wins were gained using this technique.
His NCAA wrestling pedigree helps him dictate the range of the fight and allows him to dominate his opponent positionally beating them up until they offer their neck. In this fight with Chiesa though, he might be wise to use his wrestling to keep the fight standing.
I'm sure he is confident to tangle with Chiesa on the mat, and if ego gets the better of him, he may want to prove the point. I do feel like he has more options in his striking range and his speed will surely be a problem for Chiesa. Surprisingly, even though Chiesa is the taller man by four inches, at 6'1", it will be Lee who enjoys a two inch reach advantage.
This is a very evenly matched fight with Lee having the reach, speed and power advantage, as well as strong wrestling, and Chiesa being the taller, unorthodox fighter, with excellent submission skills.
The co-main event is just as intriguing as former welterweight champion, Johny Hendricks, will continue his campaign at middleweight, following a successful debut against powerhouse Judoka, Hector Lombard. Although undersized for the weight class, his power and wrestling skills are unquestionable.
His opponent this weekend will be Tim 'The Barbarian' Boetsch. A strong, imposing middleweight, that looks as suited to leading a charge across a medieval battlefield as he does in the Octagon. He will have the height and reach advantage, and although his wrestling credentials aren't on the same level as Hendricks, his physicality could even the playing field.
His confrontational style often sees him bully his opponents, controlling the Octagon and forcing them to dig deep, will be the ideal test for Hendricks' conditioning. Lombard is notorious for slowing the fight down and Johny was happy to play that game.
With Boetsch pushing him he will either have to work hard for the duration of the fight, or find a home for that high-powered piston of a left hand we saw during his welterweight crusade. His bouts against Jon Fitch and Martin Kampmann showed us how devastating that punch can be. Literally knocking them stiff with one punch with no follow up required as they fell to the canvas like planks of wood.
We also have BJ Penn opening up the main card, as he takes on European veteran, Dennis Siver. Definitely worth tuning in for these, and all of the undercard fights.
Watch UFC Fight Night Chiesa vs. Lee live on BT Sport from 2am BST on the morning of Monday 26th June or catch the Early Prelims exclusively on UFC Fight Pass from 10:30pm BST on Sunday.
Register for free to continue reading
Registration is a free and easy way to support our truly independent journalism
By registering, you will also enjoy limited access to Premium articles, exclusive newsletters, commenting, and virtual events with our leading journalists
Already have an account? sign in
Register for free to continue reading
Registration is a free and easy way to support our truly independent journalism
By registering, you will also enjoy limited access to Premium articles, exclusive newsletters, commenting, and virtual events with our leading journalists
Already have an account? sign in
Join our new commenting forum
Join thought-provoking conversations, follow other Independent readers and see their replies